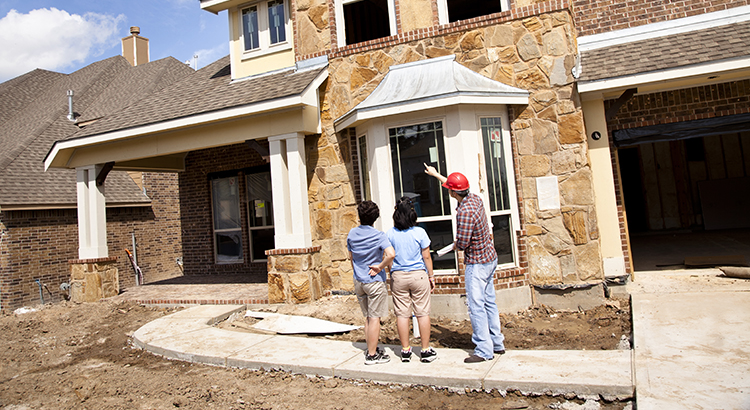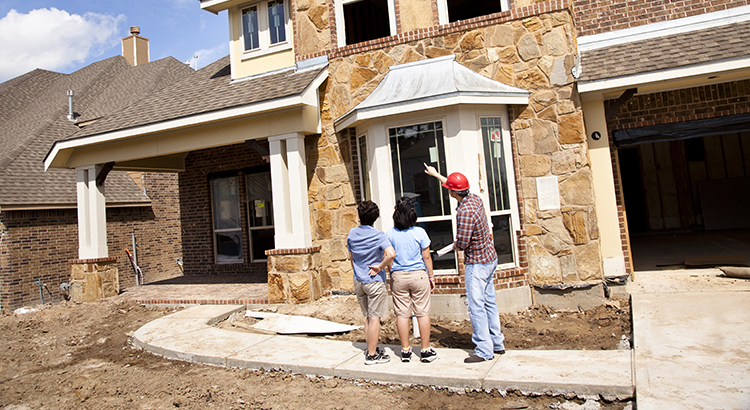 Last week, the National Association of Home Builders (NAHB) reported their Housing Market Index (HMI) hit an all-time high in the 35-year history of the series with a score of 83. The index gauges builder perceptions of current single-family home sales and sale expectations for the next six months, as well as the traffic of prospective buyers of new homes.
As the following chart shows, confidence dropped dramatically when stay-in-place orders were originally mandated earlier this year. Since then, it has soared back.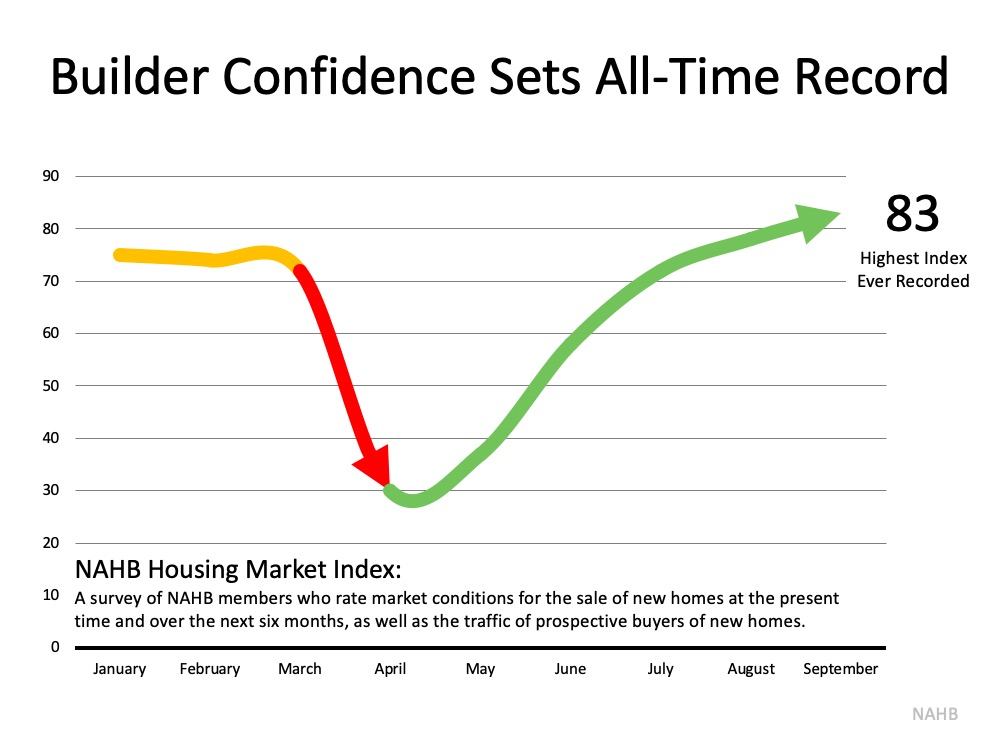 Looking at the three-month moving averages for HMI scores, confidence increased in every region of the country:
The Northeast increased 11 points to 76
The Midwest jumped 9 points to 72
The South rose 8 points to 79
The West increased 7 points to 85
Confidence Is Validated by the Numbers
This confidence is definitely warranted. According to a recent NAHB report, single-family housing starts increased 4.1% to a 1.02 million annual rate, and single-family permits increased 6% to a 1.04 million unit rate, meaning newly constructed homes are on the rise.
A separate report from the Mortgage Bankers Association (MBA) shows mortgage applications for new home purchases increased by 33.3% compared to a year ago. Joel Kan, Associate Vice President of Economic and Industry Forecasting at MBA, commented on the numbers:
"The housing market continued to exceed expectations in August, as housing demand for new homes stayed strong and the job market continued to recover…The new home market has maintained its path of recovery throughout the summer, and record-low mortgage rates and households seeking more space will likely continue to drive demand into the fall."
Bottom Line
If you're thinking about putting your house on the market but are afraid you may not find a home to buy, let's connect to discuss new construction opportunities in our area.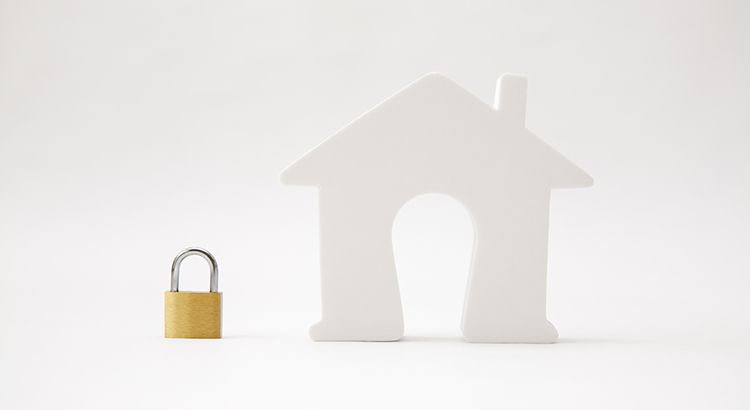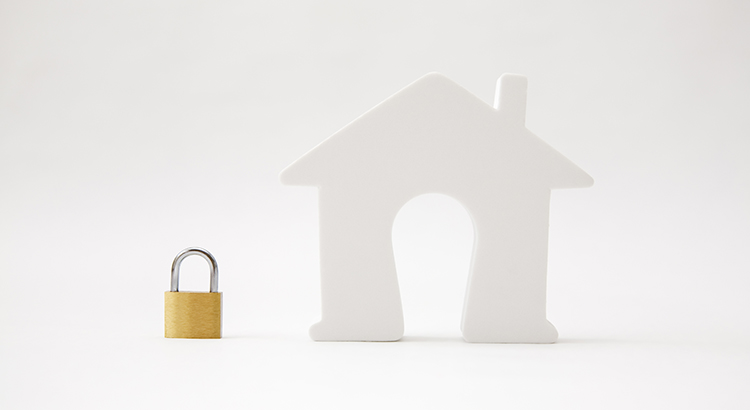 With the strength of the current housing market growing every day and more Americans returning to work, a faster-than-expected recovery in the housing sector is already well underway. Regardless, many are still asking the question: will we see a wave of foreclosures as a result of the current crisis? Thankfully, research shows the number of foreclosures is expected to be much lower than what this country experienced during the last recession. Here's why.
According to Black Knight Inc., the number of those in active forbearance has been leveling-off over the past month (see graph below):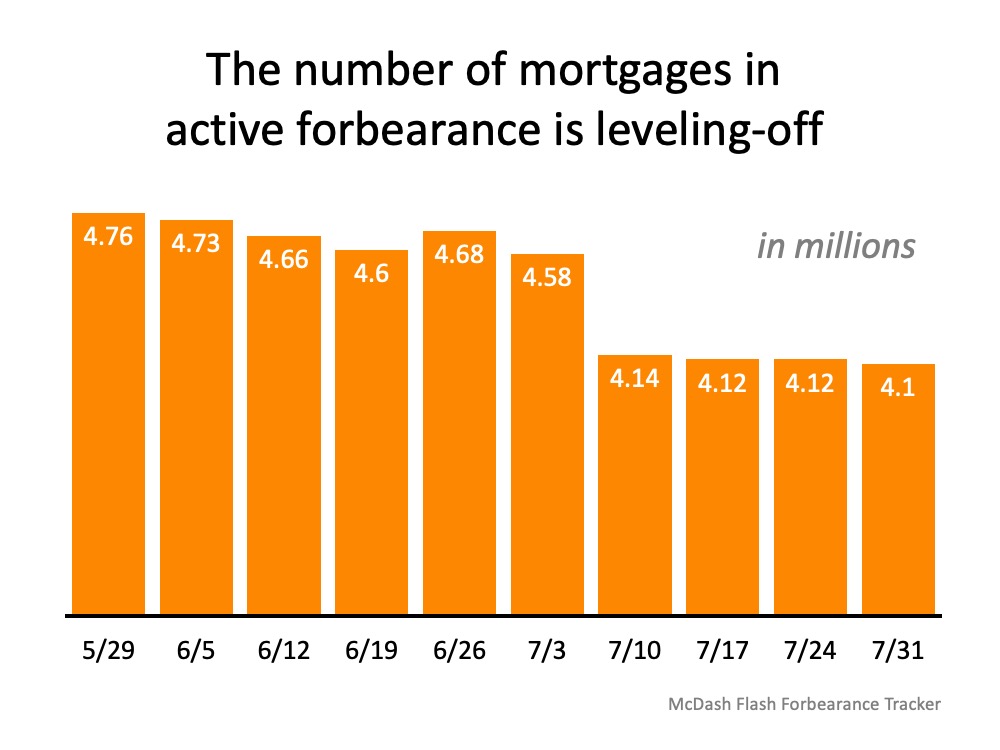 Black Knight Inc. also notes, of the original 4,208,000 families granted forbearance, only 2,588,000 of these homeowners got an extension. Many homeowners have once again started to pay their mortgages, paid off their homes, or never went delinquent on their payments in the first place. They may have applied for forbearance out of precaution, but never fully acted on it (see graph below):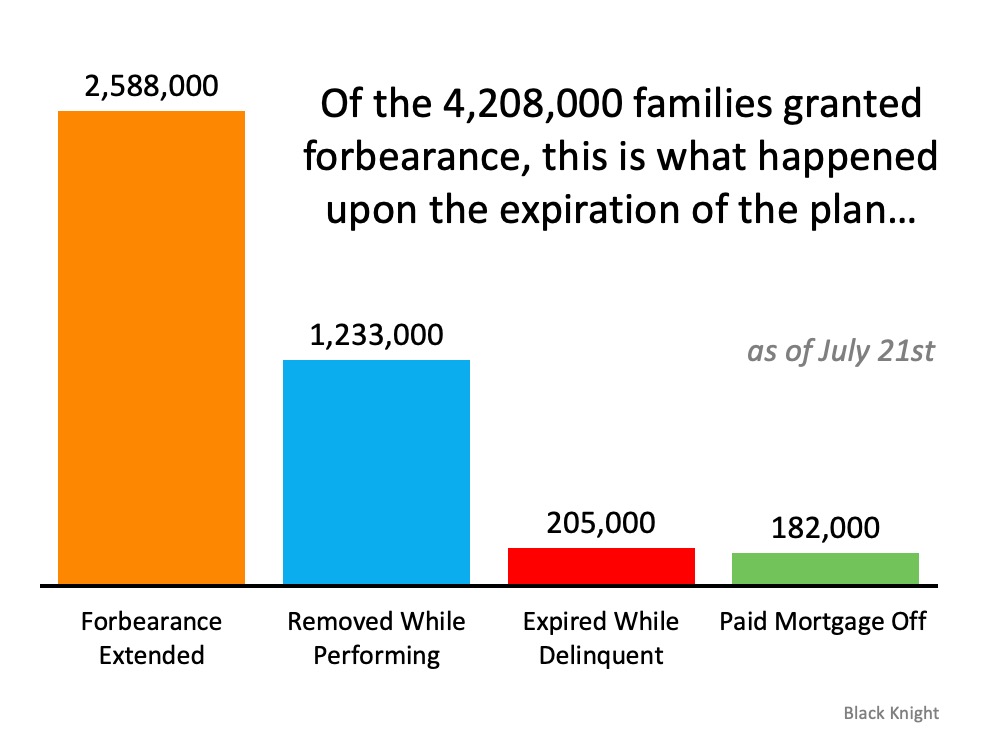 The housing market, and homeowners, therefore, are in a much better position than many may think. Much of that has to do with the fact that today's homeowners have more equity than most realize. According to John Burns Consulting, over 42% of homes are owned free and clear, meaning they are not tied to a mortgage. Of the remaining 58%, the average homeowner has $177,000 in equity. That number is keeping many homeowners afloat today and giving them options to avoid foreclosure.
While ATTOM Data Solutions indicates that there is a potential for the number of foreclosures to increase throughout the country, it's important to understand why they won't rock the housing market this time around:
"The United States faces a possible foreclosure surge over the coming months that could more than double the number of households threatened with eviction for not paying their mortgages."
That number may sound massive, but it is actually much smaller than it seems at first glance. Today's actual quarterly active foreclosure number is 74,860. That's over 7.5x lower than the number of foreclosures the country saw at the peak of the housing crash in 2009. When looking at the graph below, it's clear that even if the number of quarterly foreclosures today doubles, as ATTOM Data Solutions indicates is a possibility (not a given), they will only reach what historically-speaking is a normalized range, far below what up-ended the housing market roughly 10 years ago.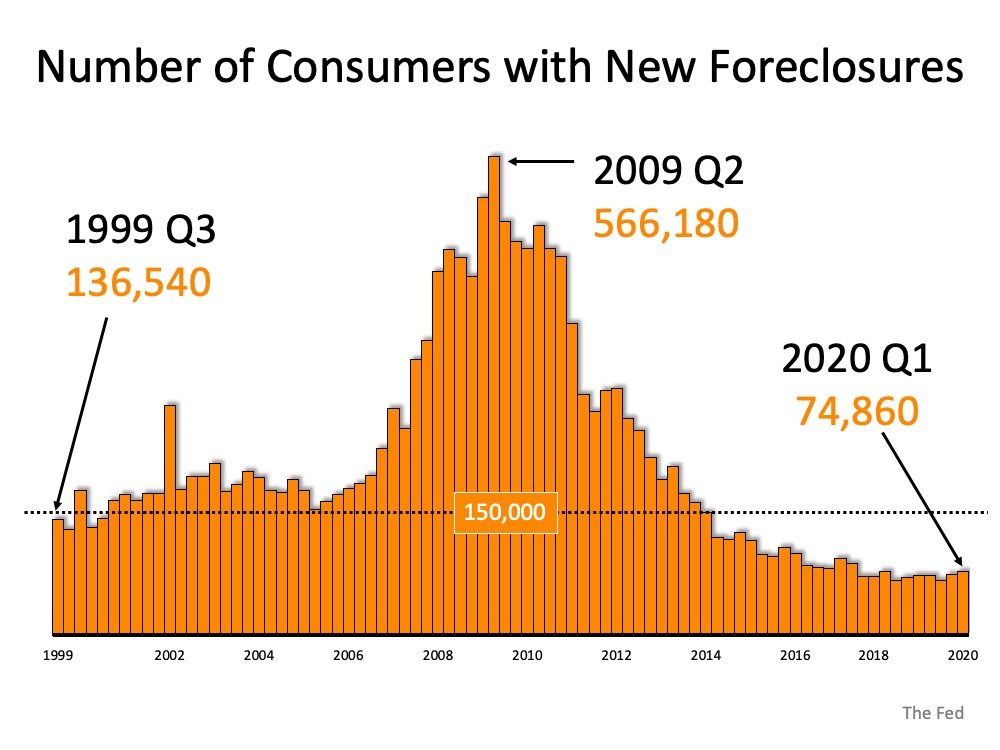 Equity is growing, jobs are returning, and the economy is slowly recovering, so the perfect storm for a wave of foreclosures is not realistically in the housing market forecast. As Odeta Kushi, Deputy Chief Economist for First American notes:
"Alone, economic hardship and a lack of equity are each necessary, but not sufficient to trigger a foreclosure. It is only when both conditions exist that a foreclosure becomes a likely outcome."
While our hearts are with anyone who may end up in foreclosure as a result of this crisis, we do know that today's homeowners have more options than they did 10 years ago. For some, it may mean selling their house and downsizing with that equity, which is a far better outcome than a foreclosure.
Bottom Line
Homeowners today have many options to avoid foreclosure, and equity is surely helping to keep many afloat. Even if today's rate of foreclosures doubles, it will still only hit a mark that is more in line with a historically normalized range, a very good sign for homeowners and the housing market.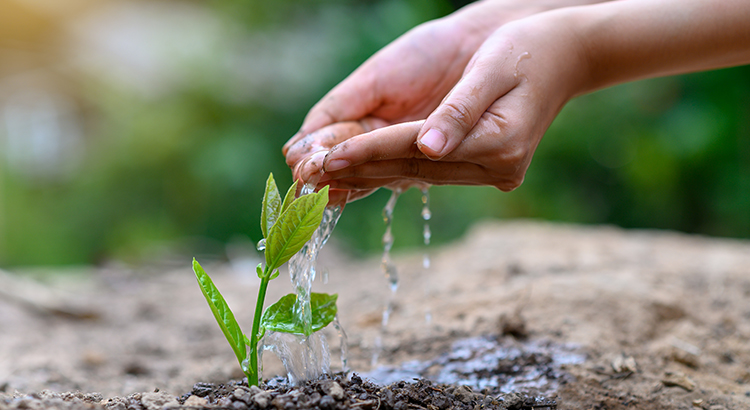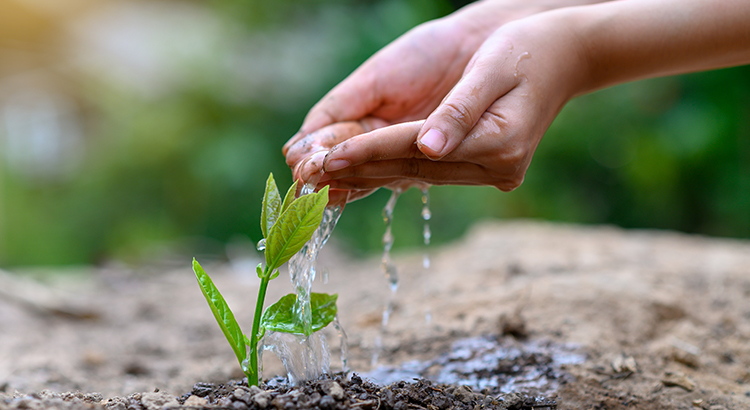 In June, the number of first-time homebuyers accounted for 35% of the existing homes sold, a trend that's been building steadily throughout the year. According to the National Association of Realtors (NAR):
"The share of first-time buyers increased in March through June—right into the heart of the pandemic period and the surge in unemployment—and is now trending higher than the 29% to 32% average in past years since 2012." (See graph below):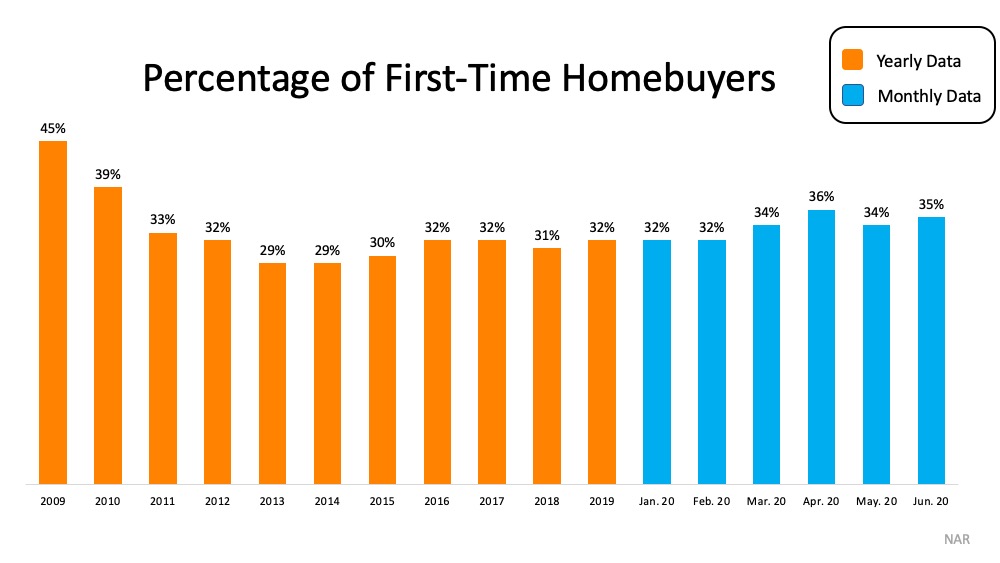 Why the rise in first-time homebuying?
NAR continues to say:
"The major factor is, arguably, low mortgage rates. As of the week ended July 16, the 30-year fixed mortgage rate dropped to 2.98%. With rates so low that are locked in under a 30-year mortgage, the typical mortgage payment, estimated at $1,036, has fallen below the median rent, at $1,045. For potential home buyers who were thinking of purchasing a home anyway before the pandemic outbreak and who are likely to remain employed, the low mortgage rate may be the clincher."
Clearly, historically low mortgage rates are encouraging many to buy. With the average mortgage payment now estimated at a lower monthly cost than renting, it's a great time for first-time homebuyers to enter the market. According to the Q2 2020 Housing Trends Report from the National Association of Homebuilders (NAHB):
"Eighty-four percent of Gen Z's planning to buy a home are first timers, compared to 68% of Millennials, 52% of Gen X's, and 21% of Boomers. Looking at results by region shows that over 60% of prospective buyers in the Northeast and South are buying a home for the first time. The share is above 55% in the Midwest and West."
There are, however, challenges for first-time buyers. A recent survey conducted by NeighborWorks America also notes that understanding the homebuying process may be the most significant barrier for many hopeful homeowners:
"Homeownership is a particular challenge for many, despite high levels of interest. Americans believe there are many benefits to homeownership and half of non-owners will seek information about the process in the next few years…a large share of non-owners say the process is too challenging and only a minority know where to find advice if they wanted it. And although many would seek the guidance of community and non-profit programs, only one in three non-owners are aware of such services."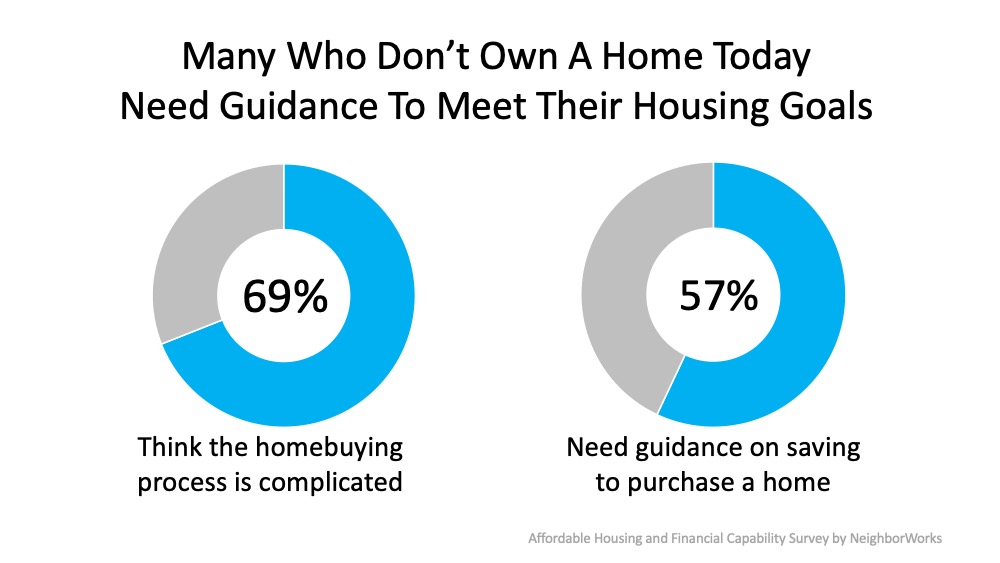 If you're among the first-time homebuyers who feel the process is complicated, you're not alone. If you're not sure where to begin or you simply want help in figuring out how to save for a home, finding a trusted real estate advisor to work with is a critical step toward your success. A real estate professional can help you understand the process, review your current situation, and guide you with a plan to help you to feel confident when buying a home.
Bottom Line
If you're interested in purchasing a home and need help getting started, let's connect today so you can take advantage of the support available to guide you through each step of the way.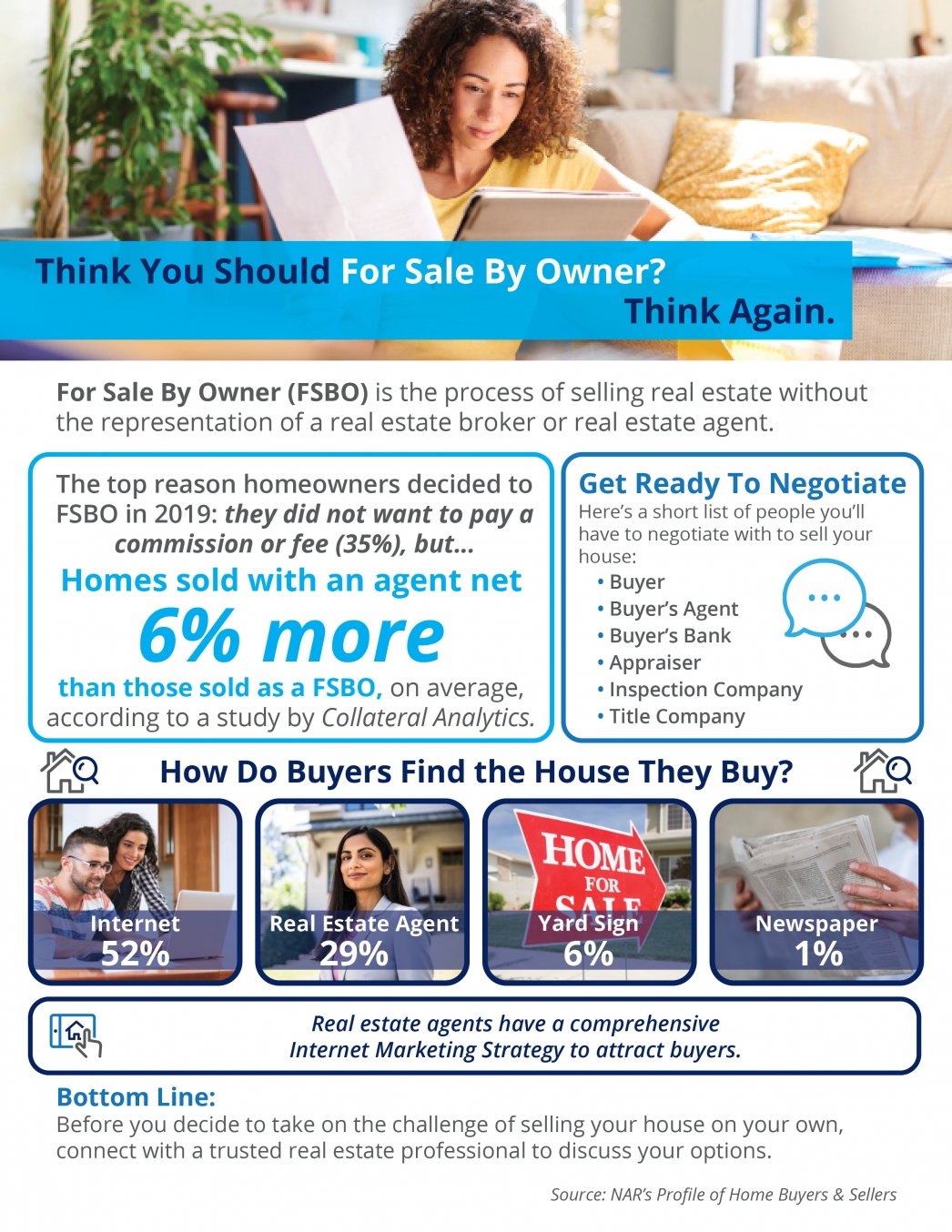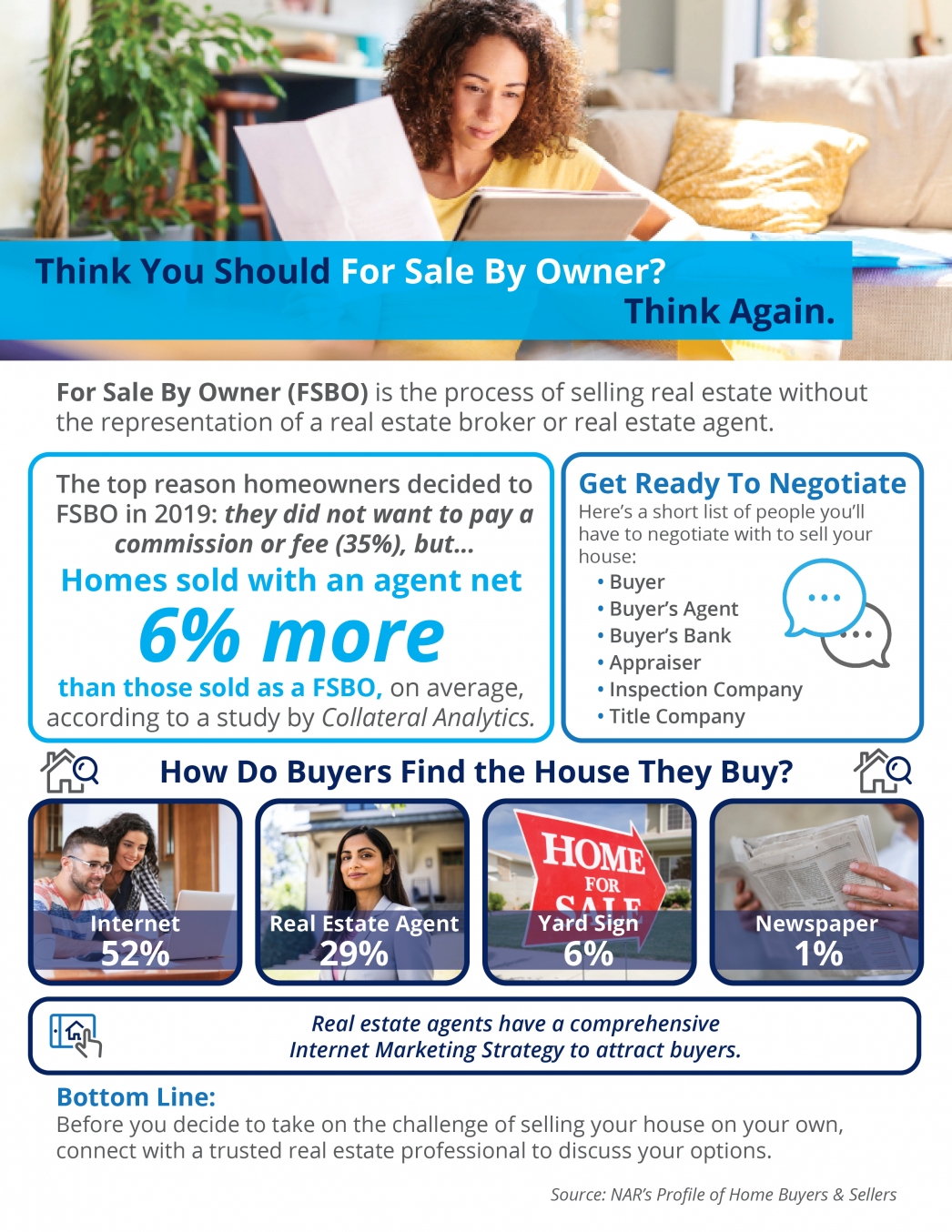 Some Highlights 
For Sale By Owner (FSBO) is the process of selling real estate without the representation of a real estate broker or real estate agent.
According to the National Association of Realtors' Profile of Home Buyers & Sellers, 35% of homeowners who decided to FSBO last year did so to avoid paying a commission or fee. But, homes sold with an agent net 6% more than those sold as an FSBO according to Collateral Analytics.
Before you decide to take on the challenge of selling your house on your own, let's connect to discuss your options.