Social Links Widget
Click here to edit the Social Media Links settings. This text will not be visible on the front end.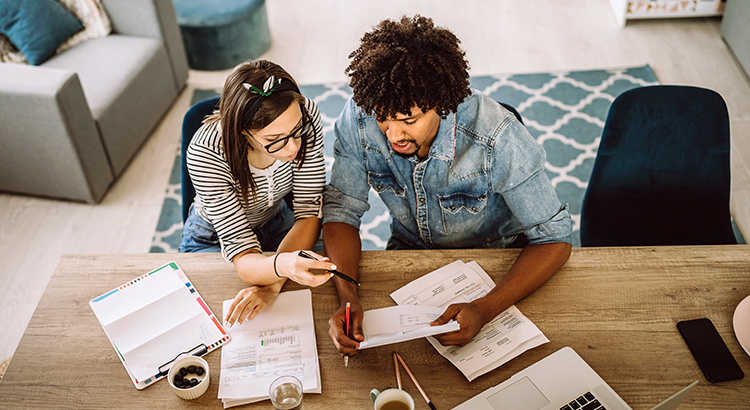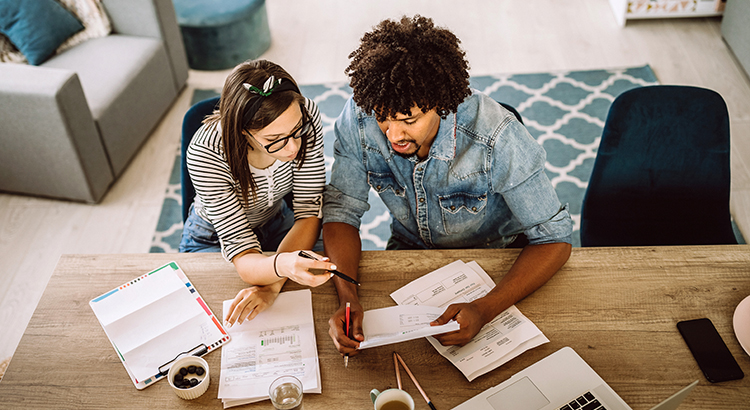 One of the biggest misconceptions for first-time homebuyers is how much you'll need to save for a down payment. Contrary to popular belief, you don't always have to put 20% down to buy a house. Here's how it breaks down.
A recent survey by Point2Homes mentions that 74% of millennials (ages 25-40) say they're interested in purchasing a home over the next 12 months. The study notes, "88% say they have significantly less savings than the average national down payment amount, which is $62,600."
Thankfully, $62,600 is not the amount every buyer needs for a down payment in the United States. There are many different options available, especially for first-time homebuyers (millennial or not). That amount can also be significantly less, depending on the purchase price of the house.
According to the National Association of Realtors (NAR), "The median existing-home price for all housing types in August was $310,600." (These are the latest numbers available). NAR also indicates that:
"In 2019, the median down payment was 12 percent for all buyers, six percent for first-time buyers, and 16 percent for repeat buyers." (See graph below):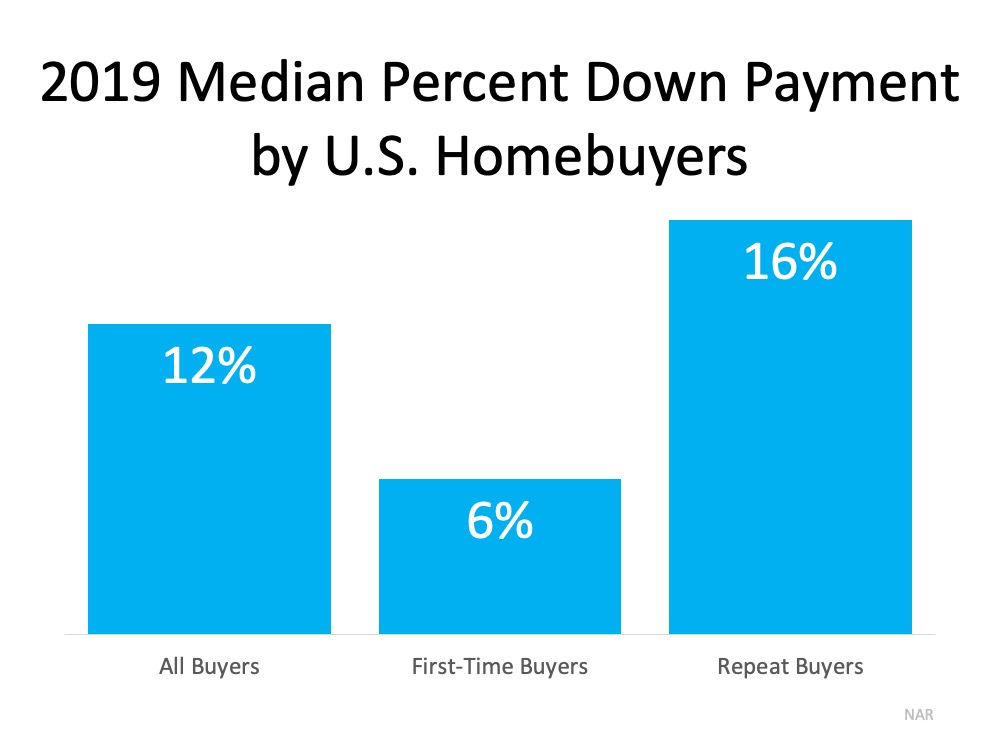 That means if a qualified first-time buyer purchases a home at today's median price, $310,600, with a 6% down payment, in reality, the down payment only amounts to $18,636. That's nowhere near $62,600.
Knowing there are also programs like FHA where the down payment can be as low as 3.5% of the purchase price for a first-time buyer, that up-front cost could be significantly less – as little as $10,871 for the same home noted above. There are also other programs like USDA and loans for Veterans that waive down payment requirements.
The Point2Homes study also shares how much millennials have indicated they've saved for a down payment. As we can see in the graph below, 39% have already saved enough for a down payment on a median-priced home. Another 47% are close to reaching that goal, depending on the purchase price of the home.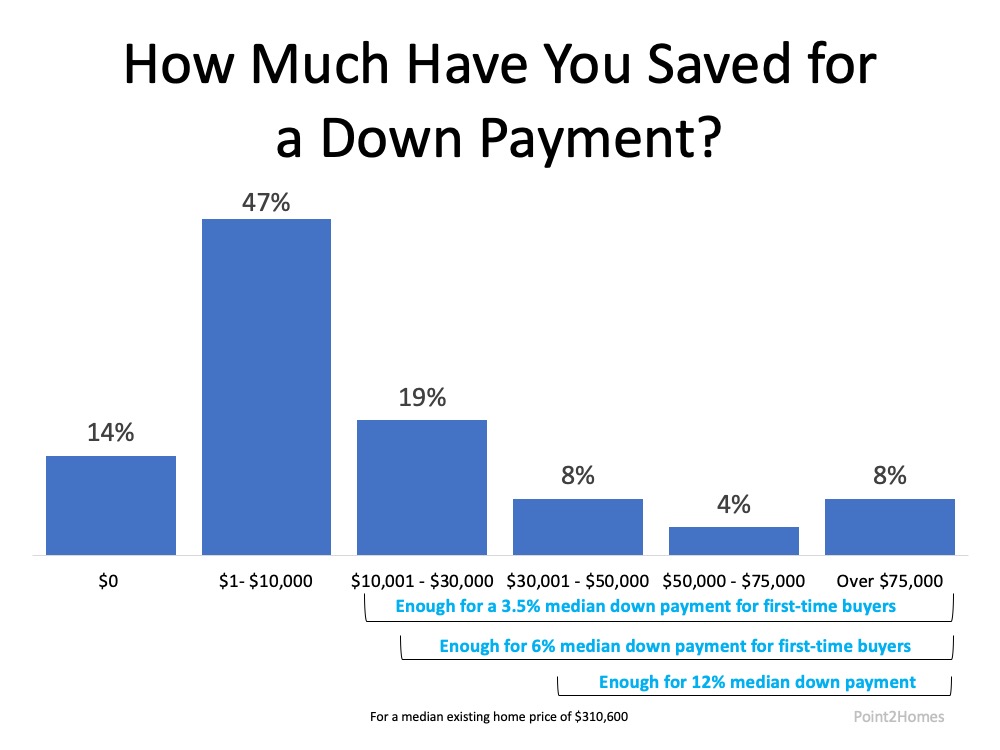 Unfortunately, the lack of knowledge about the homebuying process is keeping many motivated first-time buyers on the sidelines. That's why it's important to contact a local real estate professional to understand the requirements in your local area if you want to buy a home. A trusted agent and your lender can guide you through the process.
Bottom Line
Be careful not to let big myths about homebuying keep you and your family out of the housing market. Let's connect to discuss your options today.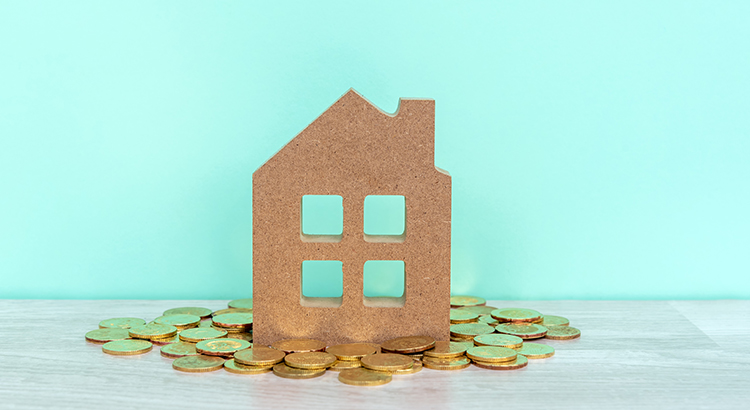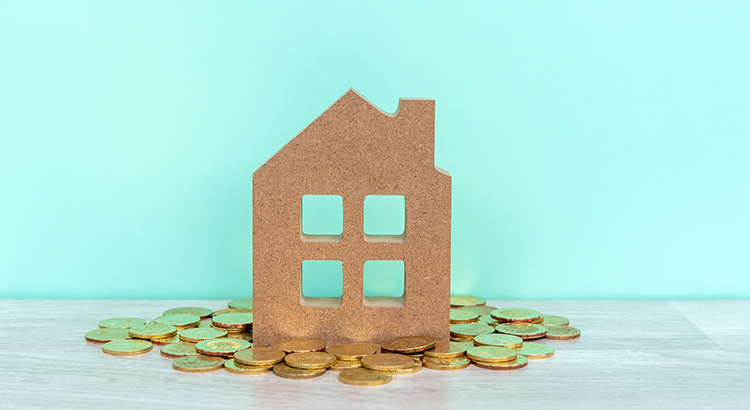 Homeownership is one of the best ways to invest in your financial future, especially as your home equity grows. Home equity is a form of forced savings that can work to your advantage as the value of your home appreciates. Across the country, home equity was increasing before the health crisis swept our nation, and it continues to grow throughout the year, giving sellers powerful options in this market.
According to the just-released Q2 Homeowner Equity Insights Report by CoreLogic:
"U.S. homeowners with mortgages (roughly 63% of all properties) have seen their equity increase by a total of nearly $620 billion since the second quarter of 2019, an increase of 6.6%, year over year." 
Dr. Frank Nothaft, Chief Economist for CoreLogic, attributes much of the equity growth to rising home prices:
"The CoreLogic Home Price Index registered a 4.3% annual rise in prices through June, which supported an increase in home equity."
As the map below shows, CoreLogic also indicates that home equity is increasing in every state:
"In the second quarter of 2020, the average homeowner gained approximately $9,800 in equity during the past year."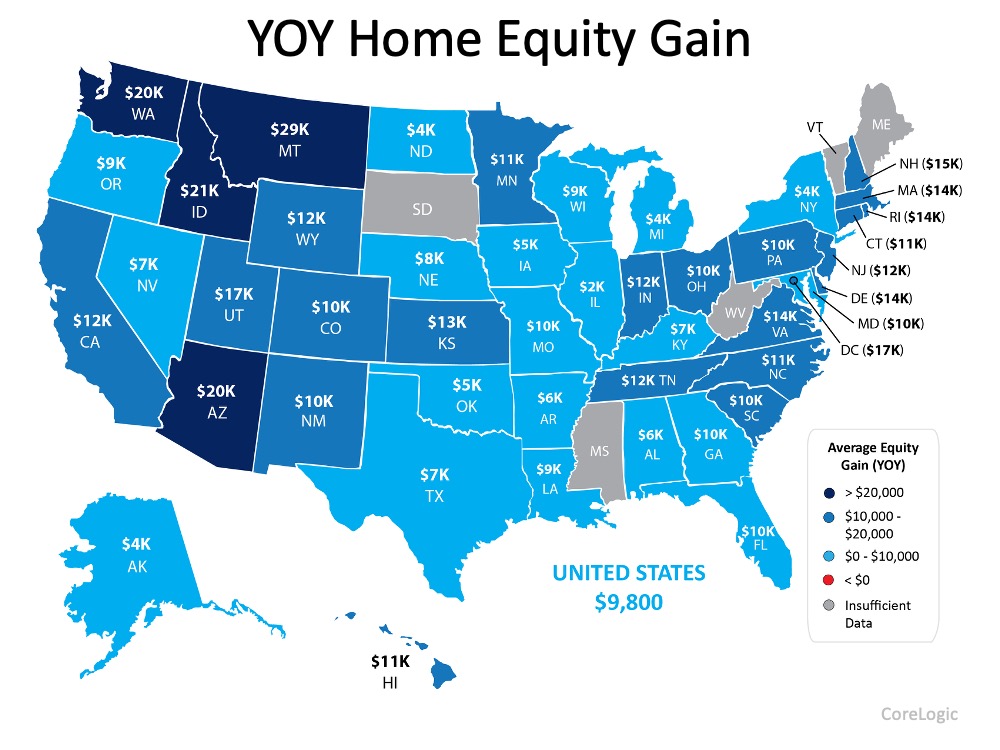 What Does This Mean for Sellers? 
When equity is rising, as it is today, you may have more invested in your home than you realize. Mark Fleming, Chief Economist at First American, notes:
"As homeowners gain equity in their homes, they are more likely to consider using that equity to purchase a larger or more attractive home – the wealth effect of rising equity. In today's housing market, fast rising demand against the limited supply of homes for sale has resulted in continued house price appreciation."
If you've been considering making a move – whether that's to get into a bigger home or to downsize to a smaller one – it's a great time to reach out to a real estate professional to learn how to put your equity to work for you. You may be in a position to pay that equity forward toward your next home purchase and afford it sooner rather than later.
Bottom Line
If you're thinking of selling, let's connect so you can take advantage of what the current market has to offer today.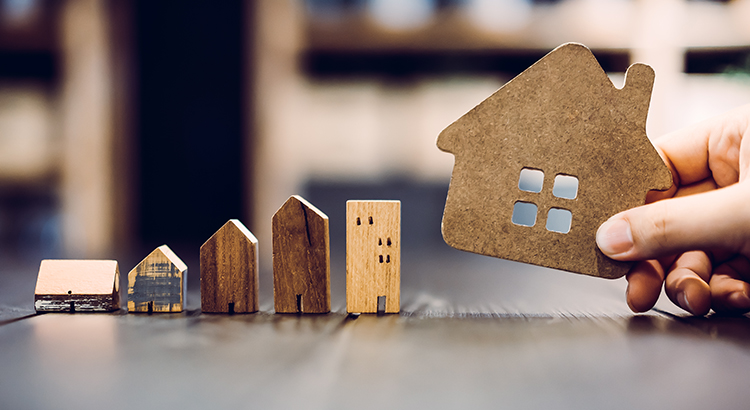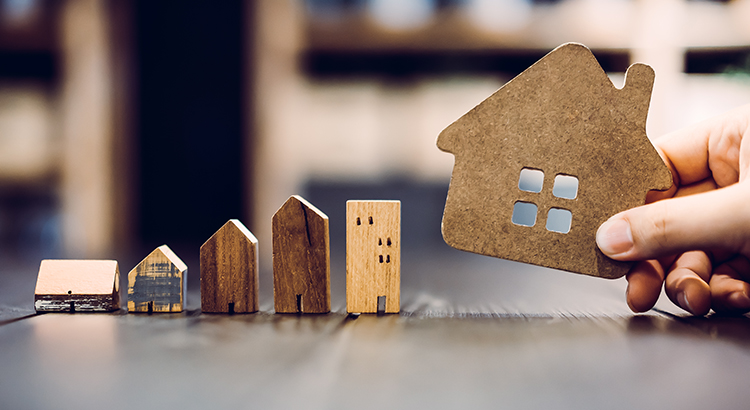 One of the biggest surprises of 2020 is the resilience of the residential real estate market. Lawrence Yun, Chief Economist of the National Association of Realtors (NAR), is now forecasting that more homes will sell this year than last year. He's also predicting home sales to increase by 8-12% next year. There's strong evidence that he will be right.
ShowingTime, a leading showing software and market stat service provider for the residential real estate industry, just reported on their latest the ShowingTime Showing Index:
"Home buyer traffic jumped again in July, recording a 60.7 percent year-over-year increase in nationwide showing activity."
That means there are 60% more buyers setting appointments to see homes than there were at this same time last year. The number of potential purchasers was also up dramatically in every region of the country:
The Northeast was up 76.6%
The West was up 56.7%
The Midwest was up 52.1%
The South was up 46.7%
The Housing Market Is Showing a 'V' Type Recovery
ShowingTime also indicates the real estate market has already come back from the downturn earlier this year that was caused by shelter-in-place orders. Here are the year-over-year numbers for each region on a monthly basis (See graph below):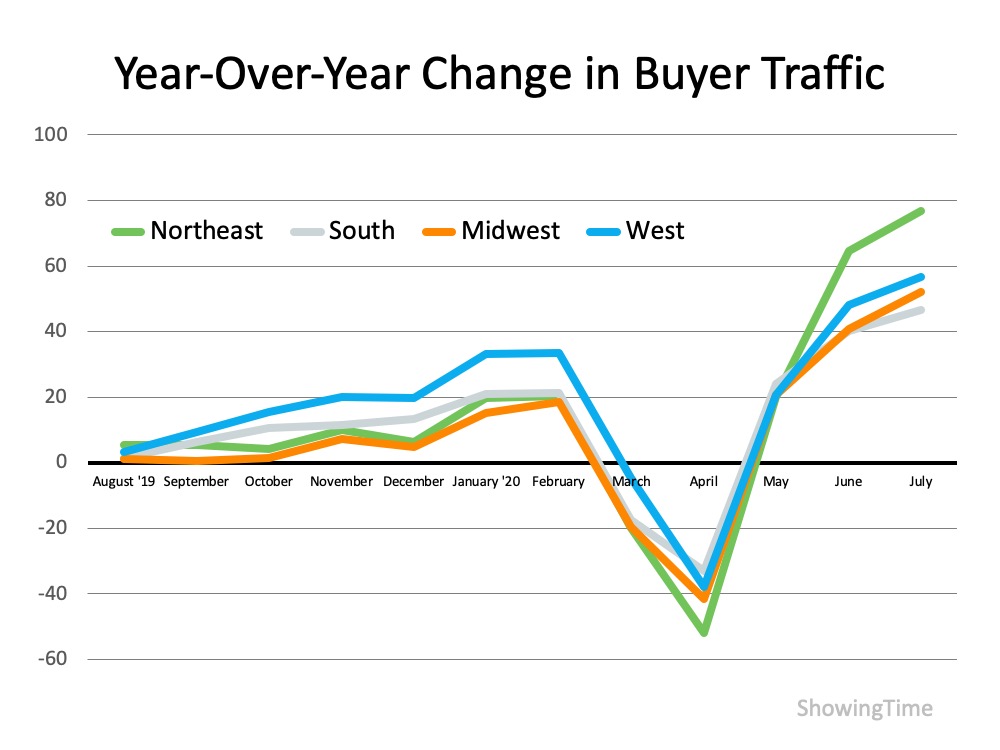 We're way ahead of where we were at this time last year. This data validates the thoughts of Frank Martell, President and CEO of CoreLogic, who recently noted:
"On an aggregated level, the housing economy remains rock solid despite the shock and awe of the pandemic."
Bottom Line
If you're thinking about selling your house, this may be a great time to get the best price and the most favorable terms.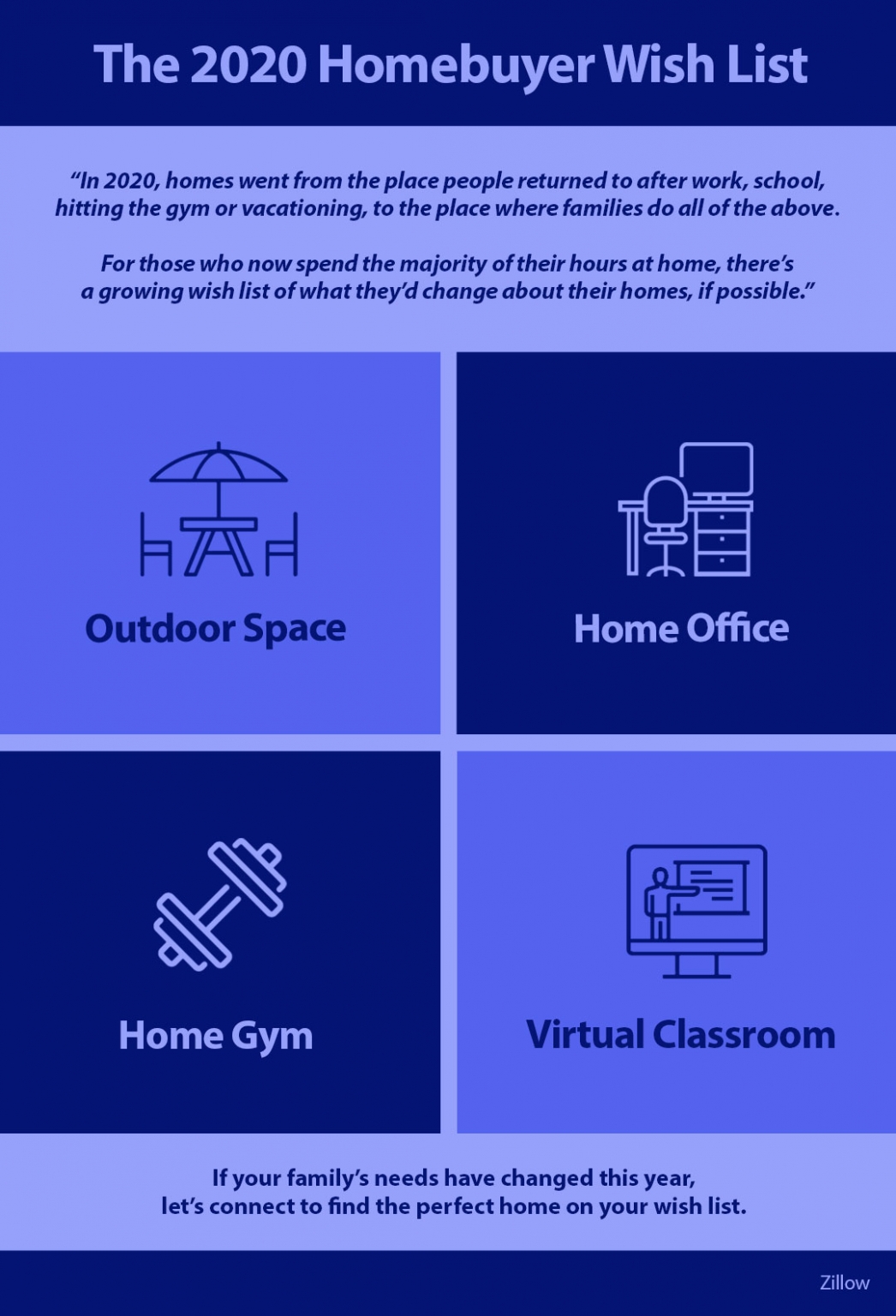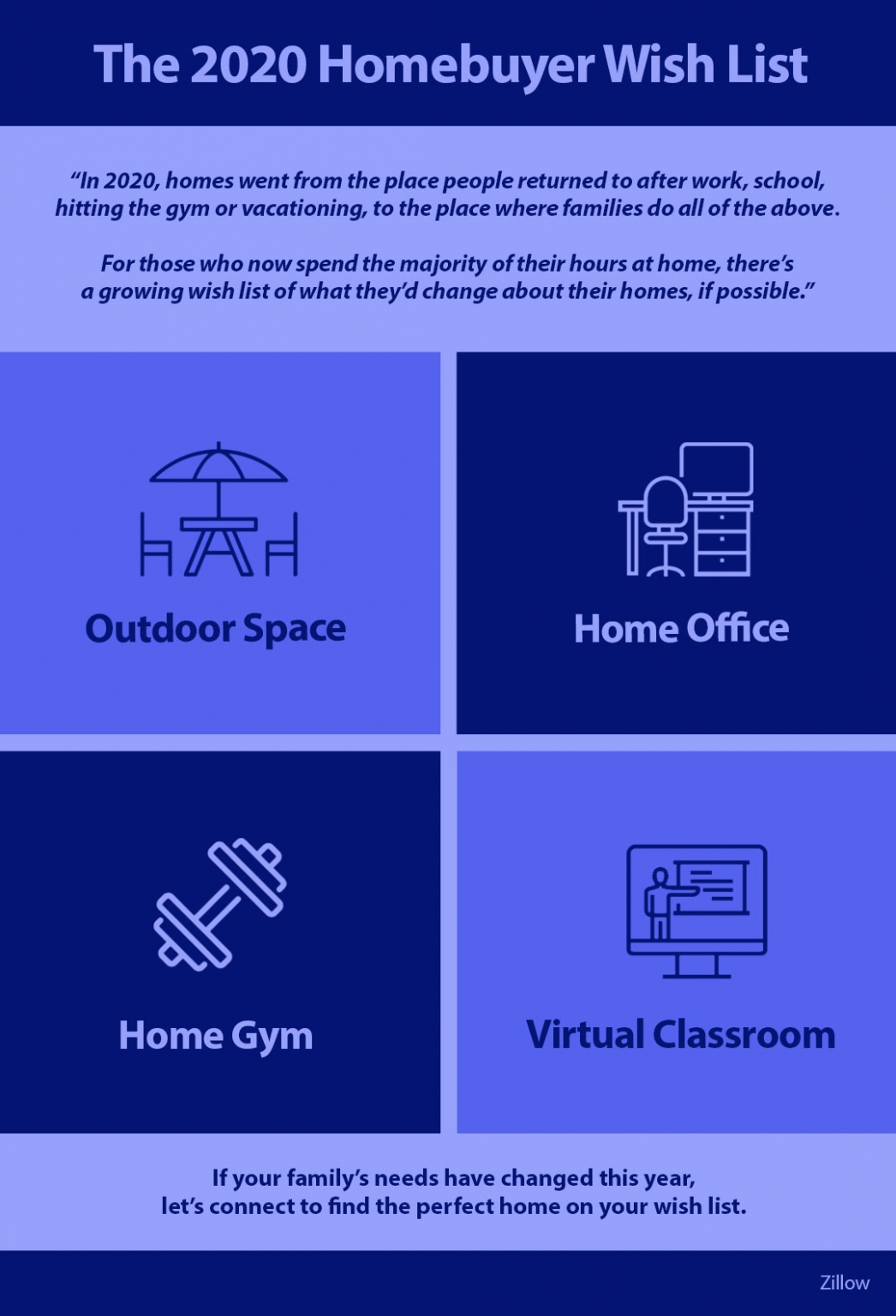 Some Highlights
The word "home" is taking on a whole new meaning this year, and buyers are starting to look for new features as they re-think their needs and what's truly possible.
From more outdoor space to virtual classrooms for their children, buyers have a growing list of what they'd like to see in their homes.
Let's connect today if your needs have changed and your wish list is expanding too.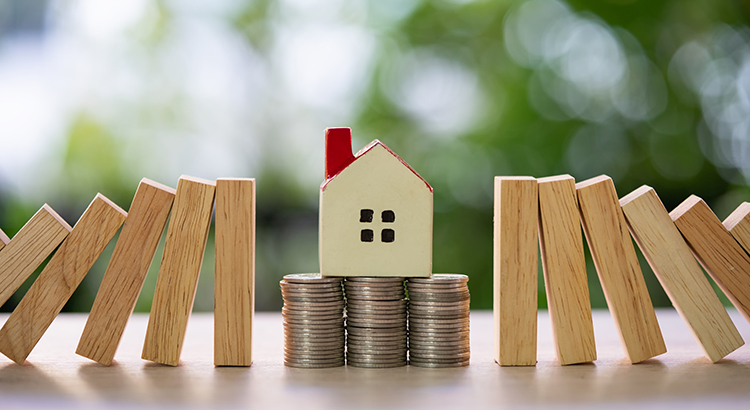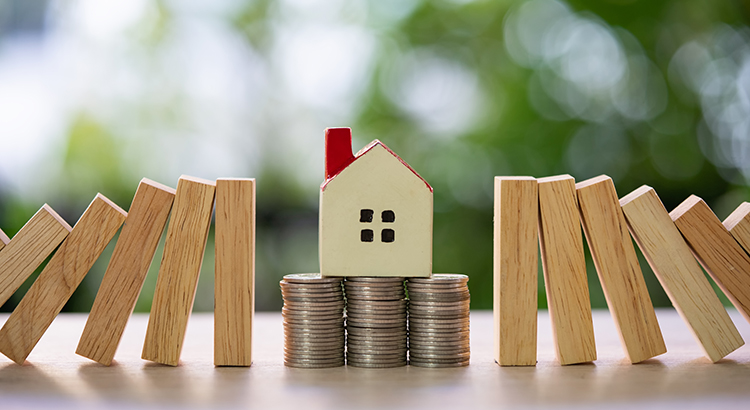 When most of us begin searching for a home, we naturally start by looking at the price. It's important, however, to closely consider what else impacts the purchase. It's not just the price of the house that matters, but the overall cost in the long run. Today, that's largely impacted by low mortgage rates. Low rates are actually making homes more affordable now than at any time since 2016, and here's why.
Today's low rates are off-setting rising home prices because it's less expensive to borrow money. In essence, purchasing a home while mortgage rates are this low may save you significantly over the life of your home loan.
Taking a look at the graph below with data sourced from the National Association of Realtors (NAR), the higher the bars rise, the more affordable homes are. The orange bars represent the period of time when homes were most affordable, but that's also reflective of when the housing bubble burst. At that time, distressed properties, like foreclosures and short sales, dominated the market. That's a drastically different environment than what we have in the housing market now.
The green bar represents today's market. It shows that homes truly are more affordable than they have been in years, and much more so than they were in the normal market that led up to the housing crash. Low mortgage rates are a big differentiator driving this affordability.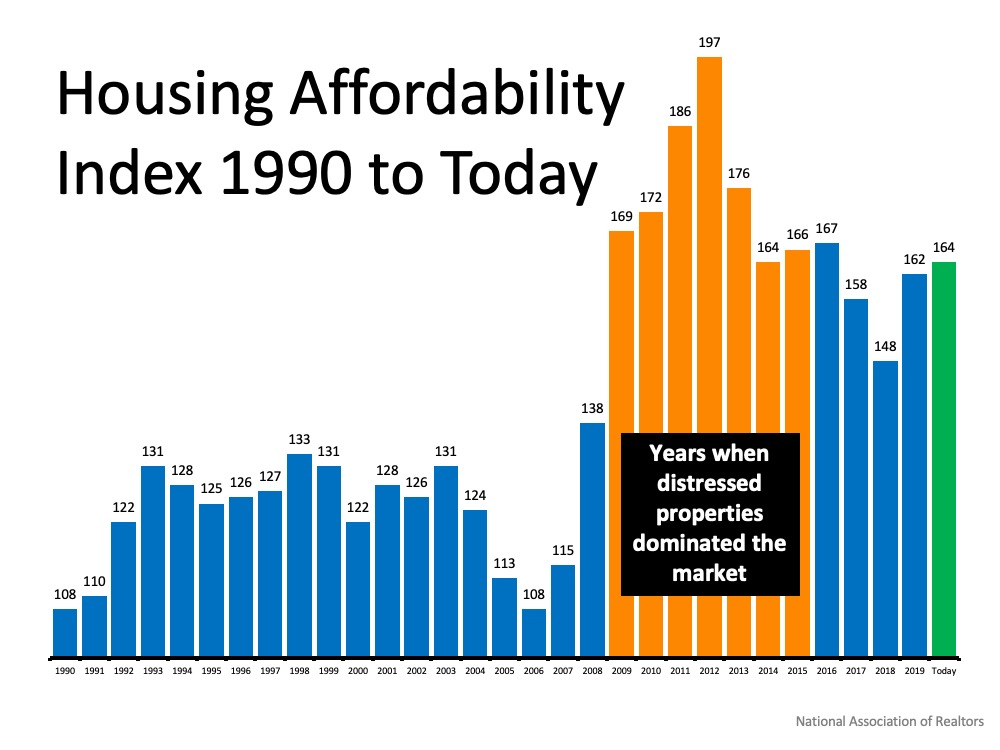 What are the experts saying about affordability?
Experts agree that this unique moment in time is making homes incredibly affordable for buyers.
Lawrence Yun, Chief Economist, NAR:
"Although housing prices have consistently moved higher, when the favorable mortgage rates are factored in, an overall home purchase was more affordable in 2020's second quarter compared to one year ago."
Bill Banfield, EVP of Capital Markets, Quicken Loans:
"No matter what you're looking for, this is a great time to buy since the current low interest rates can stretch your spending power."
"Those shopping for a home can afford 10 percent more home than they could have one year ago while keeping their monthly payment unchanged. This translates into nearly $32,000 more buying power." 
"Homeowners are the clear winners. Low mortgage rates mean the cost of owning is at historically low levels and who gains all the benefits of strong house price appreciation? Homeowners."
Bottom Line
When purchasing a home, it's important to think about the overall cost, not just the price of the house. Homes on your wish list may be more affordable today than you think. Let's connect to discuss how affordability plays a role in our local market, and your long-term homeownership goals.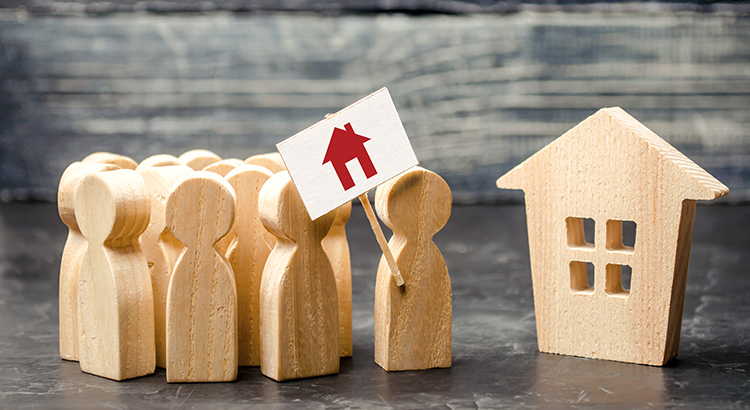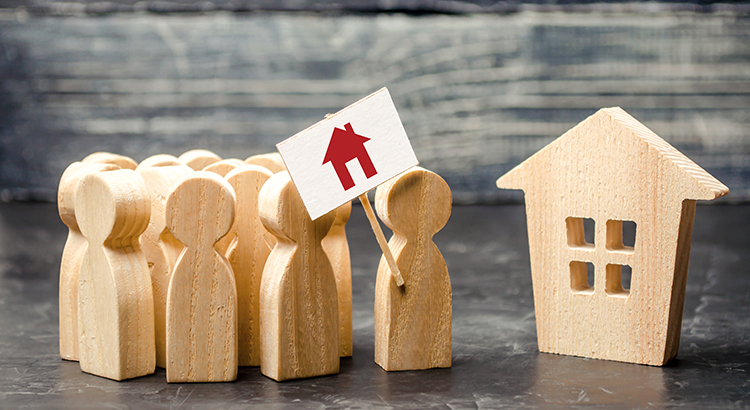 With so few houses for sale today and low mortgage rates driving buyer activity, bidding wars are becoming more common. Multiple-offer scenarios are heating up, so it's important to get pre-approved before you start your search. This way, you can put your best foot forward – quickly and efficiently – if you're planning to buy a home this season.
Javier Vivas, Director of Economic Research at realtor.com, explains:
"COVID-19 has accelerated earlier trends, bringing even more buyers than the market can handle. In many markets, fierce competition, bidding wars, and multiple offer scenarios may be the common theme in the weeks to come."
Here are three things you can do to make your offer a competitive one when you're ready to make your move.
1. Be Ready
A recent survey shows that only 52% of active homebuyers obtained a pre-approval letter before they began their home search. That means about half of active buyers missed out on this key part of the process.
Buyers who are pre-approved are definitely a step ahead when it's time to make an offer. Having a pre-approval letter indicating you're a qualified buyer shows sellers you're serious. It's often a deciding factor that can tip the scale in your direction if there's more than one offer on a home. It's best to contact a mortgage professional to start your pre-approval process early, so you're in the best position right from the start of your home search.
2. Present Your Best Offer
In a highly competitive market, it's common for sellers to pick a date and time to review all offers on a house at one time. If this is the case, you may not have an opportunity to negotiate back and forth with the sellers. As a matter of fact, the National Association of Realtors (NAR) notes:
"Not only are properties selling quickly, but they are also getting more offers. On average, REALTORS® reported nearly three offers per sold property in July 2020."
Make sure the offer you're presenting is the best one the sellers receive. A real estate professional can help you make sure your offer is a fair and highly competitive one.
3. Act Fast
With existing homes going like hotcakes, there's no time to waste in the process. NAR reports how the speed of home sales is ramping up:
"Properties typically remained on the market for 22 days in July, seasonally down from 24 days in June and from 29 days in July 2019. Sixty-eight percent of homes sold in July 2020 were on the market for less than a month."
In addition, NAR notes:
"Total existing-home sales…jumped 24.7% from June to a seasonally adjusted annual rate of 5.86 million in July. The previous record monthly increase in sales was 20.7% in June of this year. Sales as a whole rose year-over-year, up 8.7% from a year ago (5.39 million in July 2019)."
As you can see, the market is gaining steam. For two consecutive months houses have sold very quickly. Essentially, you may not have time to sleep on it or shop around when you find a home you love. Chances are, someone else loves it too. If you take your time, it may not be available when you're ready to commit.
Bottom Line
The housing market is very strong right now, and buyers are scooping up available homes faster than they're coming to market. If you're planning to purchase a home this year, let's connect to discuss the trends in our current area, so you're ready to compete – and win.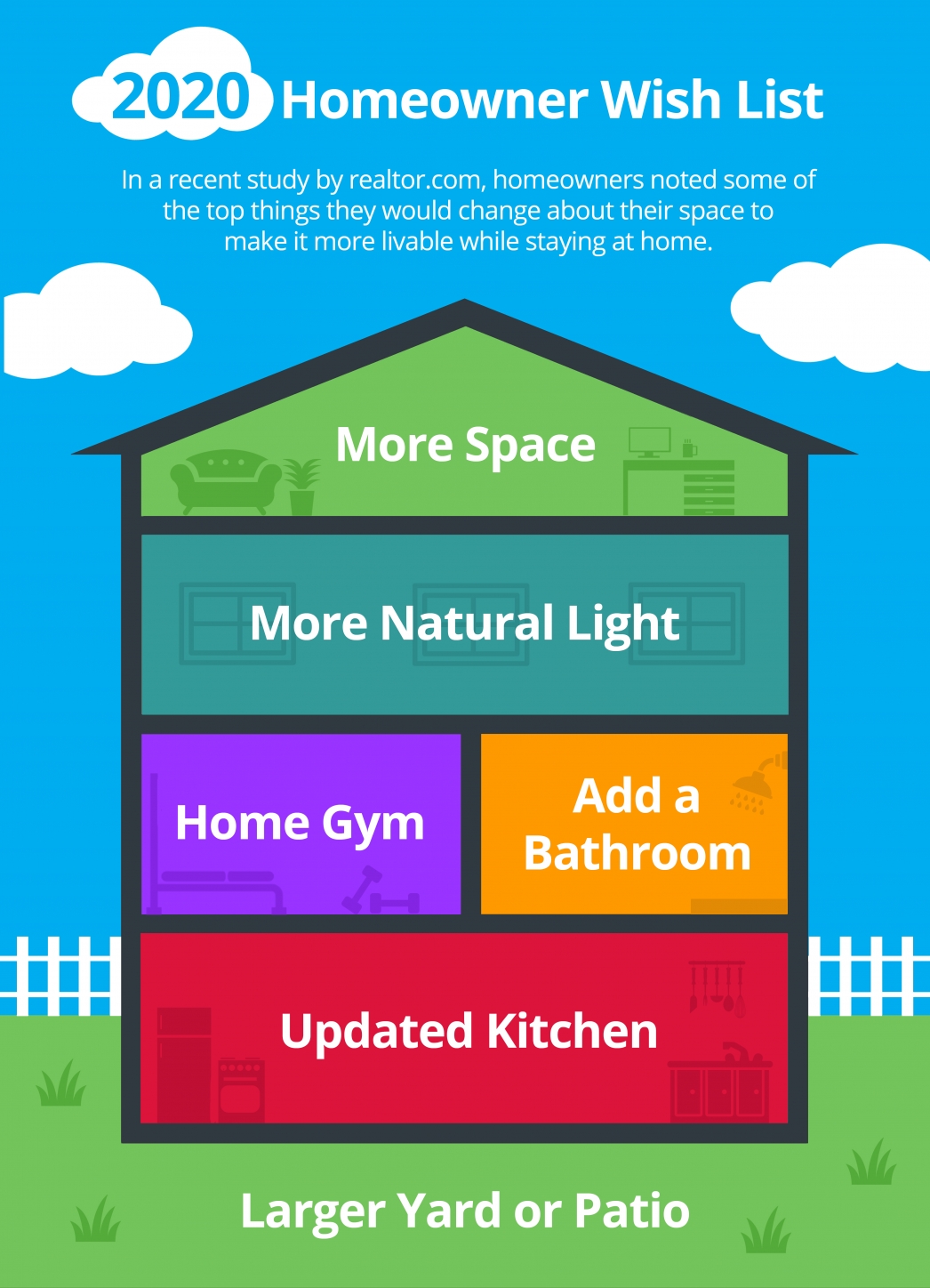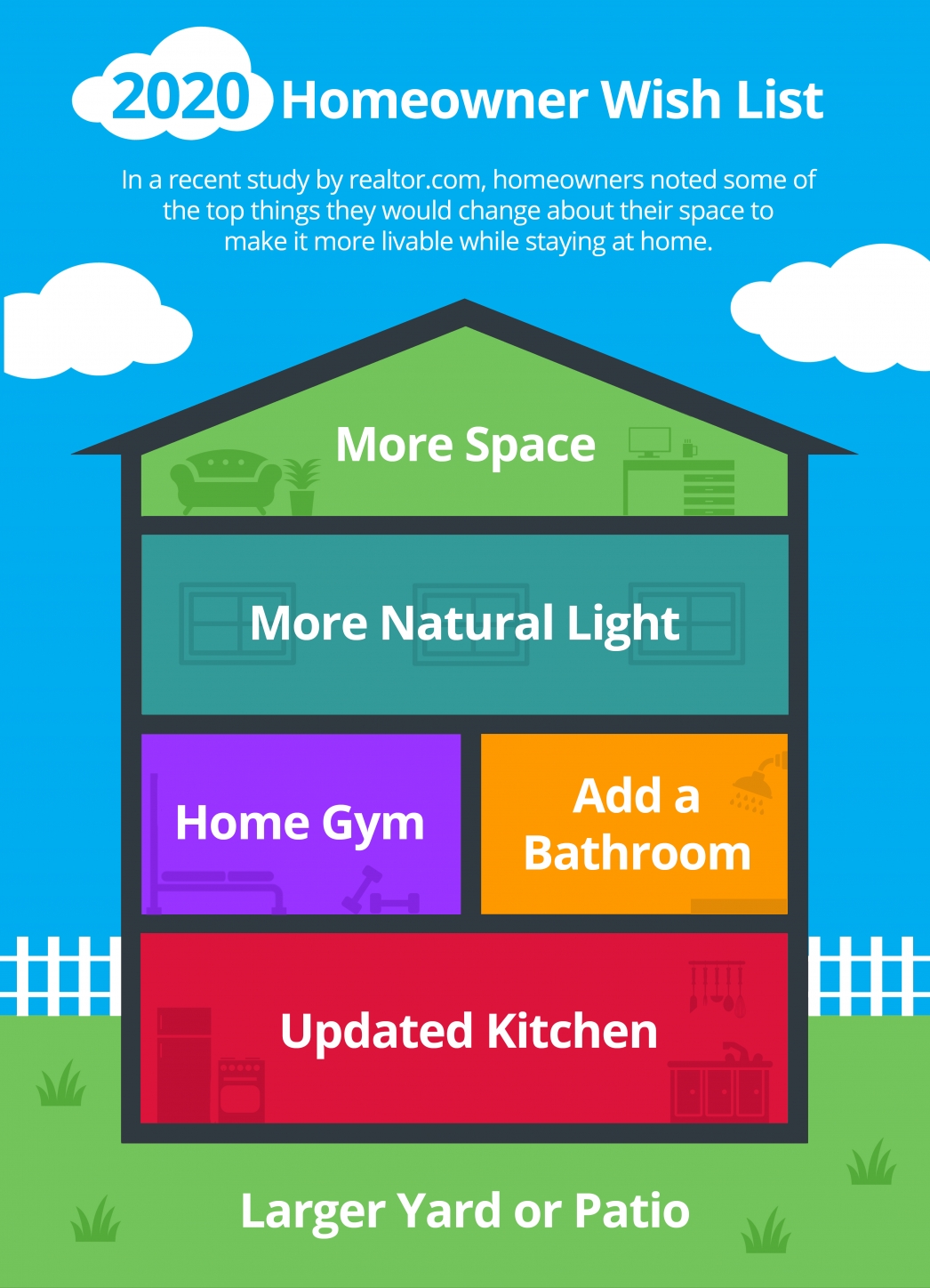 Some Highlights
In a recent study by realtor.com, homeowners noted some of the main things they would change about their homes to make them more livable.
Not surprisingly, more space, an updated kitchen, and a home gym rose to the top of the list.
If you're thinking of selling this year, having these items in your listing might make your house more desirable than ever to potential buyers.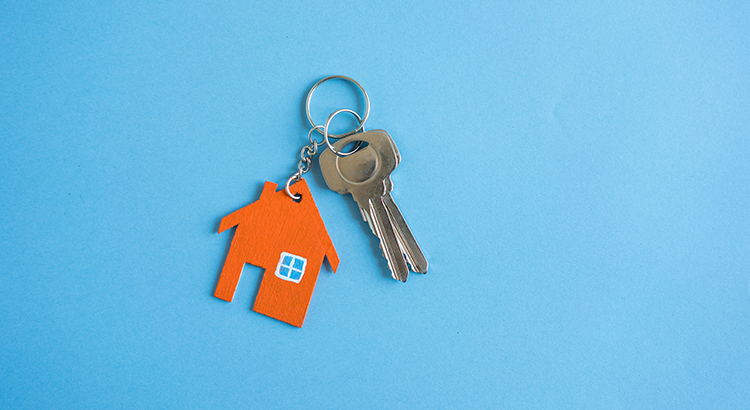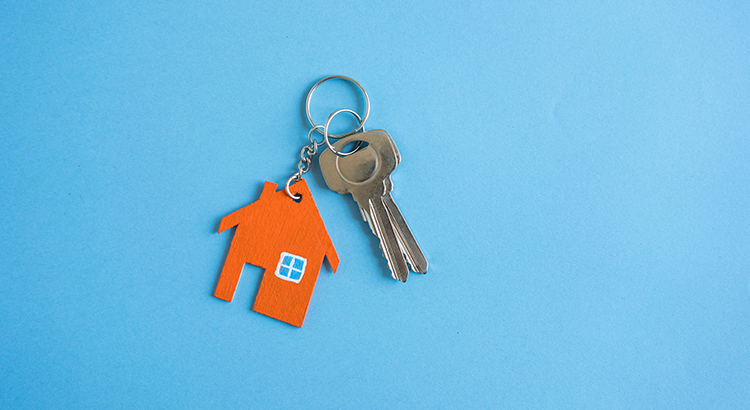 In a recent survey by realtor.com, people thinking about selling their homes indicated they're generally willing to allow their agent and some potential buyers inside if done under the right conditions. They're less comfortable, however, hosting an open house. This is understandable, given the health concerns associated with social contact these days. The question is if you need to sell your house now, what virtual practices should you use to make sure you, your family, and potential buyers stay safe in the process?
In today's rapidly changing market, it's more important than ever to make sure you have a digital game plan and an effective online marketing strategy when selling your house. One of the ways your agent can help with this is to make sure your listing photos and virtual tours stand out from the crowd, truly giving buyers a detailed and thorough view of your home.
So, if you're ready to move forward, virtual practices may help you win big when you're ready to sell. While abiding by state and local regulations is a top priority, a real estate agent can help make your sale happen. Agents know exactly what today's buyers need, and how to put the necessary digital steps in place. For example, according to the same survey, when asked to select what technology would be most helpful when deciding on a new home, here's what today's homebuyers said, in order of preference:
Virtual tour of the home
Accurate and detailed listing information
Detailed neighborhood information
High-quality listing photos
Agent-led video chat
After leveraging technology, if you have serious buyers who still want to see your house in person, keep in mind that according to the National Association of Realtors (NAR), there are ways to proceed safely. Here are a few of the guidelines, understanding that the top priority should always be to obey state and local restrictions first:
Limit in-person activity
Require guests to wash their hands or use an alcohol-based sanitizer
Remove shoes or cover with booties
Follow CDC guidance on social distancing and wearing face coverings
Getting comfortable with your agent – a true trusted advisor – taking these steps under the new safety standards might be your best plan. This is especially important if you're in a position where you need to sell your house sooner rather than later.
Nate Johnson, CMO at realtor.com ® notes:
"As real estate agents and consumers seek out ways to safely complete these transactions, we believe that technology will become an even more imperative part of how we search for, buy and sell homes moving forward."
It sounds like some of these new practices might be here to stay.
Bottom Line
In a new era of life, things are shifting quickly, and virtual strategies for sellers may be a great option. Opening your doors up to digital approaches may be game-changing when it comes to selling your house. Let's connect so you have a trusted real estate professional to help you safely and effectively navigate through all that's new when it comes to making your next move.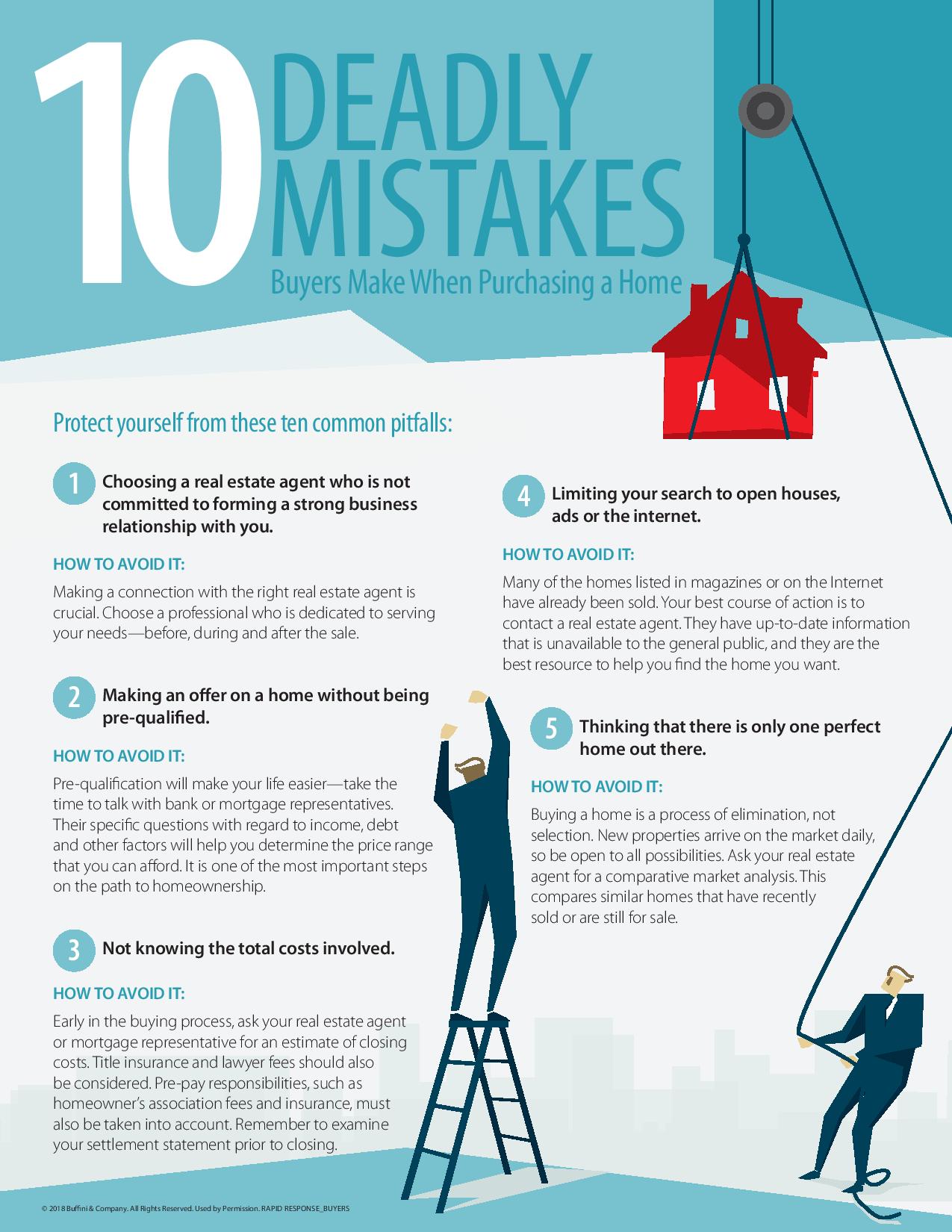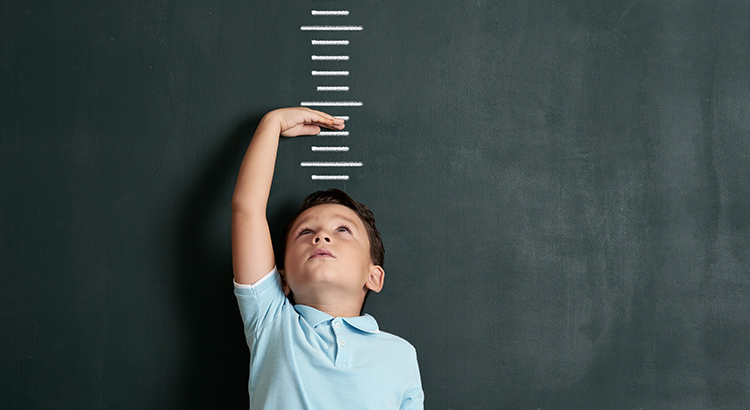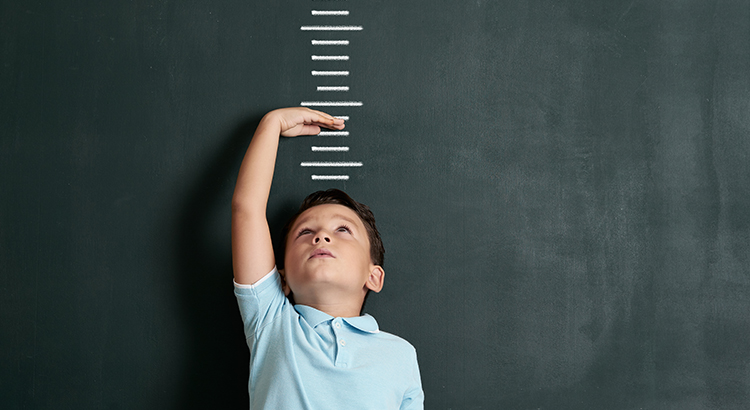 Unlike last year, the residential real estate market kicked off 2020 with a bang! In their latest Monthly Mortgage Monitor, Black Knight proclaimed:
"The housing market is heating entering 2020 and recent rate declines could continue that trend, a sharp contrast to the strong cooling that was seen at this same time last year."
Zillow revealed they're also seeing a robust beginning to the year. Jeff Tucker, Zillow Economist, said:
"Our first look at 2020 data suggests that we could see the most competitive home shopping season in years, as buyers are already competing over…homes for sale."
Buying demand is very strong. The latest Showing Index from ShowingTime reported a 20.2% year-over-year increase in purchaser traffic across the country, the sixth consecutive month of nationwide growth, and the largest increase in the history of the index.
The even better news is that buyers are not just looking. The latest Existing Home Sales Report from the National Association of Realtors (NAR) showed that closed sales increased 9.6% from a year ago.
This increase in overall activity has caused Zelman & Associates to increase their projection for home price appreciation in 2020 from 3.7% to 4.7%.
Are we headed for another housing crash like we had last decade?
Whenever price appreciation begins to accelerate, the fear of the last housing boom and bust creeps into the minds of the American population. The pain felt during the last housing crash scarred us deeply, and understandably so. The crash led us into the Great Recession of 2008.
If we take a closer look, however, we can see the current situation is nothing like it was in the last decade. As an example, let's look at price appreciation for the six years prior to the last boom (2006) and compare it to the last six years: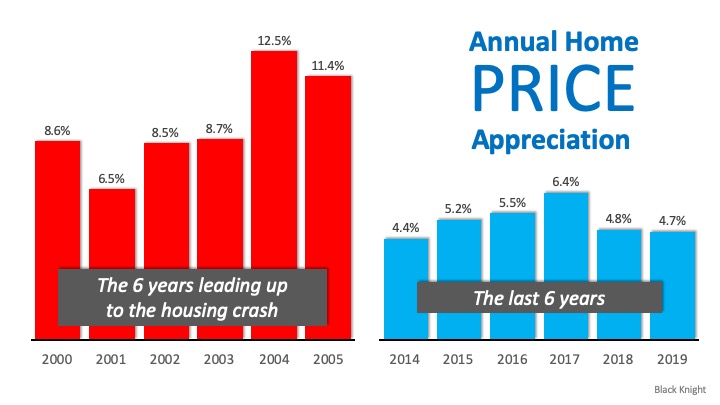 There's a stark difference between these two periods of time. Normal appreciation is 3.6%, so while current appreciation is higher than the historic norm, it's certainly not accelerating beyond control as it did leading up to the housing crash.
Today, the strength of the housing market is actually helping prevent a setback in the overall economy. In a recent post, Odeta Kushi, Deputy Chief Economist for First American explained:
"While the housing crisis is still fresh on the minds of many, and was the catalyst of the Great Recession, the U.S. housing market has weathered all other recessions since 1980. With the exception of the Great Recession, house price appreciation hardly skipped a beat and year-over-year existing-home sales growth barely declined in all the other previous recessions in the last 40 years…In 2020, we argue the housing market is more likely poised to help stave off recession than fall victim to it."
Bottom Line
The year has started off very nicely for the residential housing market. If you're thinking of buying or selling, now may be the time to get together to discuss your options.