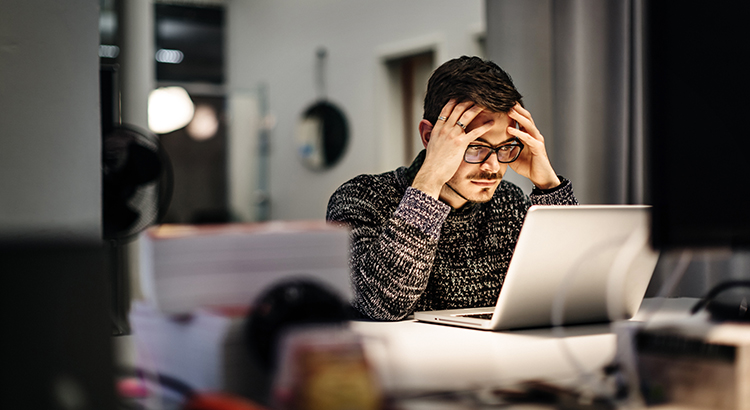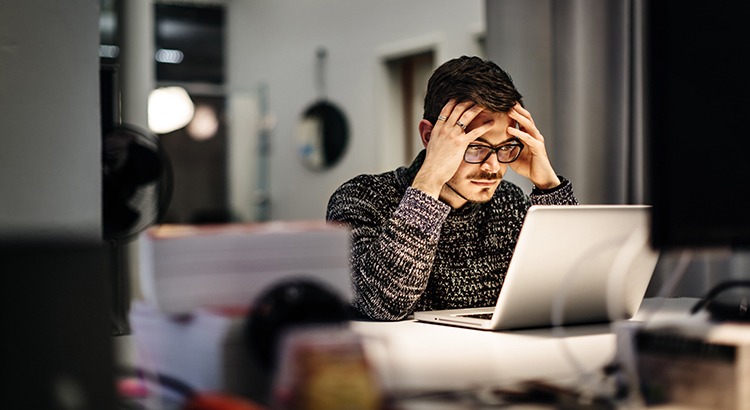 There's a lot of anxiety right now regarding the coronavirus pandemic. The health situation must be addressed quickly, and many are concerned about the impact on the economy as well.
Amidst all this anxiety, anyone with a megaphone – from the mainstream media to a lone blogger – has realized that bad news sells. Unfortunately, we will continue to see a rash of horrifying headlines over the next few months. Let's make sure we aren't paralyzed by a headline before we get the full story.
When it comes to the health issue, you should look to the Centers for Disease Control and Prevention (CDC) or the World Health Organization (WHO) for the most reliable information.
Finding reliable resources with information on the economic impact of the virus is more difficult. For this reason, it's important to shed some light on the situation. There are already alarmist headlines starting to appear. Here are two such examples surfacing this week.
1. Goldman Sachs Forecasts the Largest Drop in GDP in Almost 100 Years
It sounds like Armageddon. Though the headline is true, it doesn't reflect the full essence of the Goldman Sachs forecast. The projection is actually that we'll have a tough first half of the year, but the economy will bounce back nicely in the second half; GDP will be up 12% in the third quarter and up another 10% in the fourth.
This aligns with research from John Burns Consulting involving pandemics, the economy, and home values. They concluded:
"Historical analysis showed us that pandemics are usually V-shaped (sharp recessions that recover quickly enough to provide little damage to home prices), and some very cutting-edge search engine analysis by our Information Management team showed the current slowdown is playing out similarly thus far."
The economy will suffer for the next few months, but then it will recover. That's certainly not Armageddon.
2. Fed President Predicts 30% Unemployment!
That statement was made by James Bullard, President of the Federal Reserve Bank of St. Louis. What Bullard actually said was it "could" reach 30%. But let's look at what else he said in the same Bloomberg News interview:
"This is a planned, organized partial shutdown of the U.S. economy in the second quarter," Bullard said. "The overall goal is to keep everyone, households and businesses, whole" with government support.
According to Bloomberg, he also went on to say:
"I would see the third quarter as a transitional quarter" with the fourth quarter and first quarter next year as "quite robust" as Americans make up for lost spending. "Those quarters might be boom quarters," he said.
Again, Bullard agrees we will have a tough first half and rebound quickly.
Bottom Line
There's a lot of misinformation out there. If you want the best advice on what's happening in the current housing market, let's talk today.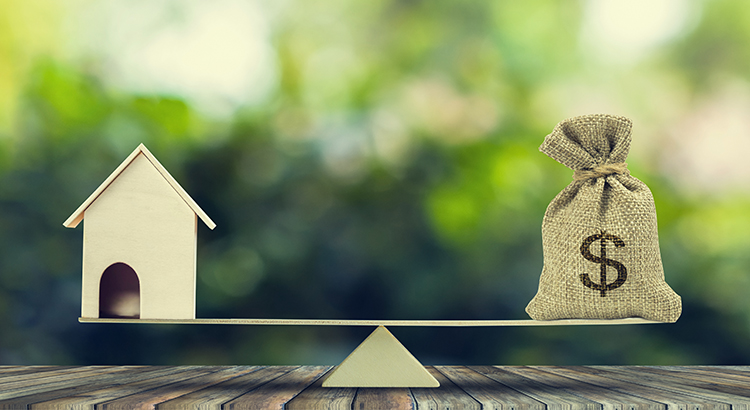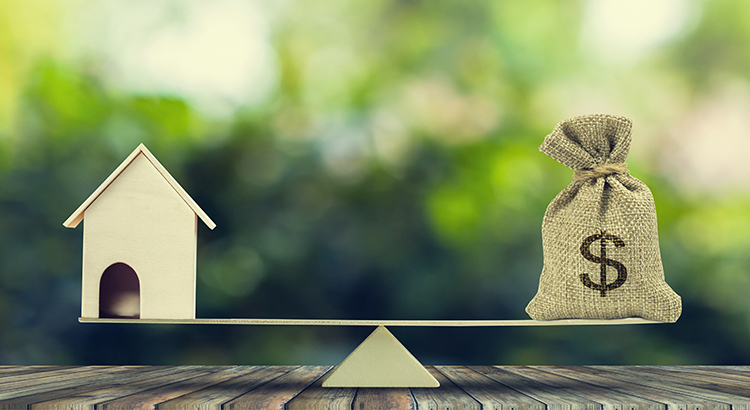 With interest rates hitting all-time lows over the past few weeks, many homeowners are opting to refinance. To decide if refinancing your home is the best option for you and your family, start by asking yourself these questions:
Why do you want to refinance?
There are many reasons to refinance, but here are three of the most common ones:
1. Lower Your Interest Rate and Payment: This is the most popular reason. Is your current interest rate higher than what's available today? If so, it might be worth seeing if you can take advantage of the current lower rates.
2. Shorten the Term of Your Loan: If you have a 30-year loan, it may be advantageous to change it to a 15 or 20-year loan to pay off your mortgage sooner rather than later.
3. Cash-Out Refinance: You might have enough equity to cash out and invest in something else, like your children's education, a business venture, an investment property, or simply to increase your cash reserve.
Once you know why you might want to refinance, ask yourself the next question:
How much is it going to cost?

There are fees and closing costs involved in refinancing, and The Lenders Network explains:
"As an example, let's say your mortgage has a balance of $200,000. If you were to refinance that loan into a new loan, total closing costs would run between 2%-4% of the loan amount. You can expect to pay between $4,000 to $8,000 to refinance this loan."
They also explain that there are options for no-cost refinance loans, but be on the lookout:
"A no-cost refinance loan is when the lender pays the closing costs for the borrower. However, you should be aware that the lender makes up this money from other aspects of the mortgage. Usually charging a slightly higher interest rate so they can make the money back."
Keep in mind that, given the current market conditions and how favorable they are for refinancing, it can take a little longer to execute the process today. This is because many other homeowners are going this route as well. As Todd Teta, Chief Officer at ATTOM Data Solutions notes about recent mortgage activity:  
"Refinancing largely drove the trend, with more than twice as many homeowners trading in higher-interest mortgages for cheaper ones than in the same period of 2018."
Clearly, refinancing has been on the rise lately. If you're comfortable with the up-front cost and a potential waiting period due to the high volume of requests, then ask yourself one more question:
Is it worth it? 
To answer this one, do the math. Will it help you save money? How much longer do you need to own your home to break even? Will your current home meet your needs down the road? If you plan to stay for a few years, then maybe refinancing is your best move.
If, however, your current home doesn't fulfill your needs for the next few years, you might want to consider using your equity for a down payment on a new home instead. You'll still get a lower interest rate than the one you have on your current house, and with the equity you've already built, you can finally purchase the home you've been waiting for.
Bottom Line
Today, more than ever, it's important to start working with a trusted real estate advisor. Whether you connect by phone or video chat, a real estate professional can help you understand how to safely navigate the housing market so that you can prioritize the health of your family without having to bring your plans to a standstill. Whether you're looking to refinance, buy, or sell, a trusted advisor knows the best protocol as well as the optimal resources and lenders to help you through the process in this fast-paced world that's changing every day.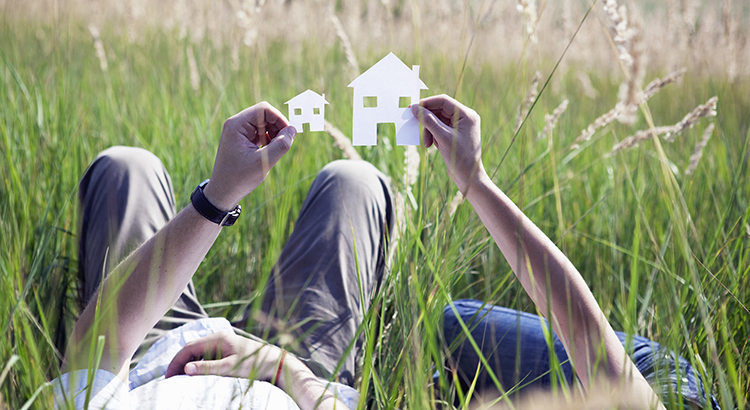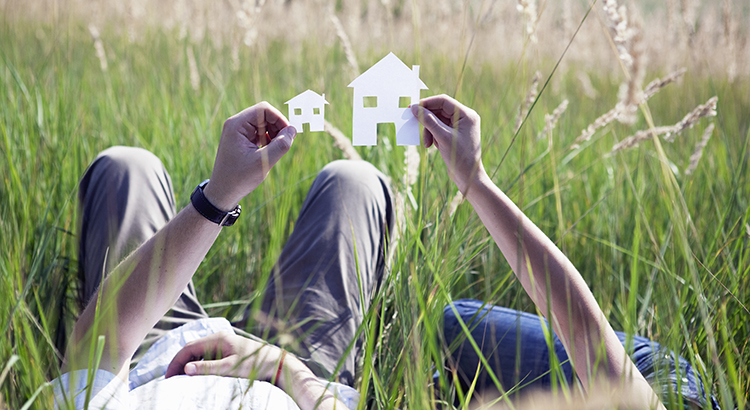 Rising home prices have been in the news a lot lately, and much of the focus is on whether they're accelerating too quickly and how sustainable the growth in prices really is. One of the often-overlooked benefits of rising prices, however, is the impact they have on a homeowner's equity position.
Home equity is defined as the difference between a home's fair market value and the outstanding balance of all liens on the property. While homeowners pay down their mortgages, the amount of equity they have in their homes climbs each time the value increases.
Today, the number of homeowners that currently have significant equity in their homes is growing. According to the Census Bureau, 38% of all homes in the country are mortgage-free.  In a home equity study, ATTOM Data Solutions revealed that of the 54.5 million homes with a mortgage, 26.7% of them have at least 50% equity. That number has been increasing over the last eight years.
CoreLogic also notes:
"…the average homeowner gained approximately $5,300 in equity during the past year."
The map below shows a breakdown of the increasing equity gain across the country, painting a clear picture that home equity is growing in nearly every state.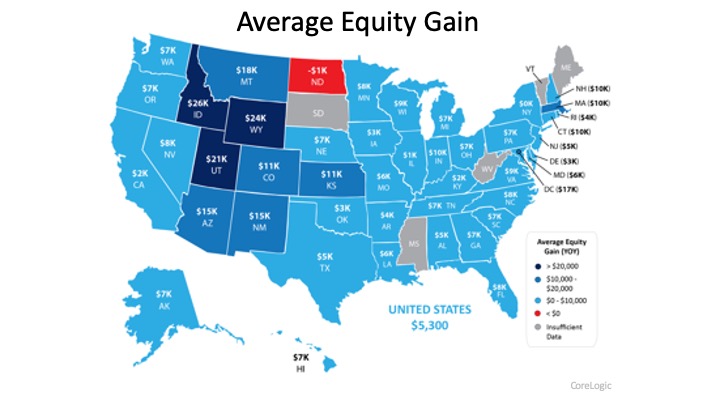 Bottom Line
This may be the year to take advantage of your home equity by applying it forward, either as you downsize or as you move up to a new home.