With everything that is happening in the US and around the world related to COVID-19, many people are wondering, "Should I wait?"… should I wait to sell my home, should I wait to buy a home? There are still many people listing homes for sale and buyers still looking for those homes. Yes, we've had to stop all home tours but we're creative people and there are great resources out there to help like 3D video tours, photos, FaceTime, Zoom meetings, Docusign, eRecording for the county and all sorts of workarounds.
Many people fear the stock market volatility from the pandemic is going to cause another recession. 
Whether or not that happens, it's important to remember one very important thing:
A recession does not equal a housing crisis or "crash" as we saw in 2008.
A recession doesn't even mean that home prices will depreciate. If you look at the graph, you'll see that in the five most recent recessions, 
only two of them saw values decline.

9/11 has a lot in common with what is happening today.
People are avoiding crowds and the same part of the economy is under pressure, restaurants, airlines, hotels, bars, and so on.
If you take a look at the related graph, you see that during the DOT com scare and after the 9/11 terrorism attacks, the stock market showed volatility like we're seeing today. However, the housing market wasn't affected, and home prices actually appreciated.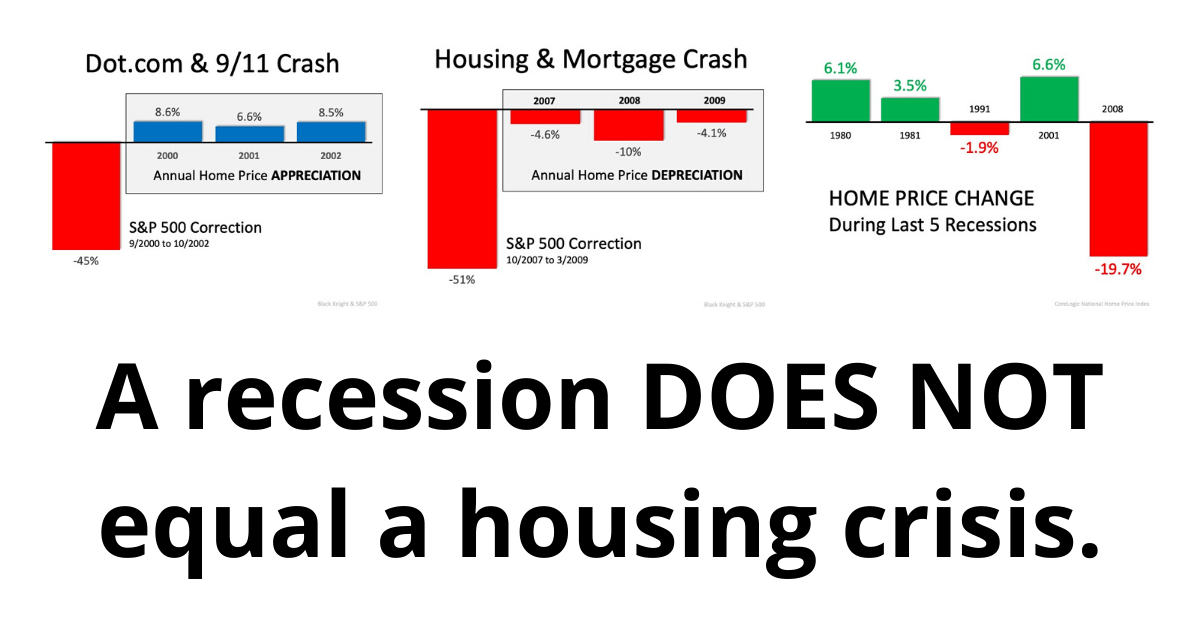 A great analogy was presented to me, 2008 was like a tornado that ripped through and shredded everything and we had to rebuild. All the systems we counted on in banking, mortgage, lending were demolished and it effected everyone. The COVID-19 is more like a giant snowstorm that has hit and we're all stuck inside. But eventually, it will clear and we will be able to get back out to go about our regular lives… to work, to travel, to our favorite restaurant or bar, movies or theater, and our kids will go back to school. While we may not know what the future holds if you are pausing on buying OR selling a home because you think a recession will cause another housing crisis… they're not the same thing, and you could be missing out on today's record-low mortgage rates. Which are still HISTORICALLY low.
Are you thinking about selling your home to move into the right size home for your family? Or ready to downsize to fit your current needs? Do you have questions about selling your home in this market? Give me a call today at 408-465-9290 or DM me to go over your real estate goals.