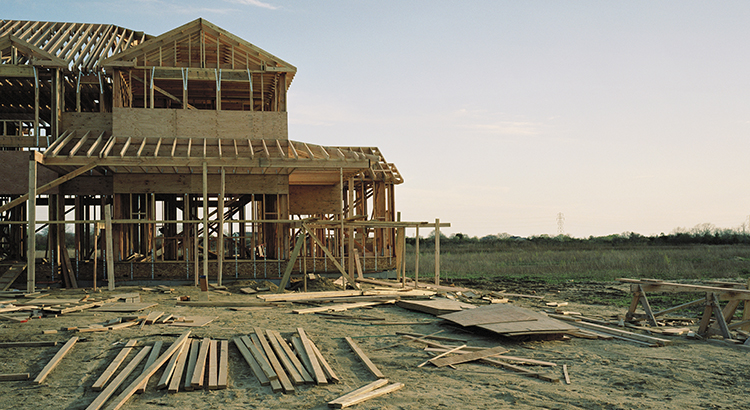 In today's economy, everyone seems to be searching for signs that a recovery is coming soon. Many experts agree that it may actually already be in motion or will be starting by the 3rd quarter of this year. With the housing market positioned to lead the way out of this recession, builder confidence might be a bright spark that gets the recovery fire started. The construction of new homes coming right around the corner is a huge part of that effort, and it may drive your opportunity to make a move this year.
According to the National Association of Home Builders (NAHB): 
"New home sales jumped in May, as housing demand was supported by low interest rates, a renewed household focus on housing, and rising demand in lower-density markets. Census and HUD estimated new home sales in May at a 676,000 seasonally adjusted annual pace, a 17% gain over April." 
In addition, builder confidence is also rising, opening up opportunities for newly constructed homes in the market. The NAHB also notes:
"In a sign that housing stands poised to lead a post-pandemic economic recovery, builder confidence in the market for newly-built single-family homes jumped 21 points to 58 in June, according to the latest National Association of Home Builders/Wells Fargo Housing Market Index (HMI). Any reading above 50 indicates a positive market."
As noted above, this upward trend is supported by builders reporting an increase in demand for single-family homes in suburban neighborhoods with lower-density populations, a result of the COVID-19 health crisis.
Moreover, the most recent Monthly New Residential Construction Report from the U.S. Census indicates that authorized building permits for new residential construction increased by 14.4% month-over-month from April to May, and housing starts were also up 4.3% over the same time period. (See graph below):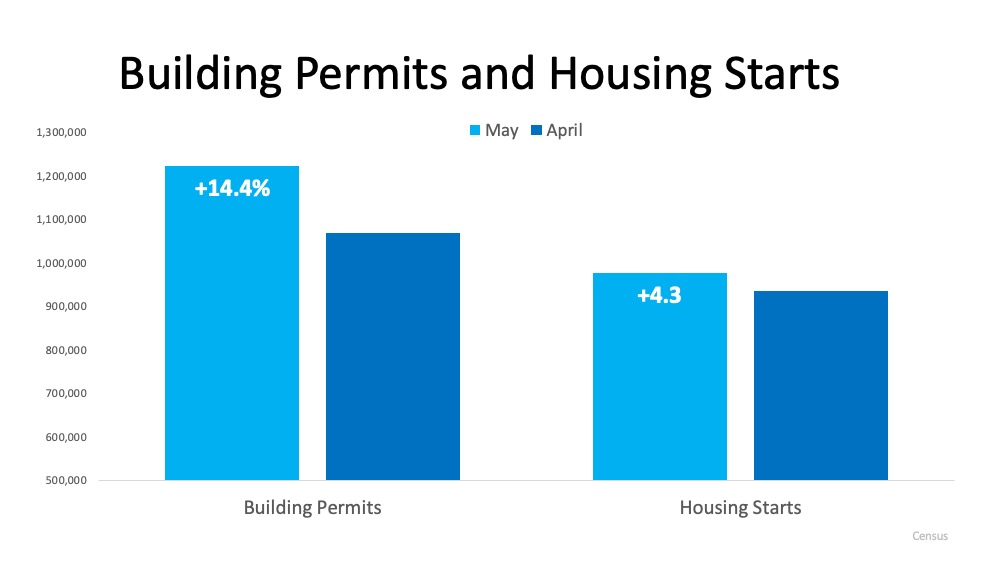 Although housing permits and starts are both considerably lower than they were at this time last year, indicating the new construction market is still working on building its way back up, the trends are moving in the right direction when it comes to having an impact on the U.S. economy. They're also poised to create the much-needed new homes for Americans to purchase in a time when inventory is so scarce.
Dean Mon, Chairman of the NAHB notes:
"As the nation reopens, housing is well-positioned to lead the economy forward…Inventory is tight, mortgage applications are increasing, interest rates are low and confidence is rising. And buyer traffic more than doubled in one month even as builders report growing online and phone inquiries stemming from the outbreak."
The gap between homes to buy and the high demand from purchasers may be narrowed by new construction, and the data shows that these homes are on their way into the housing market.
So, if you've debated whether or not to sell your house this year because you're not sure where to move, a newly-built home – designed to your specific liking – may be your answer.
Bottom Line
With new residential construction right around the corner, you can feel confident about selling your house and having a place to move into. Maybe it's time to finally design the home you've always wanted. Let's connect today to discuss selling your house while demand from eager buyers is high.
Posted on June 30, 2020 at 9:56 am
Desiree Stanley
Category:

Economy, Real Estate
Tagged

building, building permits, economic recovery, Housing, housing inventory, housing market, housing starts, Intero, Intero Real Estate, inventory, inventory levels, inventory shortage, Morgan Hill, morganhillliving, new construction, Purchasing a home, Real Estate, Real Estate Agents, real estate inventory, real estate market, Real Estate Professional, realestateagent, realtor, Santa Clara County, santaclaracounty, sellingrealestate, Silicon Valley, South County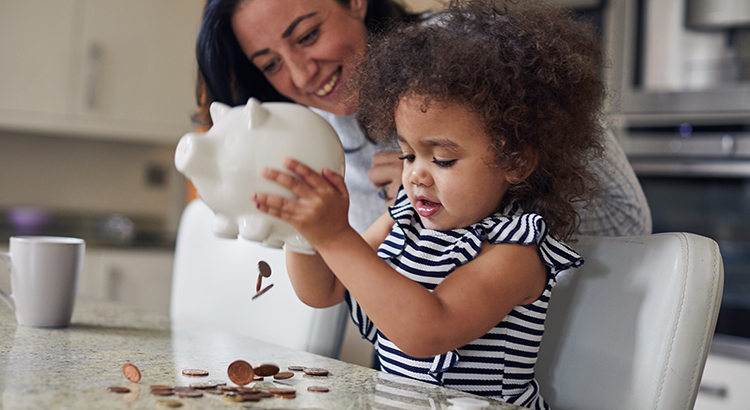 One of the bright spots of the 2020 real estate market is the growth in equity homeowners are experiencing across the country. According to the recently released Homeowner Equity Insights Report from CoreLogic, in nearly every state there was a year-over-year first-quarter equity increase, averaging out to a 6.5% overall gain.
The report notes:
"CoreLogic analysis shows U.S. homeowners with mortgages (roughly 63% of all properties) have seen their equity increase by a total of nearly $590 billion since the first quarter of 2019, an increase of 6.5%, year over year." (See map below):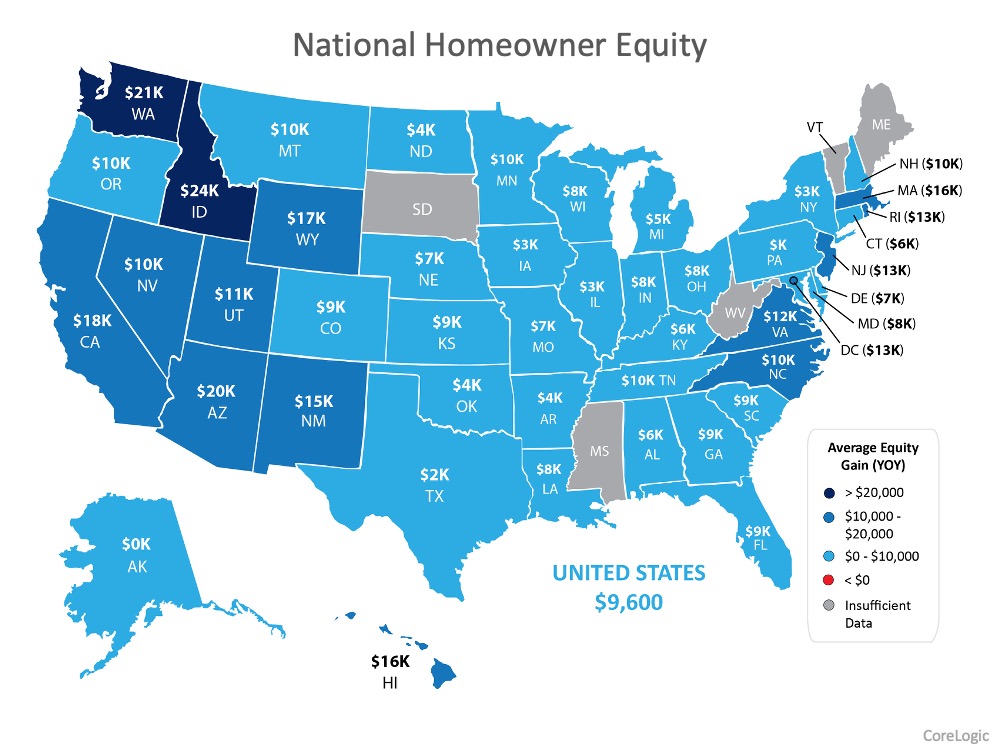 This means that "In the first quarter of 2020, the average homeowner gained approximately $9,600 in equity during the past year."
That's a huge win for homeowners, especially for those looking to sell their houses and make a move this summer. Having equity to re-invest in your next home is a major force that can make moving a reality, especially while buyers are expressing such a high demand for homes to purchase.
Frank Martell, President and CEO of CoreLogic addresses the potential long-term outlook and how homeowners will likely fare much more positively through the current recession than many did during the last one:
"Many homeowners will experience a recession during their lifetime, and it is reasonable to compare the current recession to those in the past. But the comparison is not apples to apples — every recession is different. Primary drivers of the Great Recession were an overbuilt housing stock, risky mortgages and the collapse of home prices, creating a massive increase in negative equity that proved difficult to recover from. Today's housing environment has low vacancy and delinquency rates and a large home equity cushion."
Bottom Line
Now is a great time to consider leveraging your equity and making a move, especially while buyer interest is high. Let's connect to explore your equity position and make your next move a reality.
Posted on June 18, 2020 at 8:25 am
Desiree Stanley
Category:
Real Estate
Tagged

equity, Gilroy, Home Buyers, home equity, Home Ownership, homebuyers, Housing, housing market, Intero, Intero Real Estate, Morgan Hill, morganhillliving, Purchasing a home, Real Estate, real estate market, Real Estate Professional, realestateagent, realtor, Santa Clara County, santaclaracounty, sellingrealestate, Silicon Valley, South County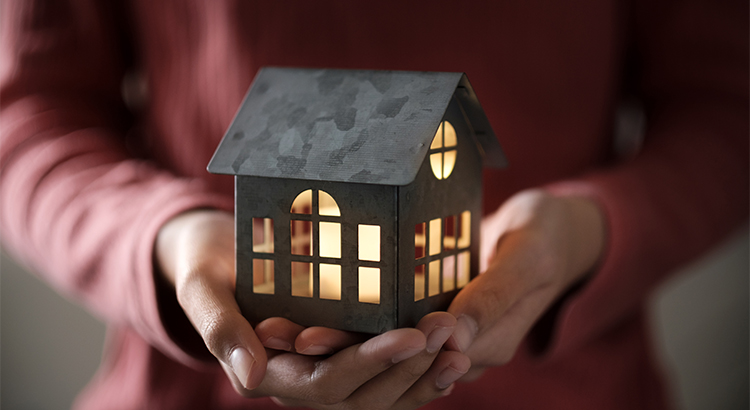 There are many benefits to working with a real estate professional when selling your house. During challenging times like the one we face today, it becomes even more important to have an expert help guide you through the process. If you're considering selling on your own, known in the industry as a For Sale By Owner or FSBO, please consider the following:
1. Your Safety Is a Priority
During this pandemic, your family's safety comes first. When you FSBO, it is incredibly difficult to control entry into your home. A real estate professional will have the proper protocols in place to protect not only your belongings but your family's health and well-being too. From regulating the number of people in your home at one time to ensuring proper sanitization during and after a showing, and even facilitating virtual tours for buyers, agents are equipped to follow the latest industry standards recommended by the National Association of Realtors (NAR) to help protect you and your family.
2. A Powerful Online Strategy Is a Must to Attract a Buyer
Recent studies have shown that, even before COVID-19, the first step 44% of all buyers took when looking for a home was to search online. Throughout the process, that number jumped to 93%. Today, those numbers have grown exponentially. Most real estate agents have developed a strong Internet and social media strategy to promote the sale of your house. Have you?
3. There Are Too Many Negotiations
Here are just a few of the people you'll need to negotiate with if you decide to FSBO:
The buyer, who wants the best deal possible
The buyer's agent, who solely represents the best interest of the buyer
The inspection companies, which work for the buyer and will almost always find challenges with the house
The appraiser, if there is a question of value
As part of their training, agents are taught how to negotiate every aspect of the real estate transaction and how to mediate the emotions felt by buyers looking to make what is probably the largest purchase of their lives.
4. You Won't Know if Your Purchaser Is Qualified for a Mortgage
Having a buyer who wants to purchase your house is the first step. Making sure they can afford to buy it is just as important. As a FSBO, it's almost impossible to be involved in the mortgage process of your buyer. A real estate professional is trained to ask the appropriate questions and, in most cases, will be intimately aware of the progress that's being made toward a purchaser's mortgage commitment.
Further complicating the situation is how the current mortgage market is rapidly evolving because of the number of families out of work and in mortgage forbearance. A loan program that was there yesterday could be gone tomorrow. You need someone who is working with lenders every day to guarantee your buyer makes it to the closing table.
5. FSBOing Has Become More Difficult from a Legal Standpoint
The documentation involved in the selling process has increased dramatically as more and more disclosures and regulations have become mandatory. In an increasingly litigious society, the agent acts as a third-party to help the seller avoid legal jeopardy. This is one of the major reasons why the percentage of people FSBOing has dropped from 19% to 8% over the last 20+ years.
6. You Net More Money When Using an Agent
Many homeowners believe they'll save the real estate commission by selling on their own. Realize that the main reason buyers look at FSBOs is because they also believe they can save the real estate agent's commission. The seller and buyer can't both save the commission.
A study by Collateral Analytics revealed that FSBOs don't actually save anything by forgoing the help of an agent. In some cases, the seller may even net less money from the sale. The study found the difference in price between a FSBO and an agent-listed home was an average of 6%. One of the main reasons for the price difference is effective exposure:
"Properties listed with a broker that is a member of the local MLS will be listed online with all other participating broker websites, marketing the home to a much larger buyer population. And those MLS properties generally offer compensation to agents who represent buyers, incentivizing them to show and sell the property and again potentially enlarging the buyer pool."
The more buyers that view a home, the greater the chance a bidding war will take place.
Bottom Line

Listing on your own leaves you to manage the entire transaction yourself. Why do that when you can hire an agent and still net the same amount of money? Before you decide to take on the challenge of selling your house alone, let's connect to discuss your options.
Posted on May 20, 2020 at 9:50 am
Desiree Stanley
Category:
Real Estate
Tagged

buyer, for sale by owner, forsale, FSBO, Gilroy, home, Home Sellers, Home Selling, homes, house, internet advertising, Intero, Intero Real Estate, Morgan Hill, morganhillliving, Mortgage, online, purchaser, Qualified, Real Estate, Real Estate Agents, real estate market, Real Estate Professional, realestateagent, realtor, safety, Santa Clara County, Selling, sellingrealestate, Silicon Valley, South County