Social Links Widget
Click here to edit the Social Media Links settings. This text will not be visible on the front end.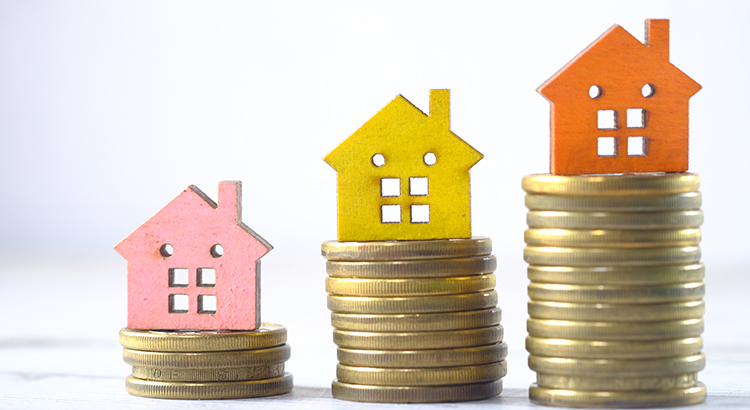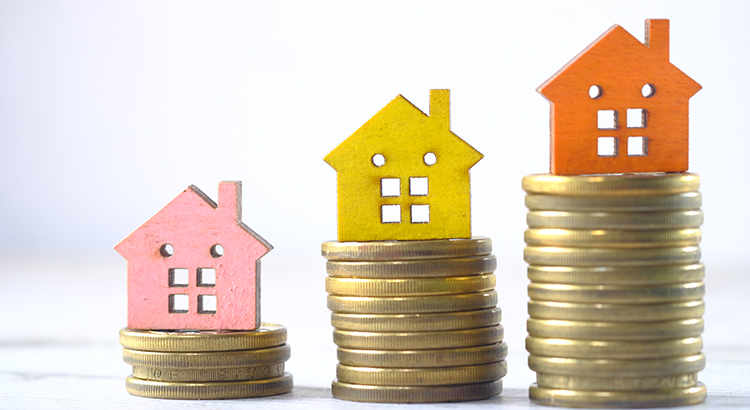 Housing inventory is at an all-time low. There are 39% fewer homes for sale today than at this time last year, and buyer demand continues to set records. Zillow recently reported:
"Newly pending sales are up 25.5% compared to the same week last year, the highest year-over-year increase in the weekly Zillow database."
Whenever there is a shortage in supply of an item that's in high demand, the price of that item increases. That's exactly what's happening in the real estate market right now. CoreLogic's latest Home Price Index reports that values have increased by 5.5% over the last year.
This is great news if you're planning to sell your house; on the other hand, as either a first-time or repeat buyer, this may instead seem like troubling news. However, purchasers should realize that the price of a house is not as important as the cost. Let's break it down.
There are several factors that influence the cost of a home. The two major ones are the price of the home and the interest rate at which a buyer can borrow the funds necessary to purchase the home.
Last week, Freddie Mac announced that the average interest rate for a 30-year fixed-rate mortgage was 2.87%. At this time last year, the rate was 3.73%. Let's use an example to see how that difference impacts the true cost of a home.
Assume you purchased a home last year and took out a $250,000 mortgage. As mentioned above, home values have increased by 5.5% over the last year. To buy that same home this year, you would need to take out a mortgage of $263,750.
How will your monthly mortgage payment change based on today's lower mortgage rate?
This table calculates the difference in your monthly payment: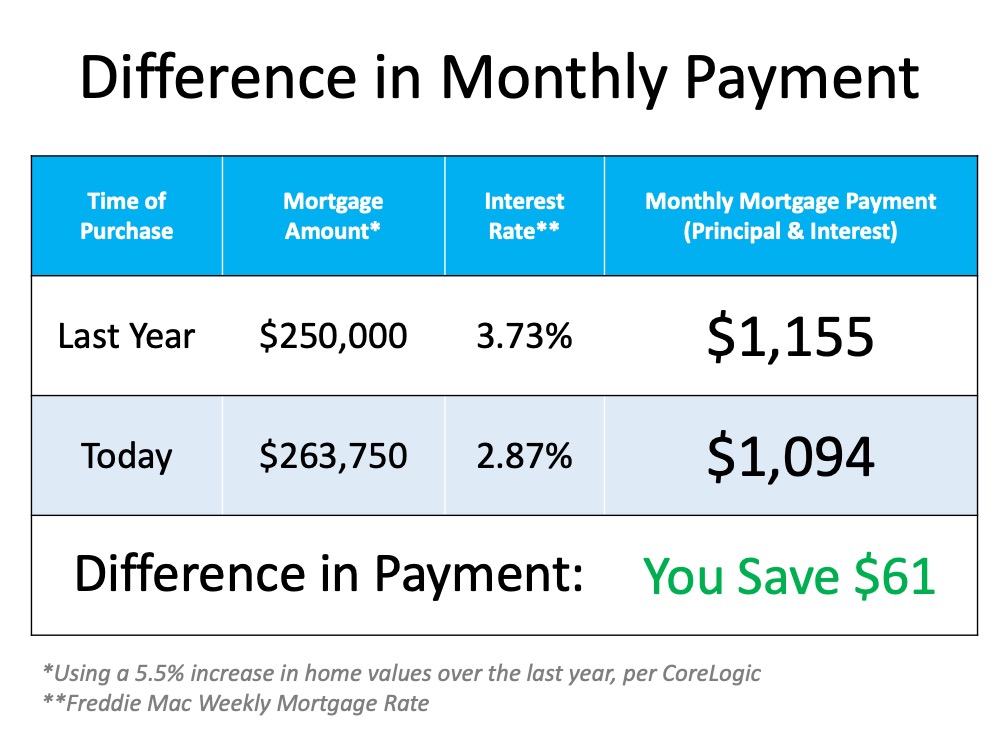 That's a savings of $61 monthly, which adds up to $732 annually and $21,960 over the life of the loan.
Bottom Line
Even though home values have appreciated, it's a great time to buy a home because mortgage rates are at historic lows.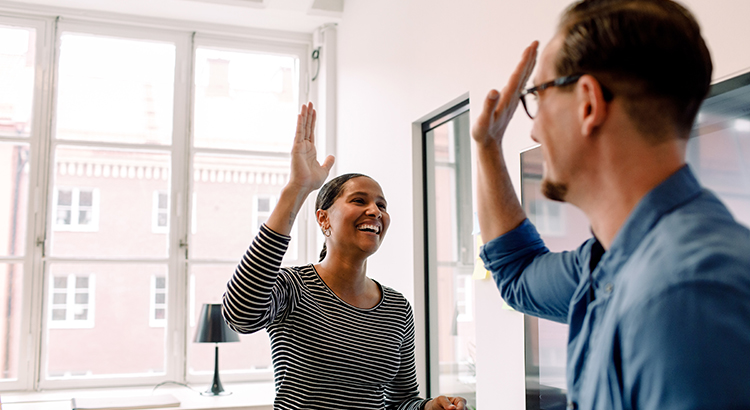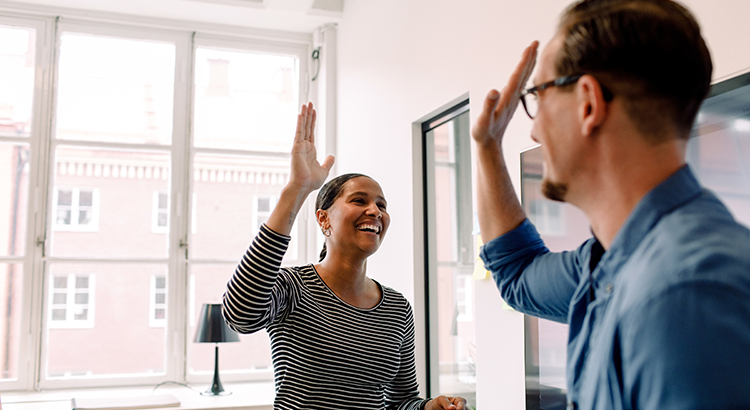 Today's housing market is making a truly impressive turnaround, and it's also setting up some outstanding opportunities for buyers and sellers. Whether you're thinking of buying or selling a home this year, there are perks today that are rarely available, and definitely worth looking into. Here are the top two.
The Biggest Perk for Buyers: Low Mortgage Rates
The most impressive buyer incentive today is the average mortgage interest rate. Just last week, mortgage rates hit an all-time low for the eighth time this year. The 30-year fixed-rate is now averaging 2.88%, the lowest rate in the survey's history, which dates back to 1971 (See graph below):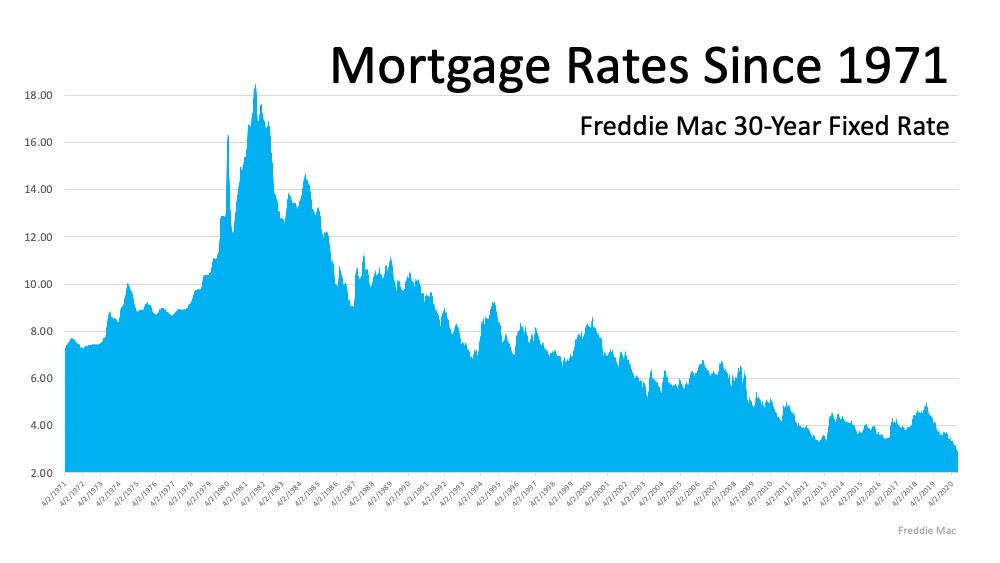 This is a huge advantage for buyers. To put it in perspective, it means that today you can get a lower rate than any of the past two generations of homebuyers in your family if you decide to purchase at this time.
In addition, the National Mortgage News notes how today's buyers have increasing purchasing power due to these low mortgage rates:
"Purchasing power rose 10% year-over-year…With interest rates hitting record lows, buyers were able to afford $32,000 "more house" as of July 23 than they could the year before with the same monthly payment."
This is a great perk for buyers who are hoping to potentially get more for their money in a home, something many are considering today as they re-evaluate the amount of space they ideally need for their families. It is an opportunity not seen in 50 years, and one not to be missed if the time is right for you to buy a home.
The Biggest Perk for Sellers: Low Inventory
Today, there are simply not enough houses on the market for the number of buyers looking to purchase them. According to the National Association of Realtors (NAR):
"Total housing inventory at the end of June totaled 1.57 million units, up 1.3% from May, but still down 18.2% from one year ago (1.92 million)."
The red bars in the graph below indicate that the inventory of homes coming into the market continues to decline. It was low as we entered the pandemic and has reduced even further this year. Houses today are selling faster than they're being listed, and that's creating an even greater supply shortage (See graph below):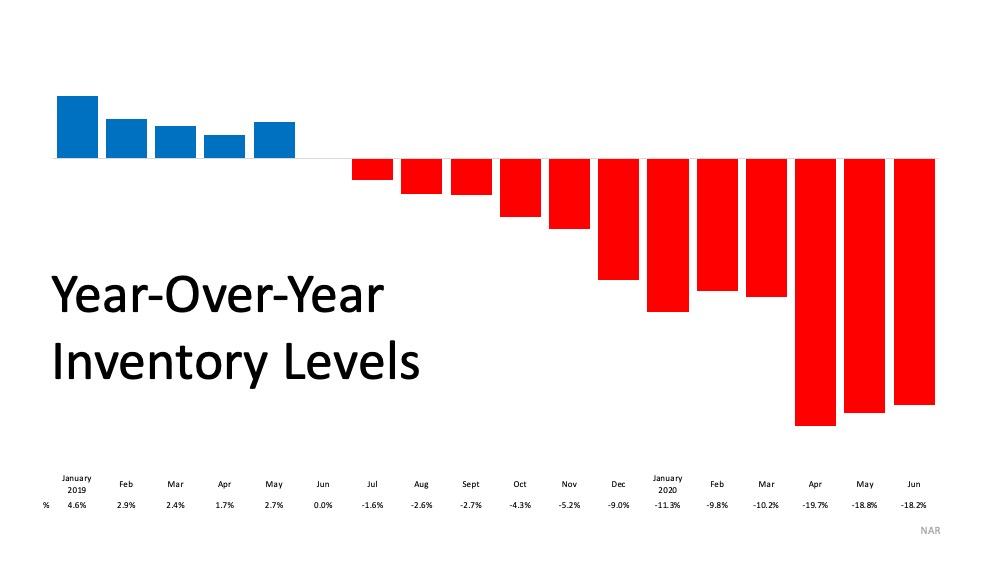 The lack of inventory has been a challenging situation for a while now, and with low mortgage rates fueling buyer demand, inventory is even harder for buyers to find today. Buyers are eager to purchase, and because of the shortage of homes available, they're encountering more bidding wars. This is one of the factors keeping home prices strong, an advantage for sellers. Lawrence Yun, Chief Economist for NAR notes that this trend may continue, too:
"Home prices rose during the lockdown and could rise even further due to heavy buyer competition and a significant shortage of supply."
With low inventory and high buyer demand, homeowners can potentially earn an increasing profit on their houses and sell them quickly in this sizzling summer market.
Bottom Line
Whether you're thinking about buying or selling at home, there are some key perks available right now. Let's connect today to discuss how they may play to your advantage in our local market.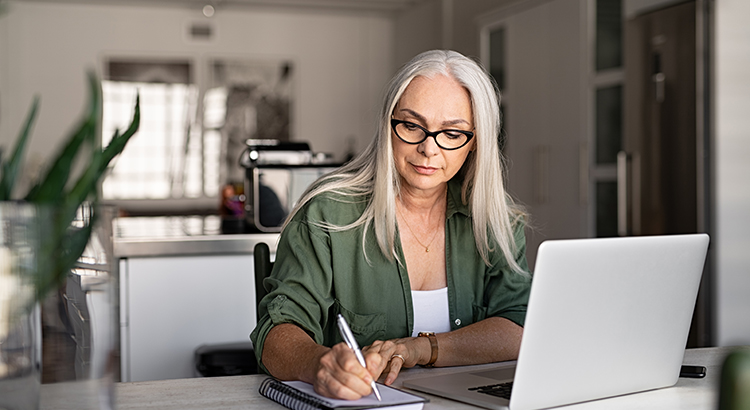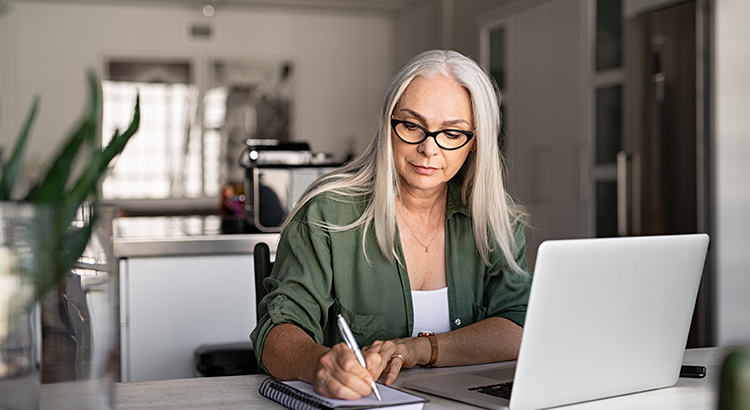 Through all the volatility in the economy right now, some have put their search for a home on hold, yet others have not. According to ShowingTime, the real estate industry's leading showing management technology provider, buyers have started to reappear over the last several weeks. In the latest report, they revealed:
"The March ShowingTime Showing Index® recorded the first nationwide drop in showing traffic in eight months as communities responded to COVID-19. Early April data show signs of an upswing, however."
Why would people be setting appointments to look at prospective homes when the process of purchasing a home has become more difficult with shelter-in-place orders throughout the country?
Here are three reasons for this uptick in activity:
1. Some people need to move. Whether because of a death in the family, a new birth, divorce, financial hardship, or a job transfer, some families need to make a move as quickly as possible.
2. Real estate agents across the country have become very innovative, utilizing technology that allows purchasers to virtually:
View homes
Meet with mortgage professionals
Consult with their agent throughout the process
All of this can happen within the required safety protocols, so real estate professionals are continuing to help families make important moves.
3. Buyers understand that mortgage rates are a key component when determining their monthly mortgage payments. Mortgage interest rates are very close to all-time lows and afford today's purchaser the opportunity to save tens of thousands of dollars over the lifetime of the loan.
Looking closely at the third reason, we can see that there's a big difference between purchasing a house last December and purchasing one now (see chart below):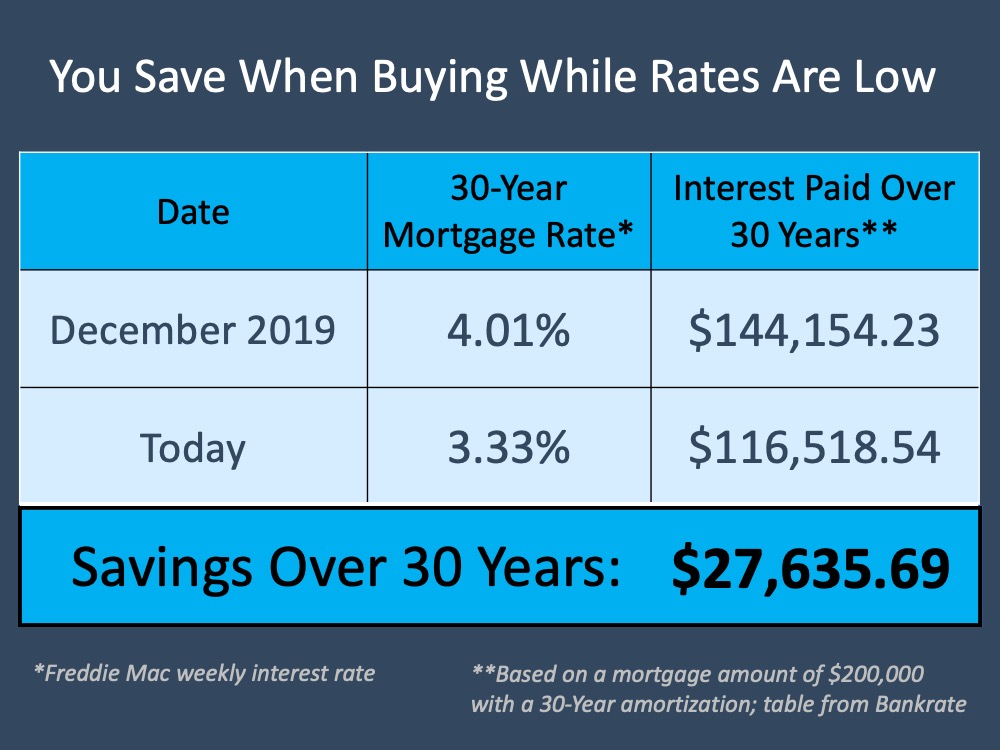 Bottom Line
Many families have decided not to postpone their plans to purchase a home, even in these difficult times. If you need to make a move, let's connect today so you have a trusted advisor to safely and professionally guide you through the process.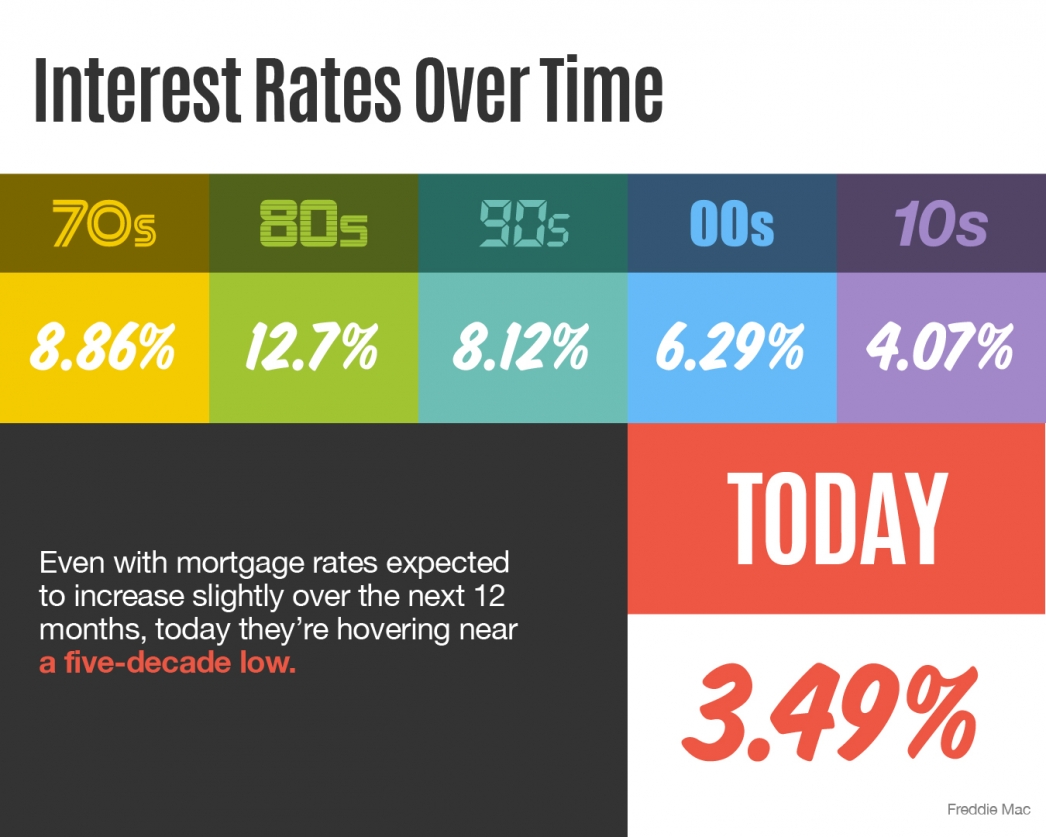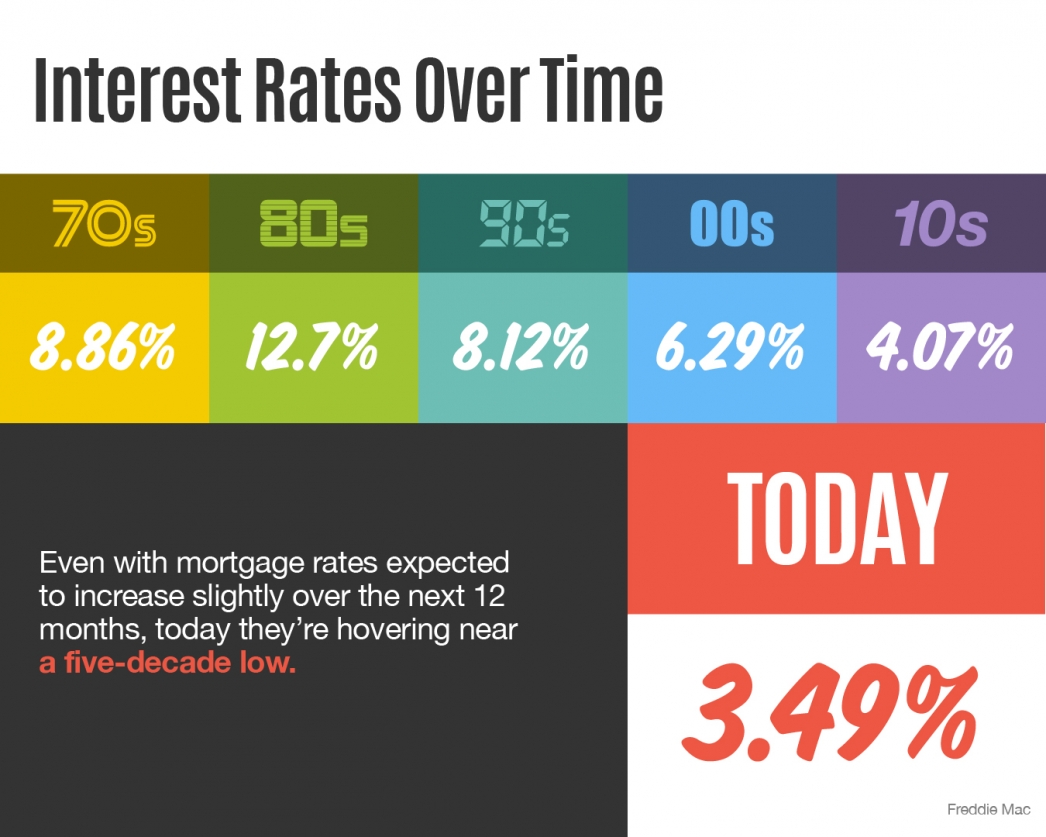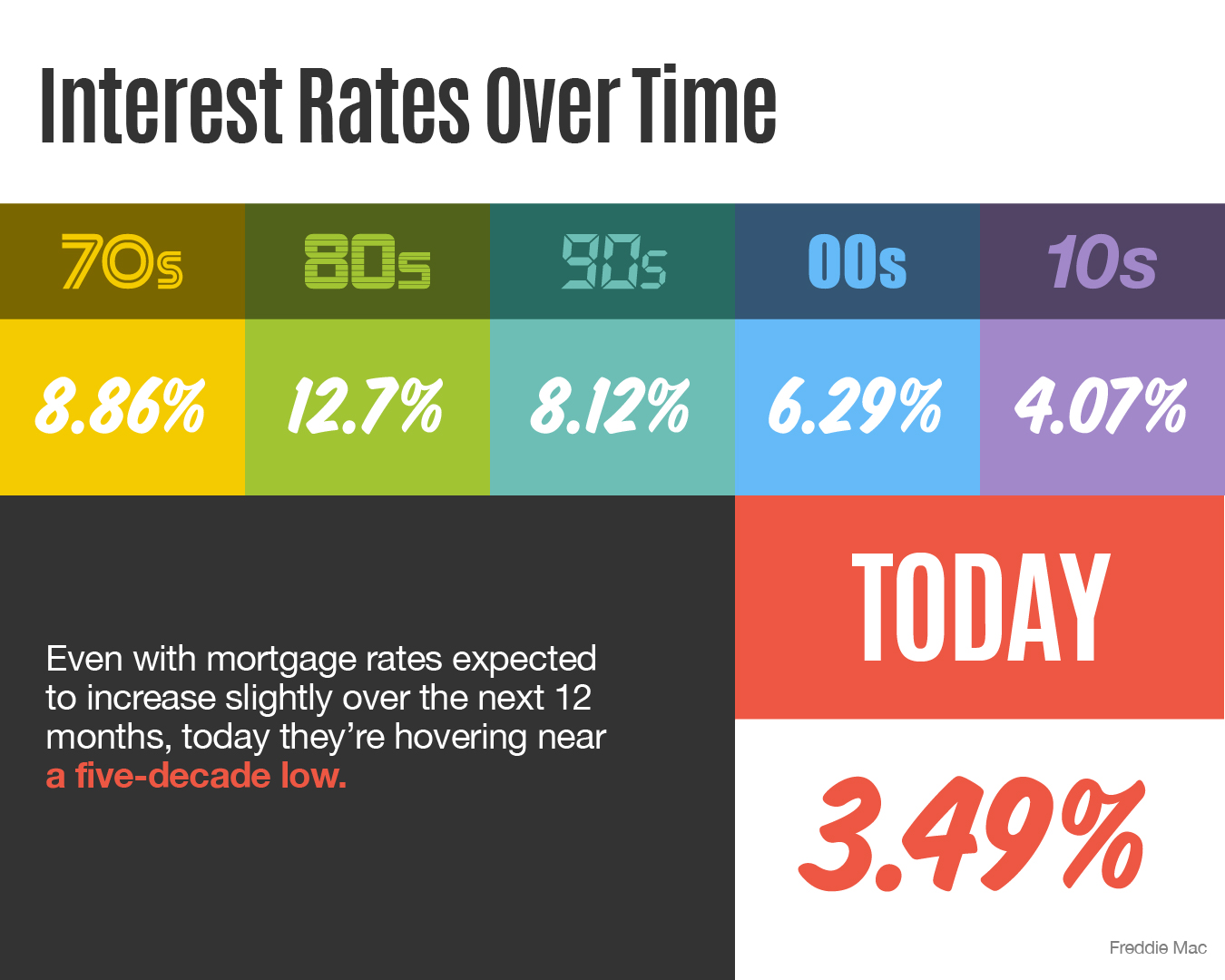 Some Highlights:
With interest rates hovering at near historic lows, now is a great time to look back at where they've been, and how much they've changed over time.
According to Freddie Mac, mortgage interest rates are currently hovering near a five-decade low.
The impact your interest rate has on your monthly mortgage payment is significant. An increase of just $20 dollars in your monthly payment can add up to $240 per year or $7,200 over the life of your loan. Maybe it's time to lock in now while rates are still low.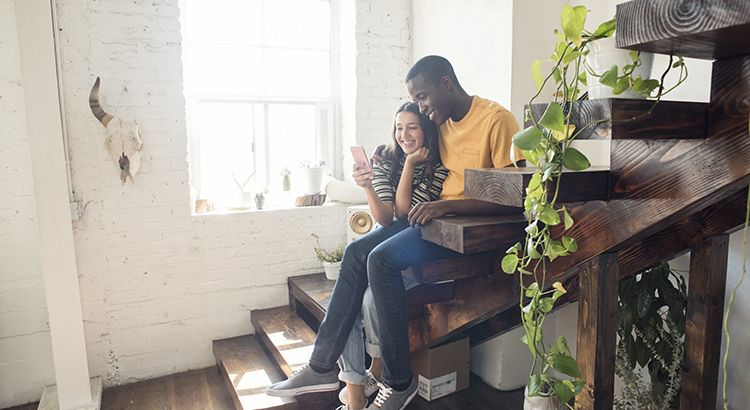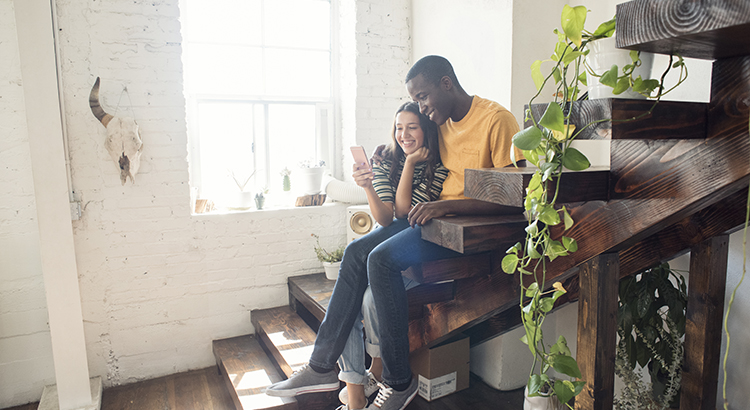 This will be an interesting year for residential real estate. With a presidential election taking place this fall and talk of a possible recession occurring before the end of the year, predicting what will happen in the 2020 U.S. housing market can be challenging. As a result, taking a look at the combined projections from the most trusted entities in the industry when it comes to mortgage rates, home sales, and home prices is incredibly valuable – and they may surprise you.
Mortgage Rates
Projections from the experts at the National Association of Realtors (NAR), the Mortgage Bankers Association (MBA), Fannie Mae, and Freddie Mac all forecast mortgage rates remaining stable throughout 2020: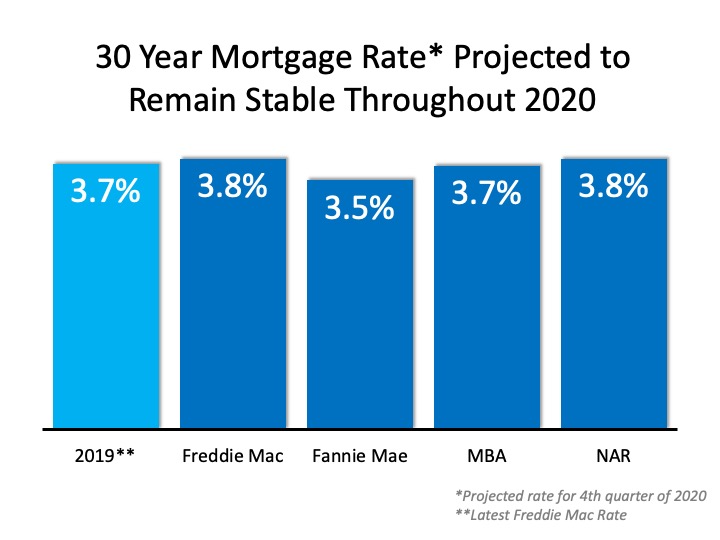 Since rates have remained under 5% for the last decade, we may not fully realize the opportunity we have right now.
Here are the average mortgage interest rates over the last several decades:
1970s: 8.86%
1980s: 12.70%
1990s: 8.12%
2000s: 6.29%
Home Sales
Three of the four expert groups noted above also predict an increase in home sales in 2020, and the fourth sees the transaction number remaining stable: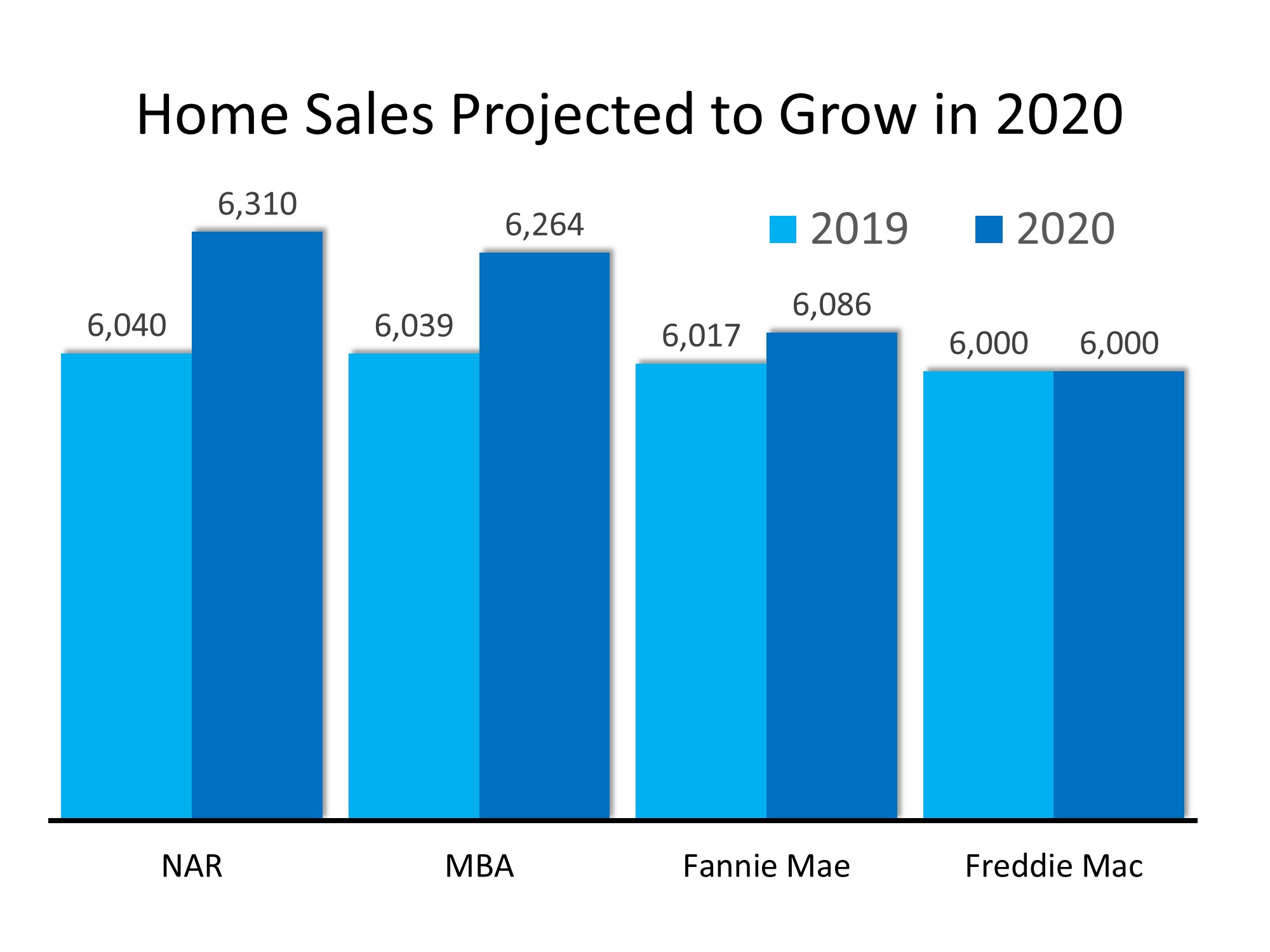 With mortgage rates remaining near all-time lows, demand should not be a challenge. The lack of available inventory, however, may moderate the increase in sales.
Home Prices
Below are the projections from six different expert entities that look closely at home values: CoreLogic, Fannie Mae, Ivy Zelman's "Z Report", the National Association of Realtors (NAR), Freddie Mac, and the Mortgage Bankers Association (MBA).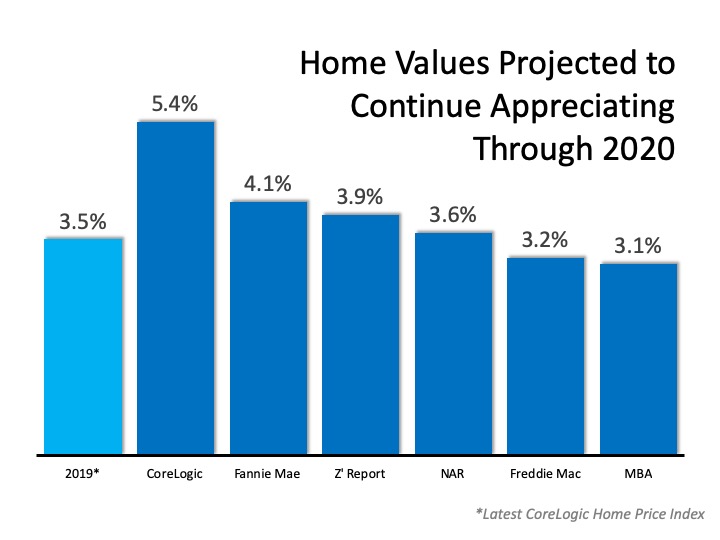 Each group has home values continuing to improve through 2020, with four of them seeing price appreciation increasing at a greater pace than it did in 2019.
Is a Recession Possible?
In early 2019, a large percentage of economists began predicting a recession may occur in 2020. In addition, a recent survey of potential home purchasers showed that over 50% agreed it would occur this year. The economy, however, remained strong in the fourth quarter, and that has caused many to rethink the possibility.
For example, Goldman Sachs, in their 2020 U.S. Outlook, explained:
"Markets sounded the recession alarm this year, and the average forecaster now sees a 33% chance of recession over the next year. In contrast, our new recession model suggests just a 20% probability. Despite the record age of the expansion, the usual late-cycle problems—inflationary overheating and financial imbalances—do not look threatening."
Bottom Line
Mortgage rates are projected to remain under 4%, causing sales to increase in 2020. With growing demand and a limited supply of inventory, prices will continue to appreciate, while the threat of an impending recession seems to be softening. It looks like 2020 may be a solid year for the real estate market.
Are you still in the market for a home? Give me a call at 408-465-9290 or message me to go over your real estate goals. Buying a home takes time, let's start now to get you into your home!