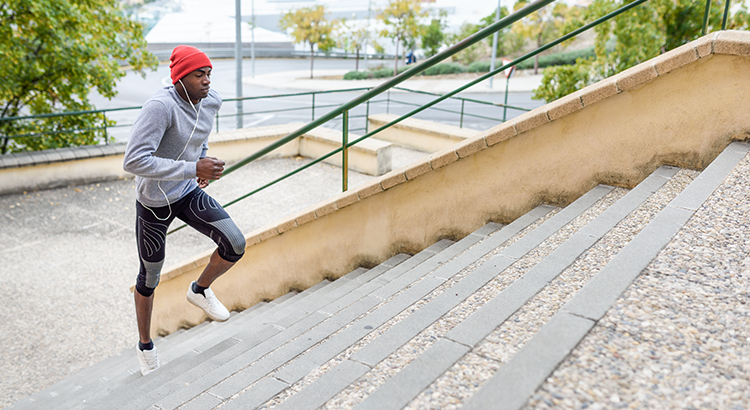 Earlier this year, realtor.com announced the release of the Housing Recovery Index, a weekly guide showing how the pandemic has impacted the residential real estate market. The index leverages a weighted average of four key components of the housing industry by tracking each of the following:
Housing Demand – Growth in online search activity
Home Price – Growth in asking prices
Housing Supply – Growth of new listings
Pace of Sales – Difference in time-on-market
The index compares the current status "to the January 2020 market trend, as a baseline for pre-COVID market growth. The overall index is set to 100 in this baseline period. The higher a market's index value, the higher its recovery and vice versa."
The graph below charts the index by showing how the real estate market started out strong in early 2020, and then dropped dramatically at the beginning of March when the pandemic paused the economy. It also shows the strength of the recovery since the beginning of May.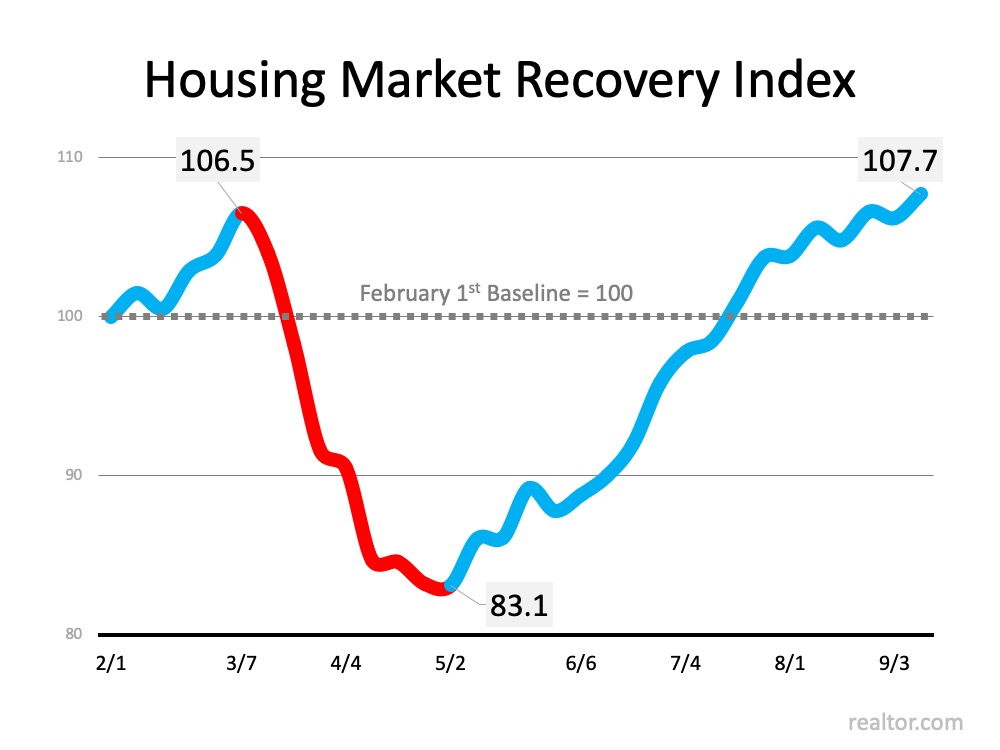 Today, the index stands at its highest point all year, including the time prior to the economic shutdown.
The Momentum Is Still Building
Though there is some evidence that the overall economic recovery may be slowing, the housing market is still gaining momentum. Zillow tracks the number of homes that are put into contract on a weekly basis. Their latest report confirms that buyer demand is continuing to dramatically outpace this same time last year, and the percent increase over last year is growing.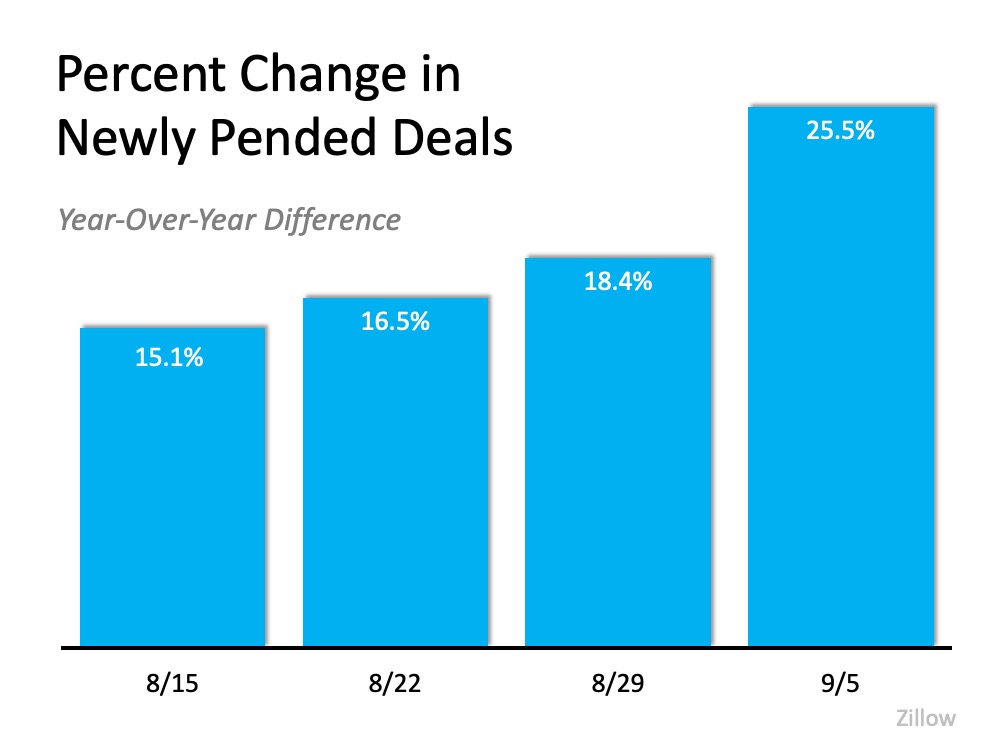 Clearly, the housing market is not only outperforming the grim forecasts from earlier this year, but it is also eclipsing the actual success of last year.
Frank Martell, President and CEO of CoreLogic, explains it best:
"On an aggregated level, the housing economy remains rock solid despite the shock and awe of the pandemic."
Bottom Line
Whether you're considering buying or selling, staying on top of the real estate market over the coming months will be essential to your success.
Posted on September 16, 2020 at 9:33 am
Desiree Stanley
Category:
Real Estate
Tagged

coronavirus, covid-19, Home Price, Housing, housing demand, housing market, housing market recovery, housing supply, Intero, Intero Real Estate, Morgan Hill, morganhillliving, pandemic, Purchasing a home, Real Estate, Real Estate Agents, real estate market, Real Estate Professional, realestateagent, realtor, sales home sales, Santa Clara County, santaclaracounty, sellingrealestate, Silicon Valley, South County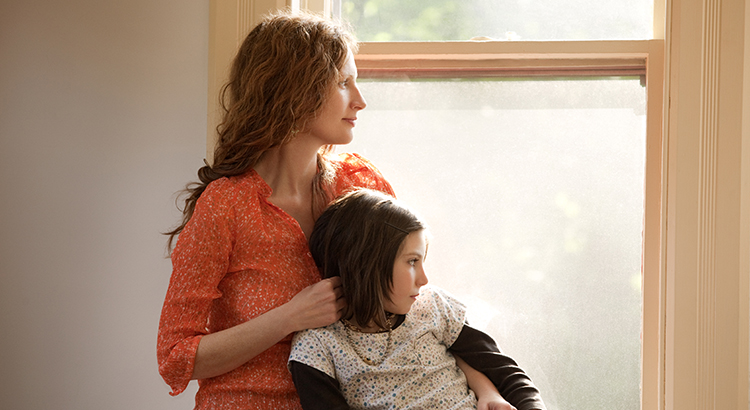 How long have you lived in your current home? If it's been a while, you may be thinking about moving. According to the latest Profile of Home Buyers and Sellers by the National Association of Realtors (NAR), in 2019, homeowners were living in their homes for an average of 10 years. That's a long time to time to be in one place, considering the average length of time homeowners used to stay put hovered closer to 6 years.
With today's changing homebuyer needs, especially given how the current health crisis has altered our daily lifestyles, many homeowners are reconsidering where they're at and thinking about moving to a home with more space for their families. Here's why it might be a great time to make that happen.
The real estate market has changed in many ways over the past 10 years, and current homeowners are earning much more equity today than they used to have. According to CoreLogic, in the first quarter of 2020 alone, the average homeowner gained approximately $9,600 in equity. If you're considering selling your house right now, you may have accumulated more equity to put toward a move than you realize.
Dialing back 10 years, many homeowners also locked in a fairly low mortgage rate. In 2010, the average rate was only 4.09%. This motivated homeowners to stay in their houses longer than usual to keep their rate low, rather than moving. Just last Thursday, however, average mortgage rates hit a new historic low at 2.86%. Sam Khater, Chief Economist at Freddie Mac explains:
"Mortgage rates have hit another record low due to a late summer slowdown in the economic recovery…These low rates have ignited robust purchase demand activity, which is up twenty-five percent from a year ago and has been growing at double digit rates for four consecutive months."
Ten years ago, we couldn't have imagined a mortgage rate under 3%. Looking at the math today, making a move into a new home and locking in a significantly lower rate than you have now could save you greatly on a monthly basis, and over the life of your loan (See chart below):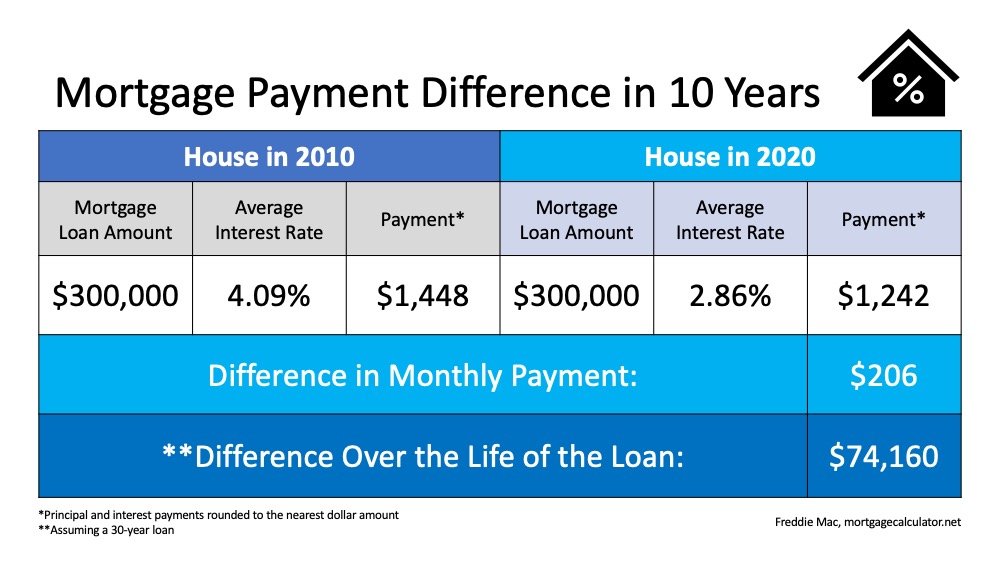 As the example shows, you can save a substantial amount every month if you qualify for today's low mortgage rate, and the savings can really add up over the life of a 30-year fixed-rate loan.
Bottom Line
As a homeowner, you have a huge opportunity to move up right now. Whether you want to save more each month or get more home for your money based on your family's changing needs, it's a great time to connect to discuss the market in our area. Buyers are actively looking for more homes to buy, and you can win big by making a move if the time is right for you.
Posted on September 15, 2020 at 9:18 am
Desiree Stanley
Category:
Real Estate
Tagged

Gilroy, Home Buyers, homebuyers, Housing, Intero, Intero Real Estate, Morgan Hill, morganhillliving, Mortgage, Mortgage Rates, NAR, Purchasing a home, Real Estate, Real Estate Agents, real estate market, Real Estate Professional, realestateagent, realtor, Santa Clara County, santaclaracounty, sellingrealestate, Silicon Valley, South County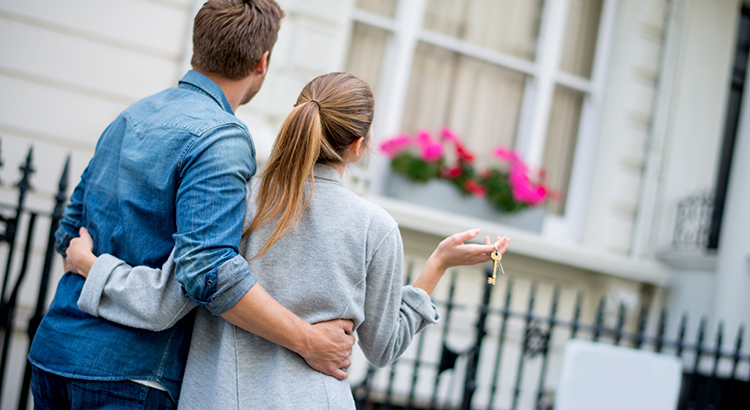 Homebuying has been on the rise over the past few months, with record-breaking sales powering through the market in June and July. Buyers are actively purchasing homes, and the momentum is continuing into the fall. It is, however, becoming harder for buyers to find homes to purchase. If you've been thinking about selling your house, the coming weeks might just be the timing you've been waiting for.
According to the Pending Home Sales Report from the National Association of Realtors (NAR):
"Pending home sales in July achieved another month of positive contract activity, marking three consecutive months of growth.

The Pending Home Sales Index (PHSI), a forward-looking indicator of home sales based on contract signings, rose 5.9% to 122.1 in July. Year-over-year, contract signings rose 15.5%. An index of 100 is equal to the level of contract activity in 2001."
This means that for the past several months, buyers have signed an increasing number of contracts to purchase homes – well above where the market was at this time last year. Lawrence Yun, Chief Economist at NAR notes:
"We are witnessing a true V-shaped sales recovery as homebuyers continue their strong return to the housing market…Home sellers are seeing their homes go under contract in record time, with nine new contracts for every 10 new listings."
Below is a graph that shows the impressive recovery of homes sales compared to previous years. The deep blue v marks the slowdown from this spring that turned into an exponential jump in sales that followed through the summer, skyrocketing above years past: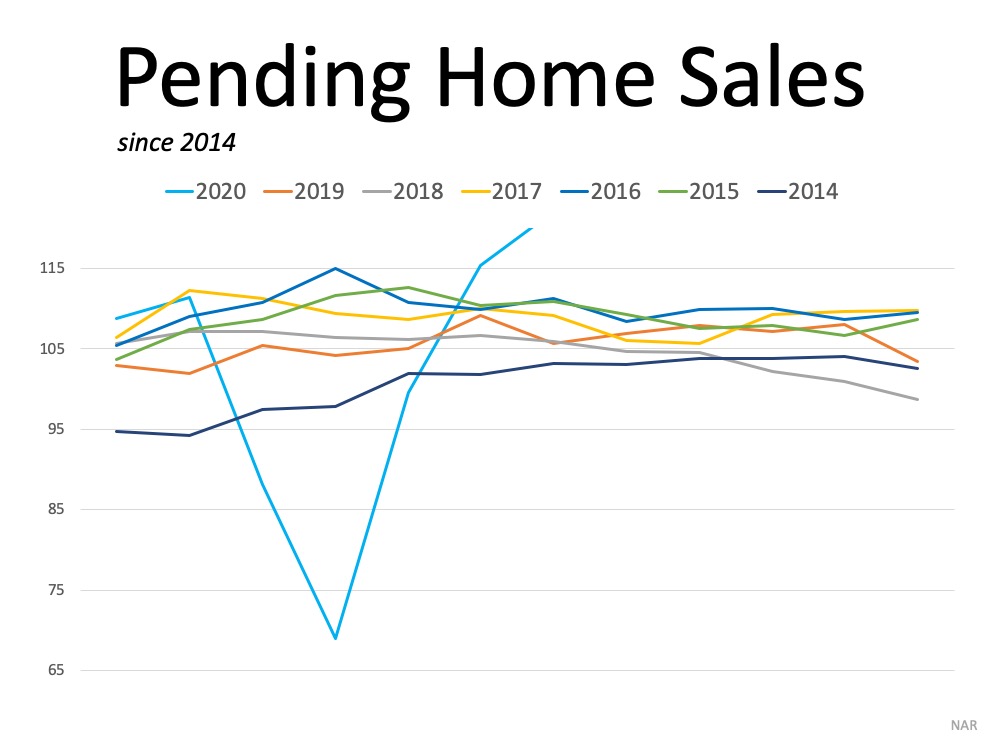 What Does This Mean for Sellers?
If you were thinking about putting your house on the market in the spring, but decided to wait due to the health crisis, it may be time to make your move. Buyers are in the market right now. With so few homes available to purchase, homeowners today are experiencing more bidding wars, creating an optimal time to sell.
Is This Trend Going to Continue?
As CNBC notes, there are no signs of slowing buyer demand this fall:
"The usual summer slowdown in the housing market is not happening this year. Buyers continue to show strong demand, spurred by the new stay-at-home world of the coronavirus and by record low mortgage rates."
Danielle Hale, Chief Economist at realtor.com, concurred:
"In a typical year in the housing market, buyer interest begins to wane before seller interest causing the usual seasonal slowdown as we move into the fall. Due to a delayed spring season and low mortgage rates, we could see buyer interest extend longer than usual into the typically quieter fall. Whether this means more home sales will depend on whether sellers participate or decide to stay on the sidelines."
As Hale mentioned, homeowners who are willing to sell their houses right now will play a big role in whether the trend continues. The market needs more homes to satisfy ongoing buyer demand. Maybe it's time to leverage your equity and move up while eager home shoppers are ready to purchase a house just like yours.
Bottom Line
If your current home doesn't meet your family's changing needs, let's connect to help you sell your house and make the move you've been waiting for all year.
Posted on September 3, 2020 at 8:06 am
Desiree Stanley
Category:
Real Estate
Tagged

Gilroy, Home Sellers, Home Selling, Housing, housing inventory, housing market, Intero, Intero Real Estate, Morgan Hill, morganhillliving, Mortgage Rates, NAR, National Association of Realtors, pending home sales, Purchasing a home, Real Estate, real estate market, Real Estate Professional, realestateagent, realtor, Santa Clara County, santaclaracounty, seller, Sellers, sellingrealestate, Silicon Valley, South County