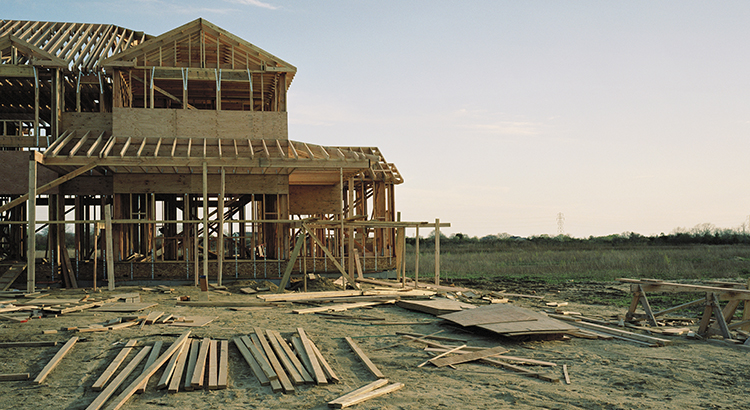 In today's economy, everyone seems to be searching for signs that a recovery is coming soon. Many experts agree that it may actually already be in motion or will be starting by the 3rd quarter of this year. With the housing market positioned to lead the way out of this recession, builder confidence might be a bright spark that gets the recovery fire started. The construction of new homes coming right around the corner is a huge part of that effort, and it may drive your opportunity to make a move this year.
According to the National Association of Home Builders (NAHB): 
"New home sales jumped in May, as housing demand was supported by low interest rates, a renewed household focus on housing, and rising demand in lower-density markets. Census and HUD estimated new home sales in May at a 676,000 seasonally adjusted annual pace, a 17% gain over April." 
In addition, builder confidence is also rising, opening up opportunities for newly constructed homes in the market. The NAHB also notes:
"In a sign that housing stands poised to lead a post-pandemic economic recovery, builder confidence in the market for newly-built single-family homes jumped 21 points to 58 in June, according to the latest National Association of Home Builders/Wells Fargo Housing Market Index (HMI). Any reading above 50 indicates a positive market."
As noted above, this upward trend is supported by builders reporting an increase in demand for single-family homes in suburban neighborhoods with lower-density populations, a result of the COVID-19 health crisis.
Moreover, the most recent Monthly New Residential Construction Report from the U.S. Census indicates that authorized building permits for new residential construction increased by 14.4% month-over-month from April to May, and housing starts were also up 4.3% over the same time period. (See graph below):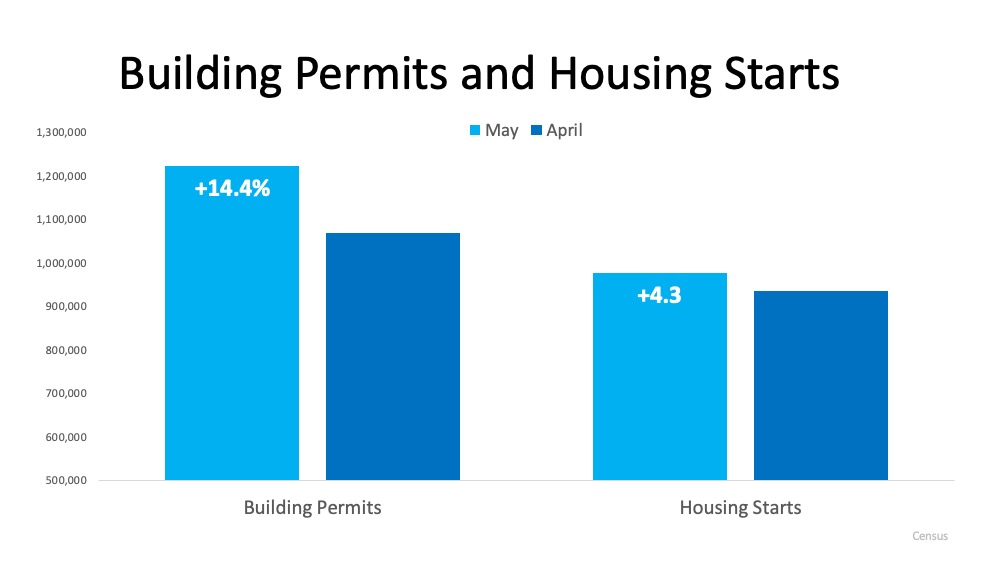 Although housing permits and starts are both considerably lower than they were at this time last year, indicating the new construction market is still working on building its way back up, the trends are moving in the right direction when it comes to having an impact on the U.S. economy. They're also poised to create the much-needed new homes for Americans to purchase in a time when inventory is so scarce.
Dean Mon, Chairman of the NAHB notes:
"As the nation reopens, housing is well-positioned to lead the economy forward…Inventory is tight, mortgage applications are increasing, interest rates are low and confidence is rising. And buyer traffic more than doubled in one month even as builders report growing online and phone inquiries stemming from the outbreak."
The gap between homes to buy and the high demand from purchasers may be narrowed by new construction, and the data shows that these homes are on their way into the housing market.
So, if you've debated whether or not to sell your house this year because you're not sure where to move, a newly-built home – designed to your specific liking – may be your answer.
Bottom Line
With new residential construction right around the corner, you can feel confident about selling your house and having a place to move into. Maybe it's time to finally design the home you've always wanted. Let's connect today to discuss selling your house while demand from eager buyers is high.
Posted on June 30, 2020 at 9:56 am
Desiree Stanley
Category:

Economy, Real Estate
Tagged

building, building permits, economic recovery, Housing, housing inventory, housing market, housing starts, Intero, Intero Real Estate, inventory, inventory levels, inventory shortage, Morgan Hill, morganhillliving, new construction, Purchasing a home, Real Estate, Real Estate Agents, real estate inventory, real estate market, Real Estate Professional, realestateagent, realtor, Santa Clara County, santaclaracounty, sellingrealestate, Silicon Valley, South County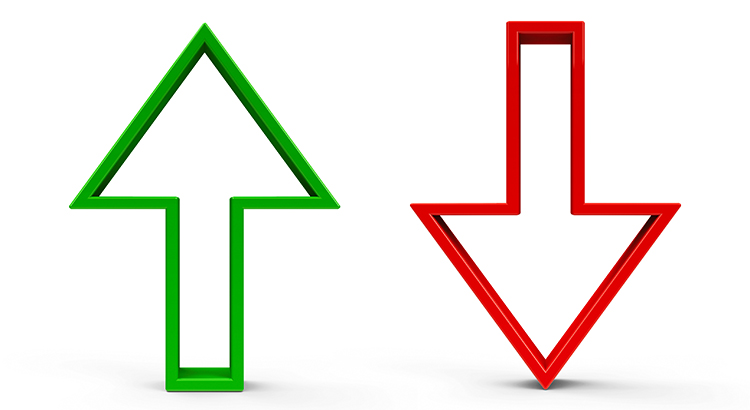 A worldwide pandemic and an economic recession have had a tremendous effect on the nation. The uncertainty brought about by both has made predicting consumer behavior nearly impossible. For that reason, forecasting home prices has become extremely difficult.
Normally, there's a simple formula to determine the future price of any item: calculate the supply of that item in ratio to the demand for that item. In housing right now, demand far exceeds supply. Mortgage applications to buy a home just rose to the highest level in 11 years while the inventory of homes for sale is at (or near) an all-time low. That would usually indicate a strong appreciation for home values as we move throughout the year.
Some experts, however, are not convinced the current rush of purchasers is sustainable. Ralph McLaughlin, Chief Economist at Haus, explained in their June 2020 Hausing Market Forecast why there is a concern:
"The upswing that we'll see this summer is a result of pent-up demand from homebuyers and supply-in-progress from homebuilders that has simply been pushed off a few months. However, after this pent-up demand goes away, the true economic scarring due to the pandemic will begin to affect the housing market as the tide of pent-up demand goes out."
The virus and other challenges currently impacting the industry have created a wide range of thoughts regarding the future of home prices. Here's a list of analysts and their projections, from the lowest depreciation to the highest appreciation:
We can garner two important points from this list:
There is no real consensus among the experts.
No one projects prices to crash like they did in 2008.
Bottom Line
Whether you're thinking of buying a home or selling your house, know that home prices will not change dramatically this year, even with all of the uncertainty we've faced in 2020.
Posted on June 23, 2020 at 8:45 am
Desiree Stanley
Category:
Real Estate
Tagged

Gilroy, Home Buyers, Home Ownership, Housing, housing inventory, housing market, housing supply, Intero, Intero Real Estate, Low Interest Rates, Morgan Hill, morganhillliving, Mortgage Rates, Purchasing a home, Real Estate, Real Estate Agents, real estate market, Real Estate Professional, realtor, Santa Clara County, santaclaracounty, sellingrealestate, Silicon Valley, South County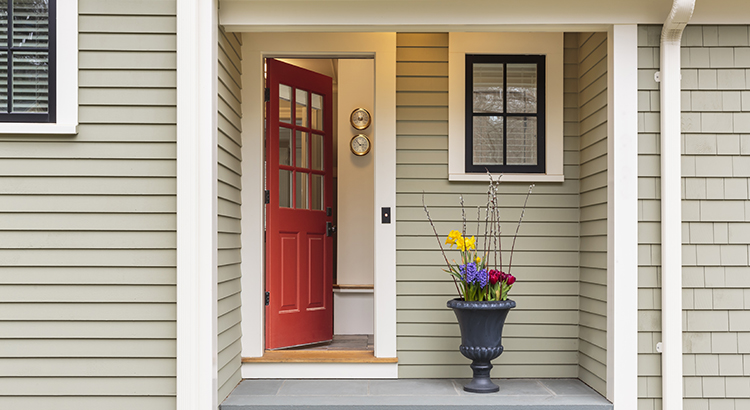 The success of the U.S. residential real estate market, like any other market, is determined by supply and demand. This means we need to look at how many potential purchasers are in the market versus the number of houses that are available to buy. With early 2020 housing data now rolling in, it's quite evident there are two big stories impacting this year's residential real estate market:
1. Buyer demand is already extremely strong
2. Housing supply is at a historically low level
Demand
ShowingTime is a firm that compiles data from property showings scheduled across the country. The latest ShowingTime Showing Index reveals how showings have increased in each of the country's four regions for five months in a row.
Supply
Move.com also just released information indicating that the number of homes currently for sale has declined rapidly and now sits at the lowest level in almost a decade. They explained,
"National housing inventory declined 13.6 percent in January, the steepest year-over-year decrease in more than 4 years, pushing the supply of for sale homes in the U.S. to its lowest level since realtor.com began tracking the data in 2012."
In response to these numbers, Danielle Hale, Chief Economist at realtor.com, said,
"Homebuyers took advantage of low mortgage rates and stable listing prices to drive sales higher at the end of 2019, further depleting the already limited inventory of homes for sale. With fewer homes coming up for sale, we've hit another new low of for sale-listings in January."
The decrease in inventory impacted every price range, too. Here's a graph showing the data released by move.com: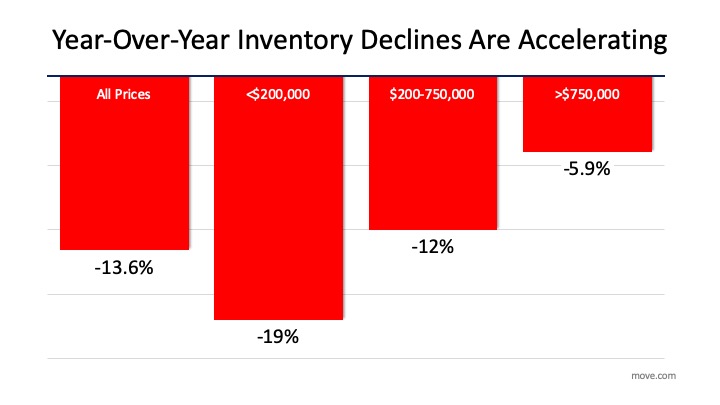 Bottom Line
Since there's a historic shortage of homes for sale, putting your home on the market today could drive an excellent price and give you additional negotiating leverage when selling your house. Let's get together to determine if listing your house now is your best move.
Posted on February 28, 2020 at 1:40 pm
Desiree Stanley
Category:
Real Estate
Tagged

dreamhome, forsale, Gilroy, Home Buyers, Home Ownership, Home Sellers, Home Selling, homebuyers, housing inventory, housing market, housing supply, Intero, Intero Real Estate, Morgan Hill, Santa Clara County, Silicon Valley, South County