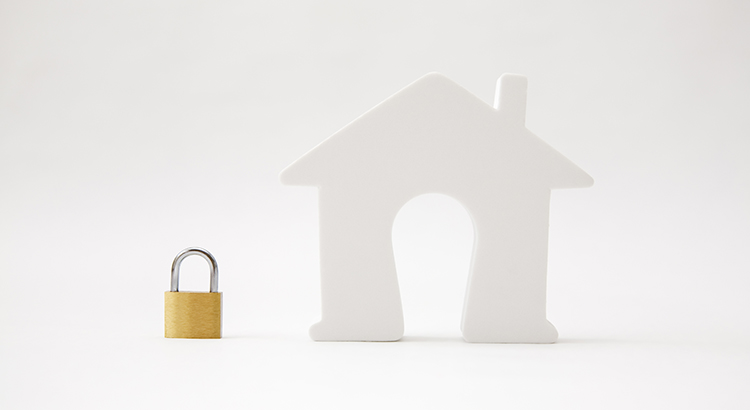 With the strength of the current housing market growing every day and more Americans returning to work, a faster-than-expected recovery in the housing sector is already well underway. Regardless, many are still asking the question: will we see a wave of foreclosures as a result of the current crisis? Thankfully, research shows the number of foreclosures is expected to be much lower than what this country experienced during the last recession. Here's why.
According to Black Knight Inc., the number of those in active forbearance has been leveling-off over the past month (see graph below):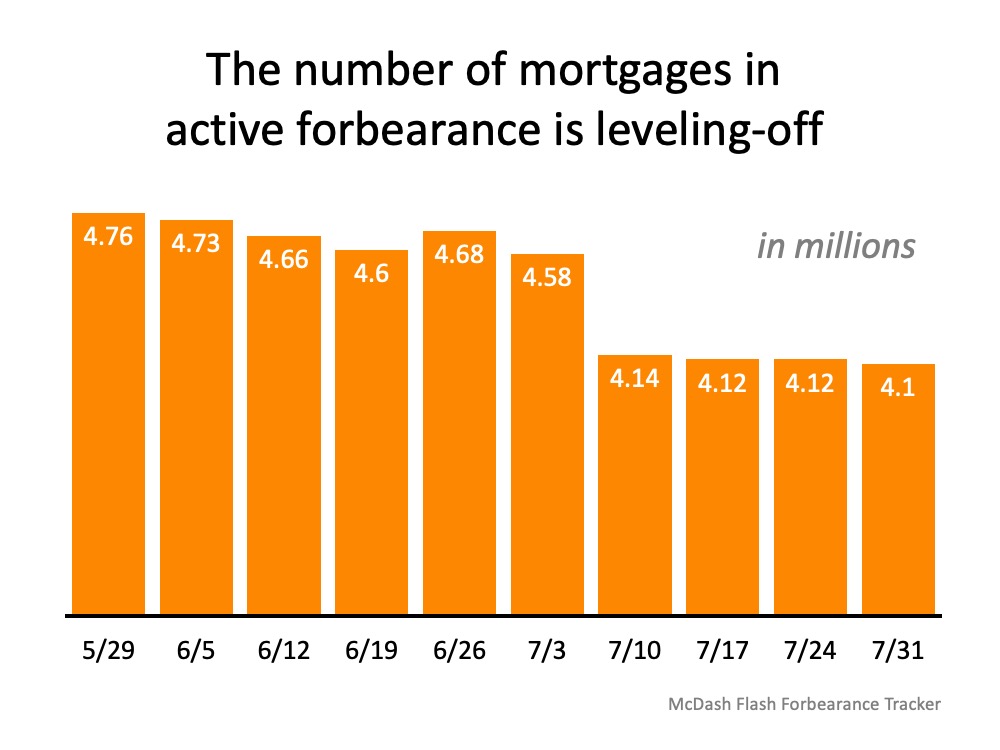 Black Knight Inc. also notes, of the original 4,208,000 families granted forbearance, only 2,588,000 of these homeowners got an extension. Many homeowners have once again started to pay their mortgages, paid off their homes, or never went delinquent on their payments in the first place. They may have applied for forbearance out of precaution, but never fully acted on it (see graph below):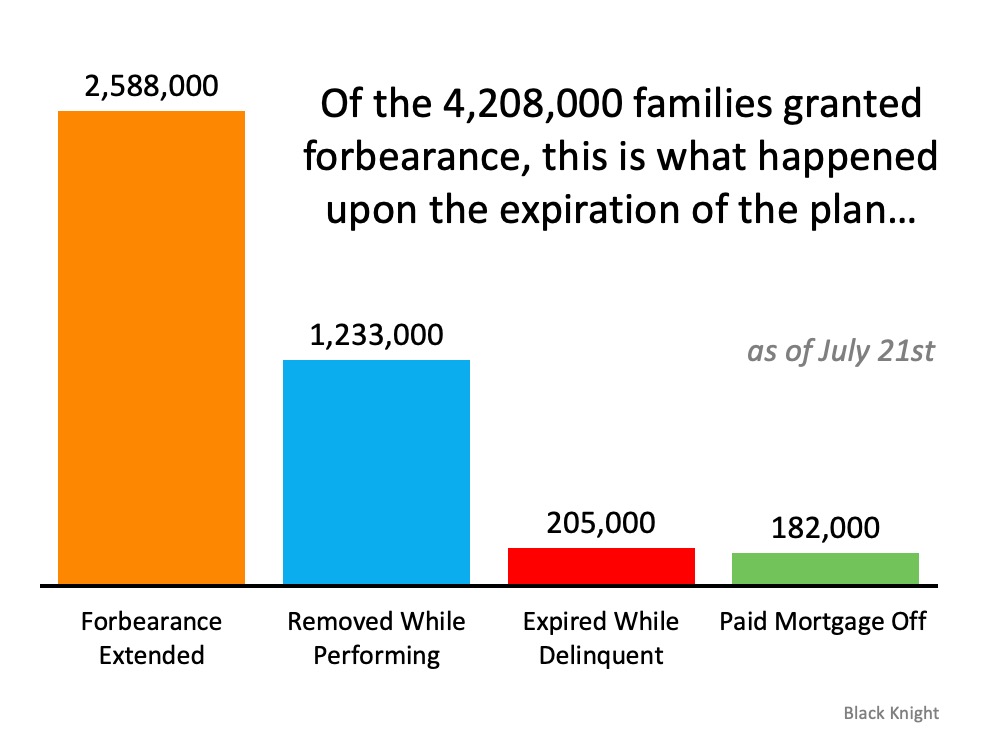 The housing market, and homeowners, therefore, are in a much better position than many may think. Much of that has to do with the fact that today's homeowners have more equity than most realize. According to John Burns Consulting, over 42% of homes are owned free and clear, meaning they are not tied to a mortgage. Of the remaining 58%, the average homeowner has $177,000 in equity. That number is keeping many homeowners afloat today and giving them options to avoid foreclosure.
While ATTOM Data Solutions indicates that there is a potential for the number of foreclosures to increase throughout the country, it's important to understand why they won't rock the housing market this time around:
"The United States faces a possible foreclosure surge over the coming months that could more than double the number of households threatened with eviction for not paying their mortgages."
That number may sound massive, but it is actually much smaller than it seems at first glance. Today's actual quarterly active foreclosure number is 74,860. That's over 7.5x lower than the number of foreclosures the country saw at the peak of the housing crash in 2009. When looking at the graph below, it's clear that even if the number of quarterly foreclosures today doubles, as ATTOM Data Solutions indicates is a possibility (not a given), they will only reach what historically-speaking is a normalized range, far below what up-ended the housing market roughly 10 years ago.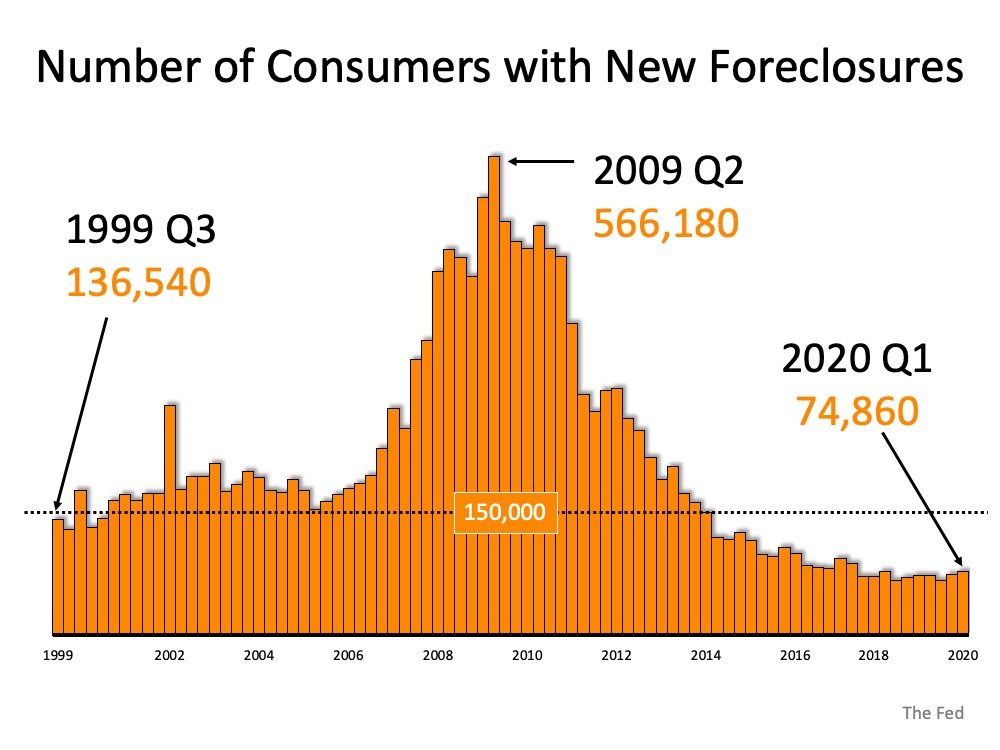 Equity is growing, jobs are returning, and the economy is slowly recovering, so the perfect storm for a wave of foreclosures is not realistically in the housing market forecast. As Odeta Kushi, Deputy Chief Economist for First American notes:
"Alone, economic hardship and a lack of equity are each necessary, but not sufficient to trigger a foreclosure. It is only when both conditions exist that a foreclosure becomes a likely outcome."
While our hearts are with anyone who may end up in foreclosure as a result of this crisis, we do know that today's homeowners have more options than they did 10 years ago. For some, it may mean selling their house and downsizing with that equity, which is a far better outcome than a foreclosure.
Bottom Line
Homeowners today have many options to avoid foreclosure, and equity is surely helping to keep many afloat. Even if today's rate of foreclosures doubles, it will still only hit a mark that is more in line with a historically normalized range, a very good sign for homeowners and the housing market.
Posted on August 12, 2020 at 7:47 am
Desiree Stanley
Category:

Economy, Real Estate, Unemployment
Tagged

coronavirus, covid-19, economic recovery, Economic slowdown, economy, forbearance, Foreclosure, Gilroy, Home Ownership, homeowners, Housing, housing market, Intero, Intero Real Estate, Morgan Hill, morganhill, morganhillliving, Real Estate, real estate market, realestateagent, realtor, Santa Clara County, sellingrealestate, Silicon Valley, South County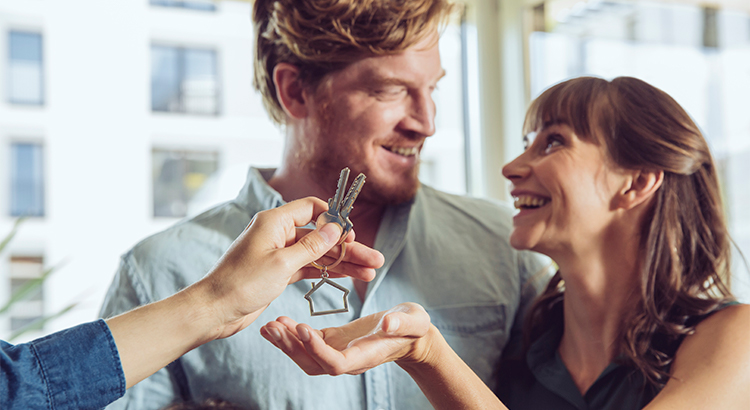 According to CoreLogic, from 2006 to 2014 "there were 7.3 million housing foreclosures and 1.9 million short sales." The hesitation some Americans feel after experiencing a foreclosure brings to mind the old saying: "Fool me once- shame on you. Fool me twice- shame on me."
According to the 2019 Home Buyer Report from NerdWallet,
"Thirteen percent of Americans have lost a home due to a financial event such as foreclosure in the past 10 years. More than 6 in 10 of them (61%) have not bought a home since, and 20% of those who haven't repurchased say they never plan to again."
This makes sense. They don't want to go through the same pain again. As a cornerstone of the American dream, nobody wants to lose home ownership. But let's illustrate this simply: Recall learning to ride your first bike during your childhood. Did you stop riding it because you fell on the ground and scraped your knees? Or did you get back on and try again until you were able to ride without falling?
Purchasing a home is not as simple as learning to ride a bike, but the concept is the same! There are many things necessary to learn that affect the ability to get the financing needed to purchase a home. Past occurrences can determine if there is a waiting period. In other words, you need to let your knees heal before you try again!
As we've mentioned in the past, home ownership has many financial and non-financial benefits. Each person needs to go over the pros and cons, taking the time to figure out what is best for their family. Should they continue renting, or should they try to buy again?
The good news is that some "boomerang buyers" are getting back into the market. They're getting back on their bike!
"Of 2.8 million former homeowners whose foreclosures, short sales or bankruptcies dropped off their credit reports from January 2016 to November 2018, 11.5% have obtained a new mortgage, according to a study by credit rating agency Experian for USA Today."
NerdWallet's report also mentioned:
6% plan to buy a house this year.
39% intend to buy over the next 3 years.
58% say they will purchase within 5 years.
Bottom Line
If you lost a home due to a financial event but would like to review your options, let's get together to help you create a plan to obtain a home in the future!