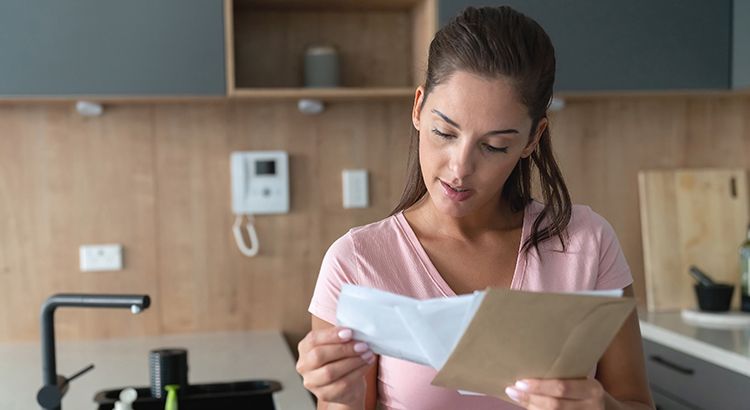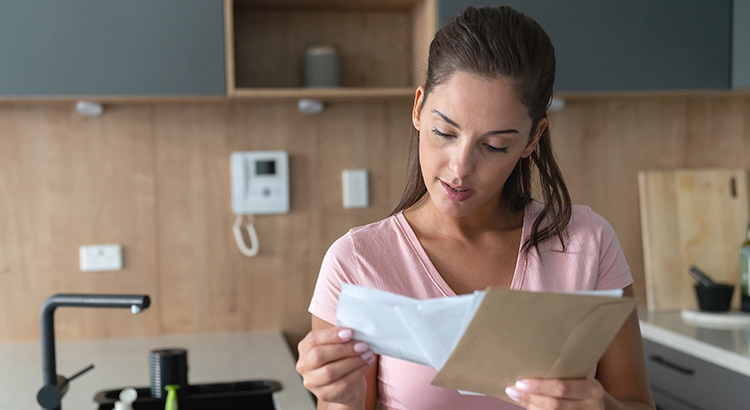 Earlier this year when the nation pressed pause on the economy and unemployment rates jumped up significantly, many homeowners were immediately concerned about being able to pay their mortgages, and understandably so. To assist in this challenging time, two protection plans were put into place to help support those in need.
First, there was a pause placed on initiating foreclosures for government-backed loans. This plan started on March 18, 2020, and it extends at least through December 31, 2020. Second, homeowners were able to obtain forbearance for up to 180 days, followed by a potential extension for up to another 180 days. This way, there is a relief period in which homeowners have the opportunity to halt payments on their mortgages for up to one year.
Not Everyone Understands Their Options
The challenge, according to Matt Hulstein, Staff Attorney at non-profit Chicago Volunteer Legal Services, is, "A lot of homeowners aren't aware of this option."
There's definitely traction behind this statement. In a recent survey by The National Housing Resource Center, housing counselors from across the country noted that many homeowners really don't know that there is help available. The following graph indicates the reasons why people who are in this challenging situation are not choosing to enter forbearance: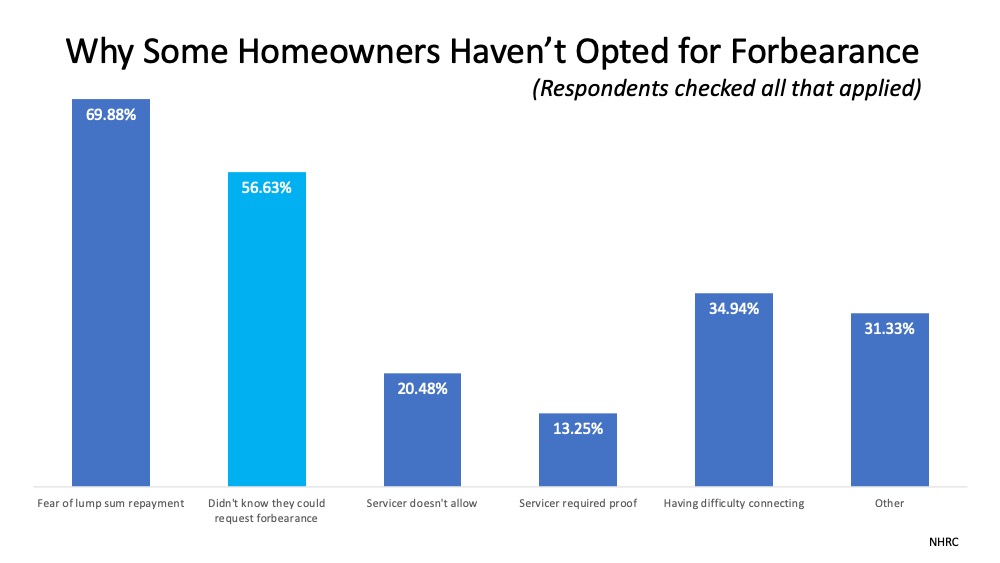 The Urban Institute explained:
"530,000 homeowners who became delinquent after the pandemic began did not take advantage of forbearance, despite being eligible to ask for the plan…These responses reflect a need to provide better information to all homeowners. (Lump-sum payment is not the only repayment option.)

Additionally, 205,000 homeowners who did not extend their forbearance after its term ended in June or July became delinquent on their loans. We need to examine who these people are and why are they not extending their option."
Clearly, a more focused effort on education about forbearance and relief programs may make a big difference for many people, and a clear understanding of their options is mission-critical. Some communities, however, have been impacted by the economic challenges of the pandemic more so than others, further confirming the need to deliver education more widely. The Urban Institute also indicates:
"Black and Hispanic homeowners have been hit harder than white homeowners…nearly 21 percent of both Black and Hispanic homeowners missed or deferred the previous month's mortgage payment, compared with 10 percent of white homeowners and about 13 percent of all homeowners with payments due."
Options Available
It's important to note that any homeowner experiencing financial hardship has the right to request forbearance. If you're unfamiliar with the plans available, contact your mortgage provider (the company you send your mortgage payment to each month) to discuss your options. It is a necessary next step, as you may qualify for mortgage relief options or forbearance.
One option many homeowners may not realize they have is the ability to sell their house in this time of need. With the growing equity that homeowners have available today, making a move might be the best option to protect your financial future.
Bottom Line
If you need additional information on your options, you can review the Protect Your Investment guide from the National Association of Realtors (NAR) and the Homeowner's Guide to Success from the Consumer Financial Protection Bureau (CFPB). For the majority of people, our home is the most important asset we have, and you should use all the help available right now to be able to preserve your investment.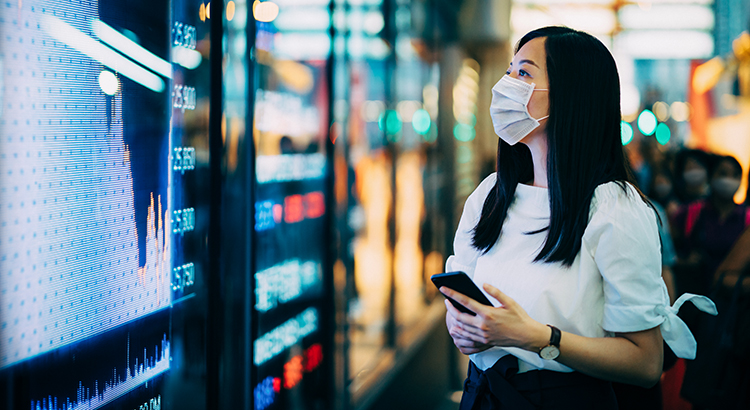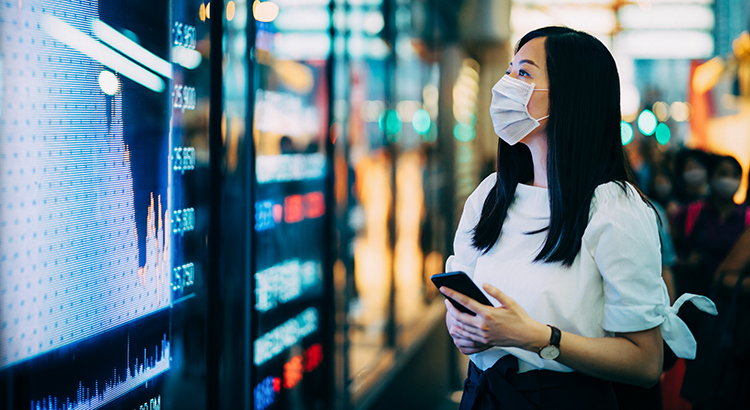 Earlier this year, many economists and market analysts were predicting an apocalyptic financial downturn that would potentially rattle the U.S. economy for years to come. They immediately started to compare it to the Great Depression of a century ago. Six months later, the economy is still trying to stabilize, but it is evident that the country will not face the total devastation projected by some. As we continue to battle the pandemic, forecasts are now being revised upward. The Wall Street Journal (WSJ) just reported:
"The U.S. economy and labor market are recovering from the coronavirus-related downturn more quickly than previously expected, economists said in a monthly survey.

Business and academic economists polled by The Wall Street Journal expect gross domestic product to increase at an annualized rate of 23.9% in the third quarter. That is up sharply from an expectation of an 18.3% growth rate in the previous survey."
What Shape Will the Recovery Take?
Economists have historically cast economic recoveries in the form of one of four letters – V, U, W, or L.
A V-shaped recovery is all about the speed of the recovery. This quick recovery is treated as the best-case scenario for any economy that enters a recession. NOTE: Economists are now also using a new term for this type of recovery called the "Nike Swoosh." It is a form of the V-shape that may take several months to recover, thus resembling the Nike Swoosh logo.
A U-shaped recovery is when the economy experiences a sharp fall into a recession, like the V-shaped scenario. In this case, however, the economy remains depressed for a longer period of time, possibly several years, before growth starts to pick back up again.
A W-shaped recovery can look like an economy is undergoing a V-shaped recovery until it plunges into a second, often smaller, contraction before fully recovering to pre-recession levels.
An L-shaped recovery is seen as the worst-case scenario. Although the economy returns to growth, it is at a much lower base than pre-recession levels, which means it takes significantly longer to fully recover.
Many experts predicted that this would be a dreaded L-shaped recovery, like the 2008 recession that followed the housing market collapse. Fortunately, that does not seem to be the case.
The same WSJ survey mentioned above asked the economists which letter this recovery will most resemble. Here are the results: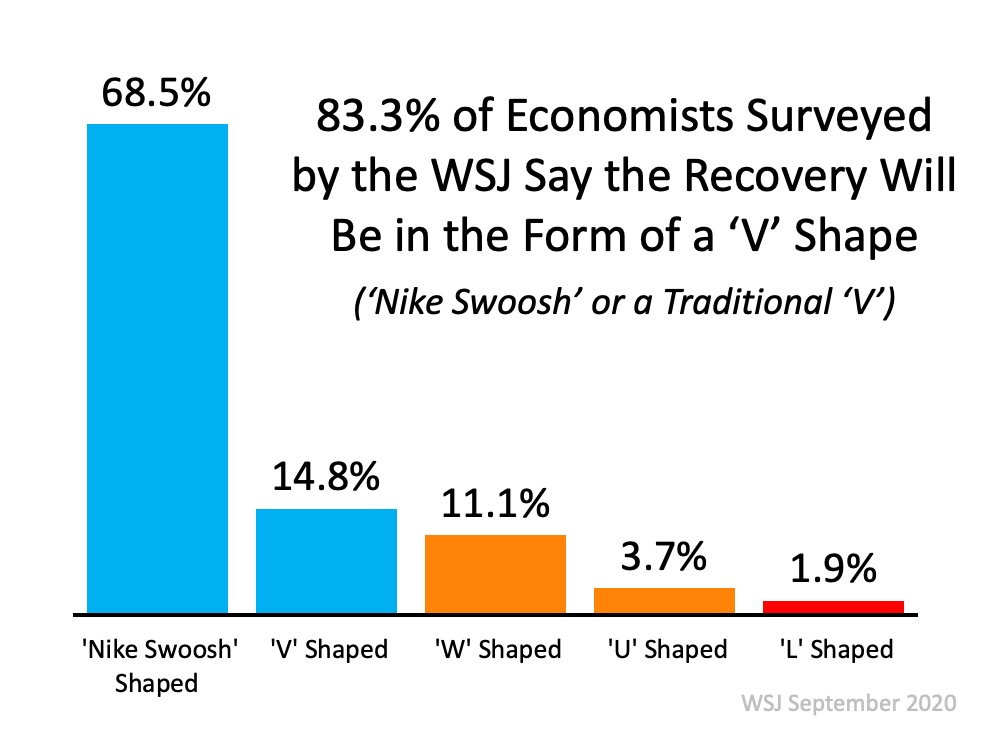 What About the Unemployment Numbers?
It's difficult to speak positively about a jobs report that shows millions of Americans are still out of work. However, when we compare it to many forecasts from earlier this year, the numbers are much better than most experts expected. There was talk of numbers that would rival the Great Depression when the nation suffered through four consecutive years of unemployment over 20%.
The first report after the 2020 shutdown did show a 14.7% unemployment rate, but much to the surprise of many analysts, the rate has decreased each of the last three months and is now in the single digits (8.4%).
Economist Jason Furman, Professor at Harvard University's John F. Kennedy School of Government and the Chair of the Council of Economic Advisers during the previous administration, recently put it into context:
"An unemployment rate of 8.4% is much lower than most anyone would have thought it a few months ago. It is still a bad recession but not a historically unprecedented event or one we need to go back to the Great Depression for comparison."
The economists surveyed by the WSJ also forecasted unemployment rates going forward:
2021: 6.3%
2022: 5.2%
2023: 4.9%
The following table shows how the current employment situation compares to other major disruptions in our economy: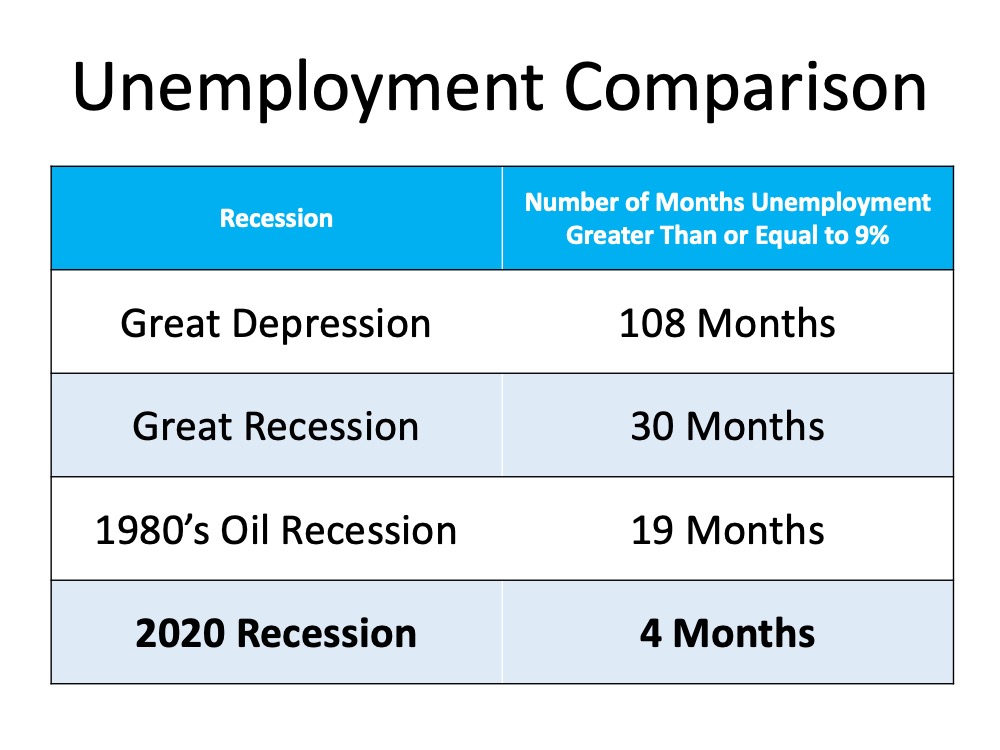 Bottom Line
The economic recovery still has a long way to go. So far, we are doing much better than most thought would be possible.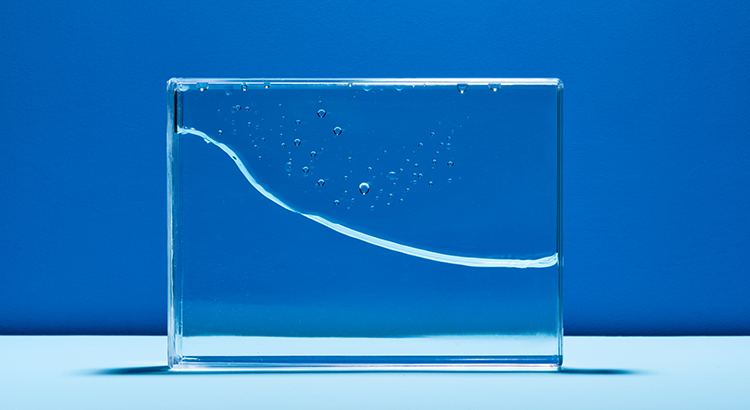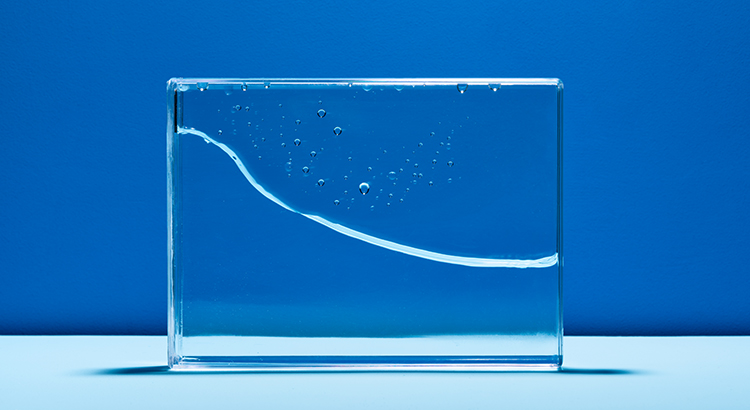 Originally, some housing industry analysts were concerned that the mortgage forbearance program (which allows families to delay payments to a later date) could lead to an increase in foreclosures when forbearances end. Some even worried that we might relive the 2006-2008 housing crash all over again. Once you examine the data, however, that seems unlikely.
As reported by Odeta Kushi, Deputy Chief Economist for First American:
"Despite the federal foreclosure moratorium, there were fears that up to 30% of homeowners would require forbearance, ultimately leading to a foreclosure tsunami. Forbearance did not hit 30%, but rather peaked at 8.6% and has been steadily falling since."
According to the most current data from Black Knight, the percentage of homes in forbearance has fallen to 7.4%. The report also gives the decrease in raw numbers:
"The overall trend of incremental improvement in the number of mortgages in active forbearance continues. According to the latest data from Black Knight's McDash Flash Forbearance Tracker, the number of mortgages in active forbearance fell by another 71,000 over the past week, pushing the total under 4 million for the first time since early May."
Here's a graph showing the decline in forbearances over the last several months: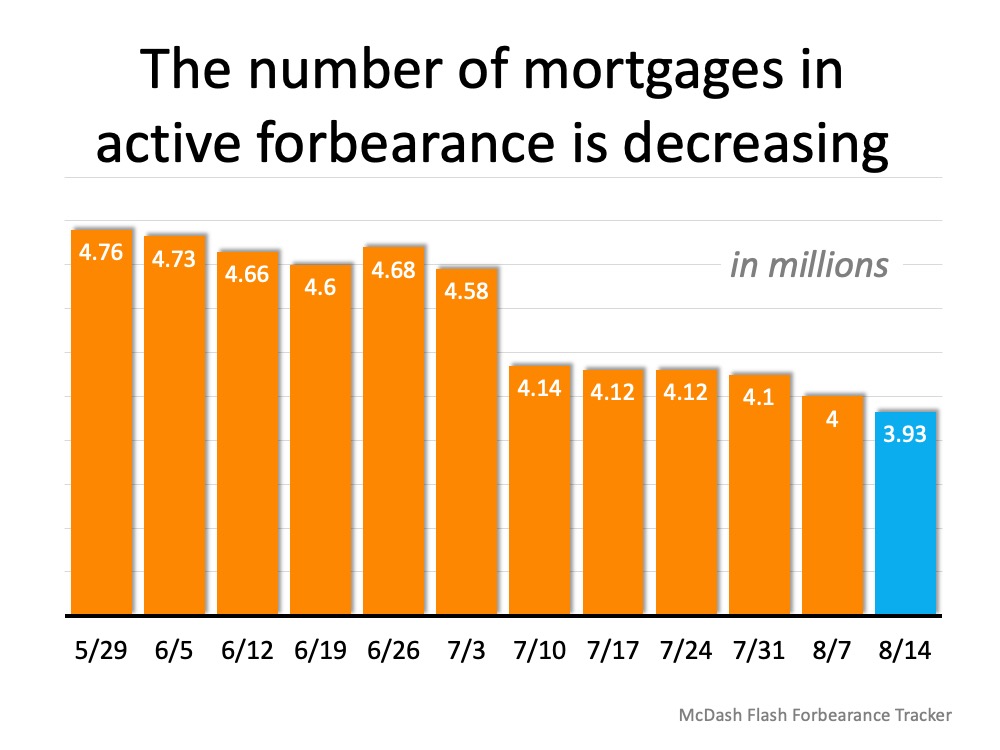 The report also explains that across the board, overall forbearance activity fell with 10% fewer new forbearance requests and nearly 40% fewer renewals.
What about potential foreclosures once forbearances end?
Kushi also addresses this question:
"There are two main reasons why this crisis is unlikely to produce a wave of foreclosures similar to the 2008 recession. First, the housing market is in a much stronger position compared with a decade ago. Accompanied by more rigorous lending standards, the household debt-to-income ratio is at a four-decade low and household equity near a three-decade high. Indeed, thus far, MBA data indicates that the majority of homeowners who took advantage of forbearance programs are either staying current on their mortgage or paying off the loan through a home sale or a refinance. Second, this service sector-driven recession is disproportionately impacting renters."
There is one potential challenge
Today, the options available to homeowners will prevent a large spike in foreclosures. That's good not just for those families impacted, but for the overall housing market. A recent study by Fannie Mae, however, reveals that many Americans are not aware of the options they have.
It's imperative for potentially impacted families to better understand the mortgage relief programs available to them, for their personal housing situation and for the overall real estate market.
Bottom Line
If Americans fully understand their options and make good choices regarding those options, the current economic slowdown does not need to lead to mass foreclosures.