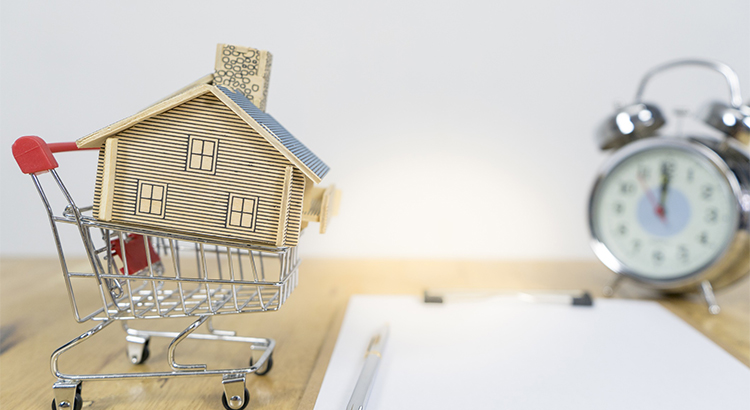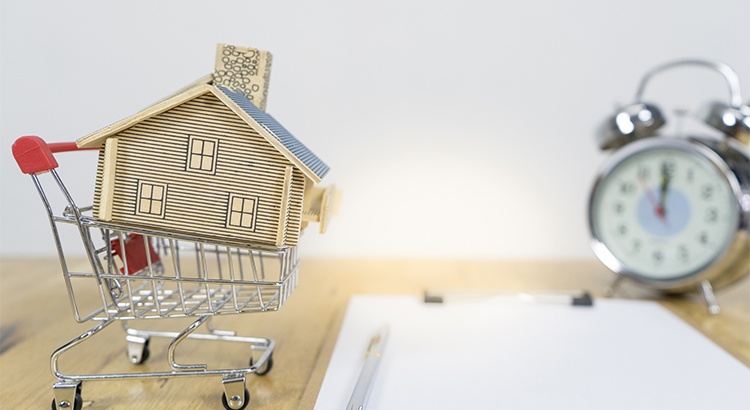 The real estate market is expected to do very well this year as mortgage rates remain at historic lows. One challenge to the housing industry is the lack of homes available for sale. Last week, move.com released a report showing that 2020 is beginning with the lowest available housing inventory in two years. The report explains:
"Last month saw the largest year-over-year decline of housing inventory in almost three years with a dramatic 12 percent decline, pushing the number of homes for sale in the U.S. to the lowest level since January 2018."
The report also revealed that the decline in inventory stretches across all price points, as shown in the following graph: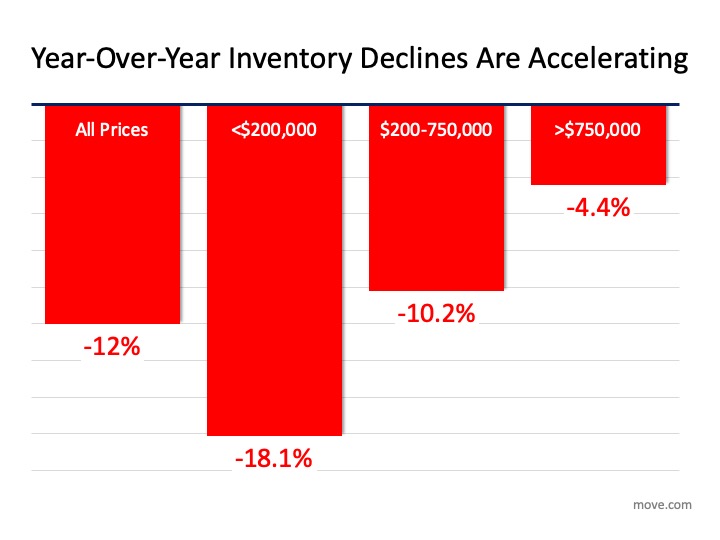 George Ratiu, Senior Economist at realtor.com, explains how this drop in available homes for sale comes at a time when more buyers are expected to enter the market:
"The market is struggling with a large housing undersupply just as 4.8 million millennials are reaching 30-years of age in 2020, a prime age for many to purchase their first home. The significant inventory drop…is a harbinger of the continuing imbalance expected to plague this year's markets, as the number of homes for sale are poised to reach historically low levels."
The question is: What does this mean to you?
If You're a Buyer…
Be patient during your home search. It may take time to find a home you love. Once you do, however, be ready to move forward quickly. Get pre-approved for a mortgage, be ready to make a competitive offer from the start, and understand that a shortage in inventory could lead to the resurgence of bidding wars. Calculate just how far you're willing to go to secure a home if you truly love it.
If You're a Seller…
Realize that, in some ways, you're in the driver's seat. When there is a shortage of an item at the same time there is a strong demand for that item, the seller of that item is in a good position to negotiate. Whether it is the price, moving date, possible repairs, or anything else, you'll be able to demand more from a potential purchaser at a time like this – especially if you have multiple interested buyers. Don't be unreasonable, but understand you probably have the upper hand.
Bottom Line
The housing market will remain strong throughout 2020. Understand what that means to you, whether you're buying, selling, or doing both.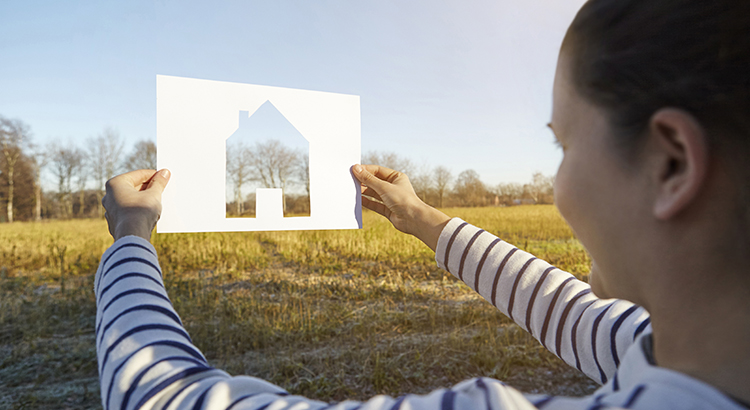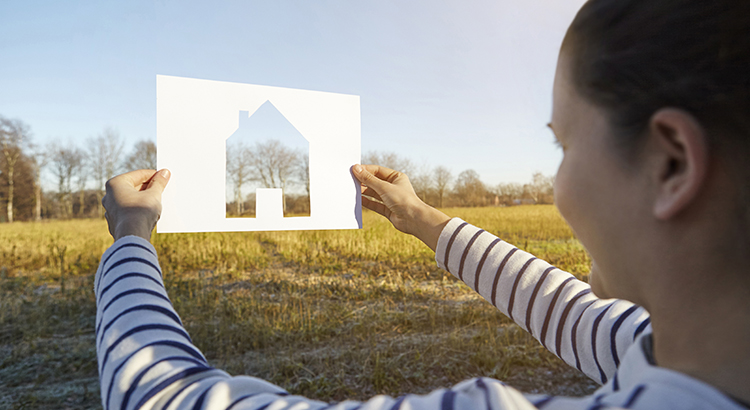 In 1963, Martin Luther King, Jr. led and inspired a powerful movement with his famous "I Have a Dream" speech. Through his passion and determination, he sparked interest, ambition, and courage in his audience. Today, reflecting on his message encourages many of us to think about our own dreams, goals, beliefs, and aspirations. For many Americans, one of those common goals is owning a home: a piece of land, a roof over our heads, and a place where our families can grow and flourish.
If you're dreaming of buying a home this year, the best way to start the process is to connect with a Real Estate professional to understand what goes into buying a home. Once you have that covered, then you can answer the questions below to make the best decision for you and your family.
1. How Can I Better Understand the Process, and How Much Can I Afford?
The process of buying a home is not one to enter into lightly. You need to decide on key things like how long you plan on living in an area, school districts you prefer, what kind of commute works for you, and how much you can afford to spend.
Keep in mind, before you start the process to purchase a home, you'll also need to apply for a mortgage. Lenders will evaluate several factors connected to your financial track record, one of which is your credit history. They'll want to see how well you've been able to minimize past debts, so make sure you've been paying your student loans, credit cards, and car loans on time. Most agents have loan officers they trust that they can refer you to.
According to ConsumerReports.org,
"Financial planners recommend limiting the amount you spend on housing to 25 percent of your monthly budget."
2. How Much Do I Need for a Down Payment?
In addition to knowing how much you can afford on a monthly mortgage payment, understanding how much you'll need for a down payment is another critical step. Thankfully, there are many different options and resources in the market to potentially reduce the amount you may think you need to put down upfront.
If you're concerned about saving for a down payment, start small and be consistent. A little bit each month goes a long way. Jumpstart your savings by automatically adding a portion of your monthly paycheck into a separate savings account or house fund. AmericaSaves.org says,
"Over time, these automatic deposits add up. For example, $50 a month accumulates to $600 a year and $3,000 after five years, plus interest that has compounded."
Before you know it, you'll have enough for a down payment if you're disciplined and thoughtful about your process.
3. Saving Takes Time: Practice Living on a Budget
As tempting as it is to settle in each morning with a fancy cup of coffee from your favorite local shop, putting that daily spend toward your down payment will help accelerate your path to homeownership. It's the little things that count, so start trying to live on a slightly tighter budget if you aren't doing so already. A budget will allow you to save more for your down payment and help you pay down other debts to improve your credit score. A survey of Millennial spending shows,
"70 percent of would-be first-time homebuyers will cut spending on spa days, shopping and going to the movies in exchange for purchasing a home within the next year."
While you don't need to cut all of the fun out of your current lifestyle, making smarter choices and limiting your spending in areas where you can slim down will make a big difference.
Bottom Line
If homeownership is on your dream list this year, take a good look at what you can prioritize to help you get there. Let's get together today to discuss the best steps you can take to start the process.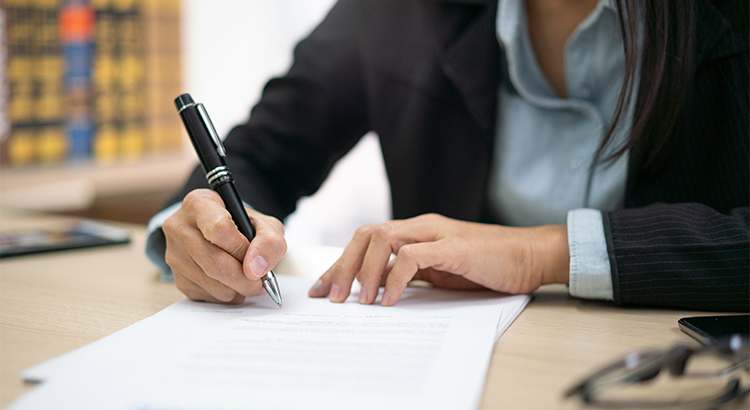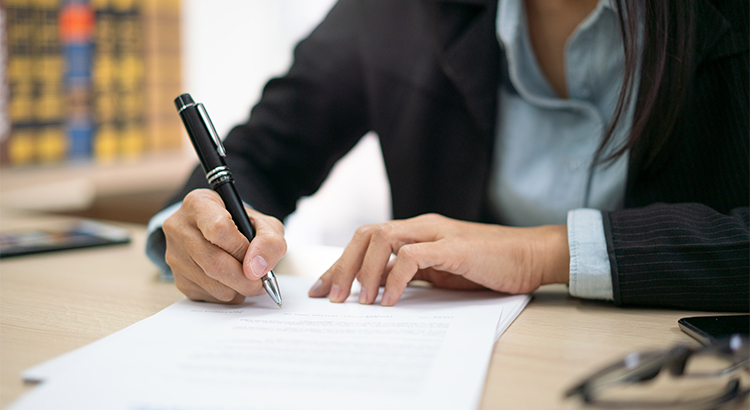 Congratulations! You've found a home to buy and have applied for a mortgage! You're undoubtedly excited about the opportunity to decorate your new home, but before you make any large purchases, move your money around, or make any big-time life changes, consult your loan officer – someone who will be able to tell you how your decisions will impact your home loan.
Below is a list of Things You Shouldn't Do After Applying for a Mortgage. Some may seem obvious, but some may not.
1. Don't Change Jobs or the Way You Are Paid at Your Job. Your loan officer must be able to track the source and amount of your annual income. If possible, you'll want to avoid changing from salary to commission or becoming self-employed during this time as well.
2. Don't Deposit Cash into Your Bank Accounts. Lenders need to source your money, and cash is not really traceable. Before you deposit any amount of cash into your accounts, discuss the proper way to document your transactions with your loan officer.
3. Don't Make Any Large Purchases Like a New Car or Furniture for Your New Home. New debt comes with it, including new monthly obligations. New obligations create new qualifications. People with new debt have a higher debt to income ratios…higher ratios make for riskier loans…and sometimes qualified borrowers no longer qualify.
4. Don't Co-Sign Other Loans for Anyone. When you co-sign, you are obligated. As we mentioned, with that obligation comes higher ratios as well. Even if you swear you will not be the one making the payments, your lender will have to count the payments against you.
5. Don't Change Bank Accounts. Remember, lenders need to source and track assets. That task is significantly easier when there is consistency among your accounts. Before you even transfer any money, talk to your loan officer.
6. Don't Apply for New Credit. It doesn't matter whether it's a new credit card or a new car. When you have your credit report run by organizations in multiple financial channels (mortgage, credit card, auto, etc.), your FICO® score will be affected. Lower credit scores can determine your interest rate and maybe even your eligibility for approval.
7. Don't Close Any Credit Accounts. Many clients erroneously believe that having less available credit makes them less risky and more likely to be approved. Wrong. A major component of your score is your length and depth of credit history (as opposed to just your payment history) and your total usage of credit as a percentage of available credit. Closing accounts has a negative impact on both of those determinants in your score.
Bottom Line
Any blip in income, assets, or credit should be reviewed and executed in a way that ensures your home loan can still be approved. The best advice is to fully disclose and discuss your plans with your loan officer before you do anything financial in nature. They are there to guide you through the process.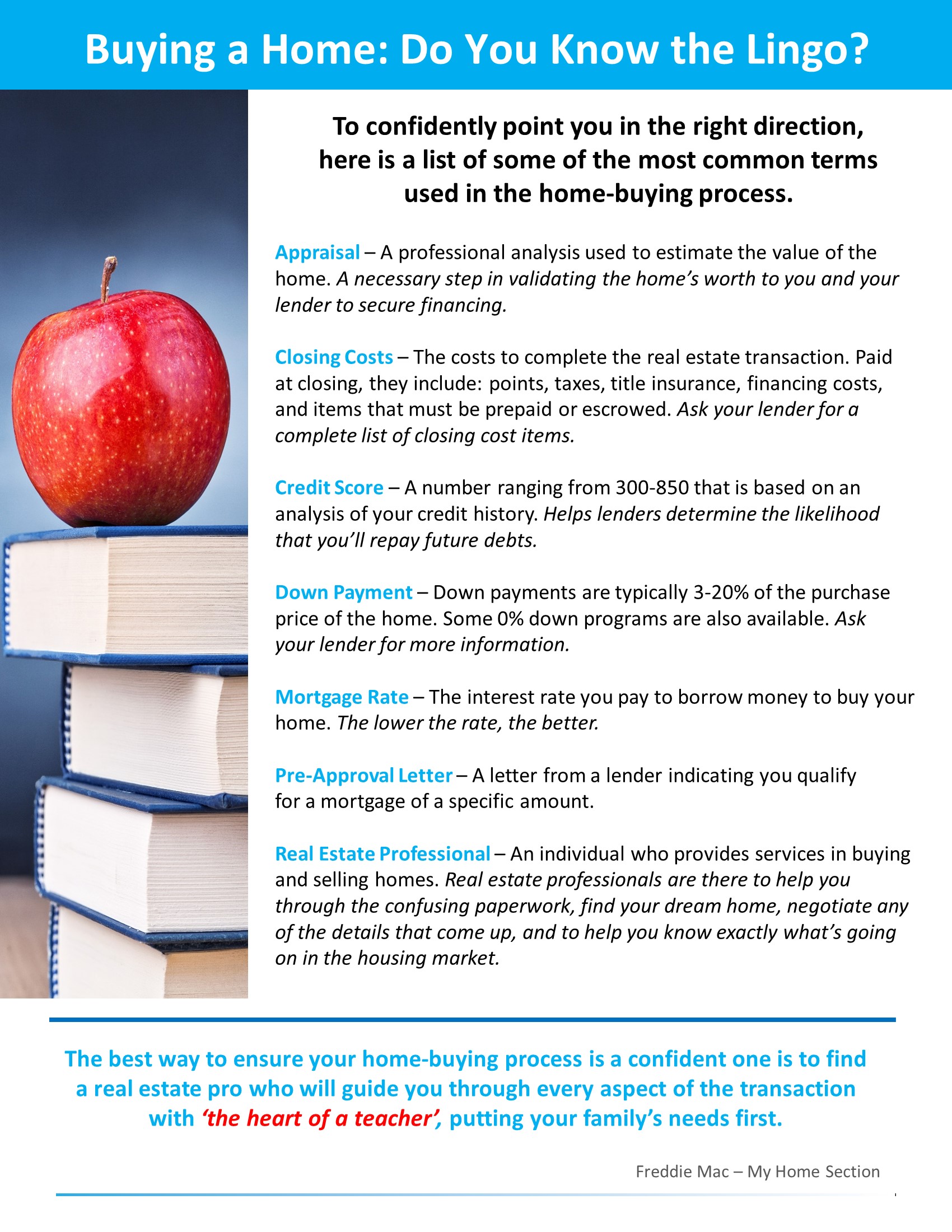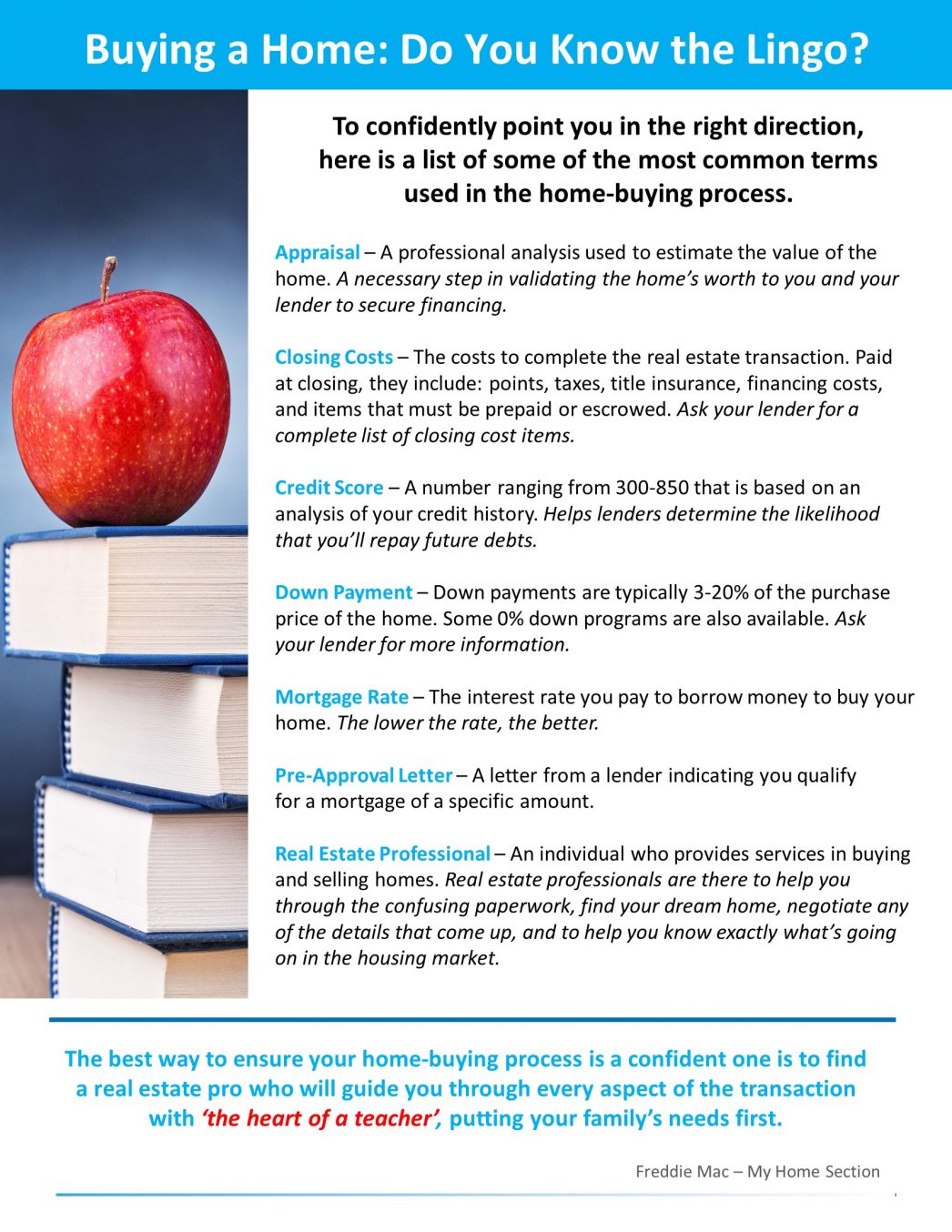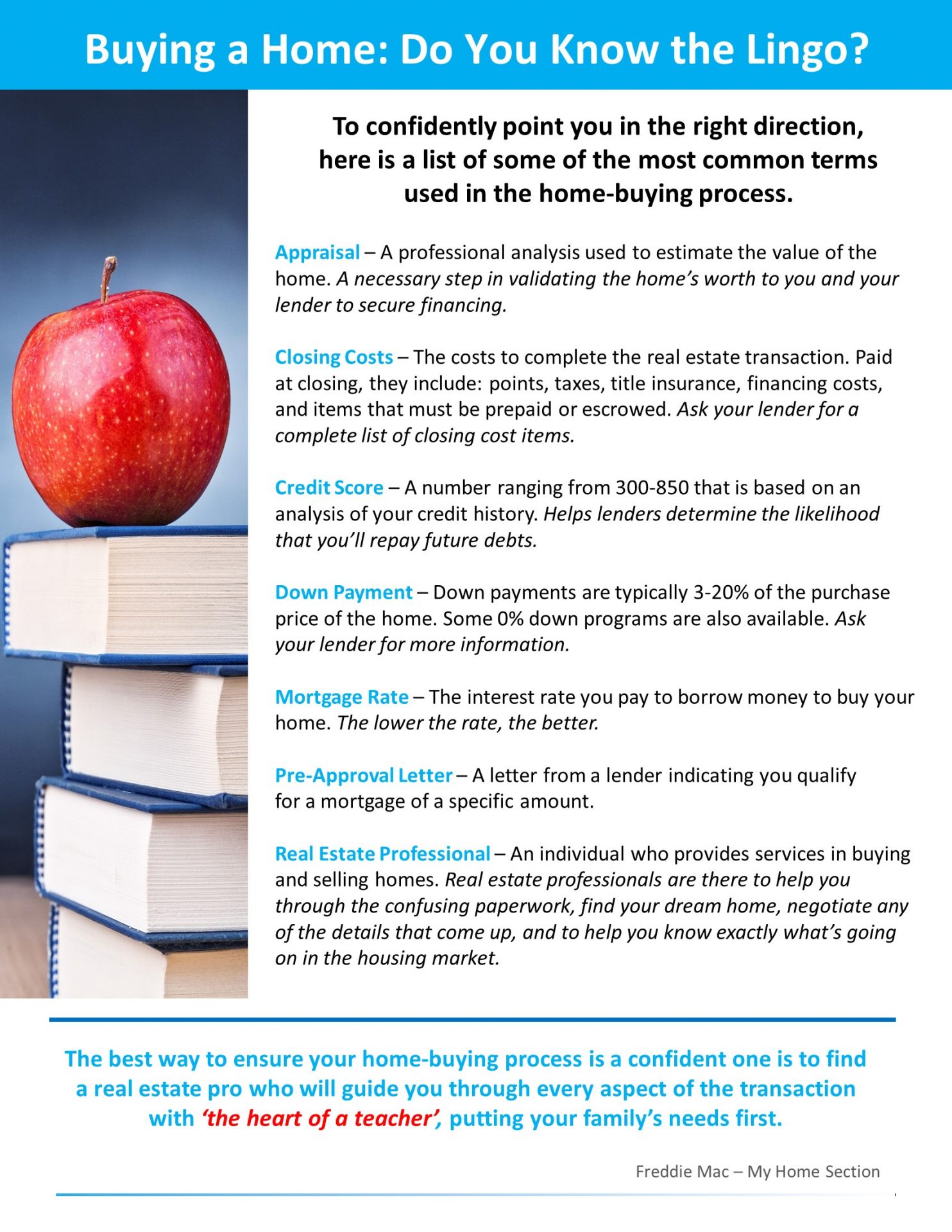 Some Highlights:
Buying a home can be intimidating if you're not familiar with the terms used throughout the process.
To point you in the right direction, here's a list of some of the most common language you'll hear when buying a home.
The best way to ensure your home-buying process is a positive one is to find a real estate professional who will guide you through every aspect of the transaction with 'the heart of a teacher.'