Some Highlights:
The housing market is forecasted to finish the year with growing strength.
Historically low mortgage rates are creating great potential for homebuyers, and home sales are on the rise.
If you're thinking of buying or selling a home this year, let's connect to maximize your opportunity today.
Posted on July 31, 2020 at 8:59 am
Desiree Stanley
|
Category:
Real Estate
|
Tagged

30-year fixed rate, buying, fannie mae, freddie mac, historic rates, home sales, homes, houses, housing market, interest rates, median home prices, mortgage rate, NAR, Selling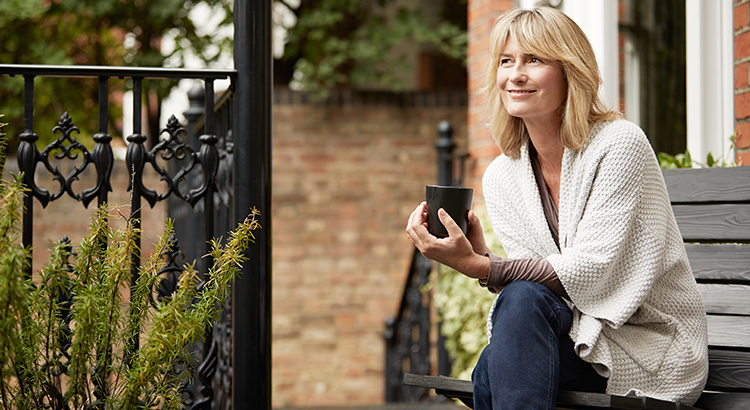 One of the biggest questions we all seem to be asking these days is: When are we going to start to see an economic recovery? As the country begins to slowly reopen, moving forward in strategic phases, business activity will help bring our nation back to life. Many economists indicate a recovery should begin to happen in the second half of this year. Here's a look at what some of the experts have to say.
Jerome Powell, Federal Reserve Chairman
"I think there's a good chance that there'll be positive growth in the third quarter. And I think it's a reasonable expectation that there'll be growth in the second half of the year…

So, in the long run, I would say the U.S. economy will recover. We'll get back to the place we were in February; we'll get to an even better place than that. I'm highly confident of that. And it won't take that long to get there."
Nonpartisan Analysis for the U.S Congress
"The economy is expected to begin recovering during the second half of 2020 as concerns about the pandemic diminish and as state and local governments ease stay-at-home orders, bans on public gatherings, and other measures. The labor market is projected to materially improve after the third quarter; hiring will rebound and job losses will drop significantly as the degree of social distancing diminishes."
Neel Kashkari, President, Minneapolis Federal Reserve Bank
"I think we need to prepare for a more gradual recovery while we hope for that quicker rebound."
We're certainly not out of the woods yet, but clearly many experts anticipate we'll see a recovery starting this year. It may be a bumpy ride for the next few months, but most agree that a turnaround will begin sooner rather than later.
During the planned shutdown, as the economic slowdown pressed pause on the nation, many potential buyers and sellers put their real estate plans on hold. That time coincided with the traditionally busy spring real estate season. As we look ahead at this economic recovery and we begin to emerge back into our communities over the coming weeks and months, perhaps it's time to think about putting your real estate plans back into play.
Bottom Line
The experts note a turnaround is on the horizon, starting as early as later this year. If you paused your 2020 real estate plans, let's connect today to determine how you can re-engage in the process as the country reopens and the economy begins a much-anticipated rebound.
Posted on May 21, 2020 at 9:07 am
Desiree Stanley
|
Category:
Real Estate
|
Tagged

buyers, buying, coronavirus, covid-19, economic, economic activity, economic recovery, economy, Gilroy, home, home buying, homebuyers, homebuying, Housing, Intero, Intero Real Estate, Morgan Hill, morganhillliving, Real Estate, Real Estate Agents, real estate market, Real Estate Professional, Santa Clara County, Sellers, Selling, Silicon Valley, South County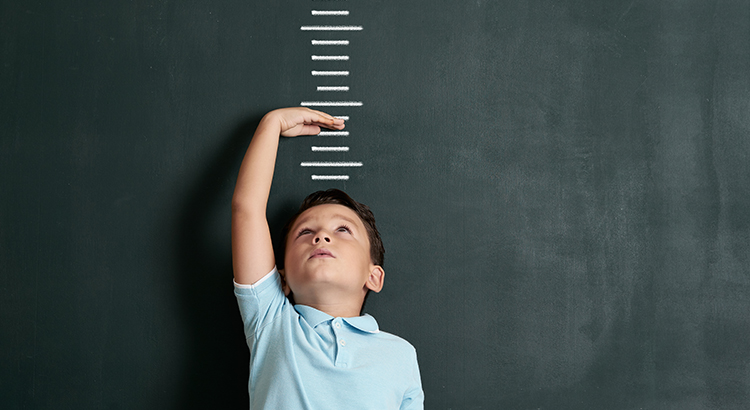 Unlike last year, the residential real estate market kicked off 2020 with a bang! In their latest Monthly Mortgage Monitor, Black Knight proclaimed:
"The housing market is heating entering 2020 and recent rate declines could continue that trend, a sharp contrast to the strong cooling that was seen at this same time last year."
Zillow revealed they're also seeing a robust beginning to the year. Jeff Tucker, Zillow Economist, said:
"Our first look at 2020 data suggests that we could see the most competitive home shopping season in years, as buyers are already competing over…homes for sale."
Buying demand is very strong. The latest Showing Index from ShowingTime reported a 20.2% year-over-year increase in purchaser traffic across the country, the sixth consecutive month of nationwide growth, and the largest increase in the history of the index.
The even better news is that buyers are not just looking. The latest Existing Home Sales Report from the National Association of Realtors (NAR) showed that closed sales increased 9.6% from a year ago.
This increase in overall activity has caused Zelman & Associates to increase their projection for home price appreciation in 2020 from 3.7% to 4.7%.
Are we headed for another housing crash like we had last decade?
Whenever price appreciation begins to accelerate, the fear of the last housing boom and bust creeps into the minds of the American population. The pain felt during the last housing crash scarred us deeply, and understandably so. The crash led us into the Great Recession of 2008.
If we take a closer look, however, we can see the current situation is nothing like it was in the last decade. As an example, let's look at price appreciation for the six years prior to the last boom (2006) and compare it to the last six years: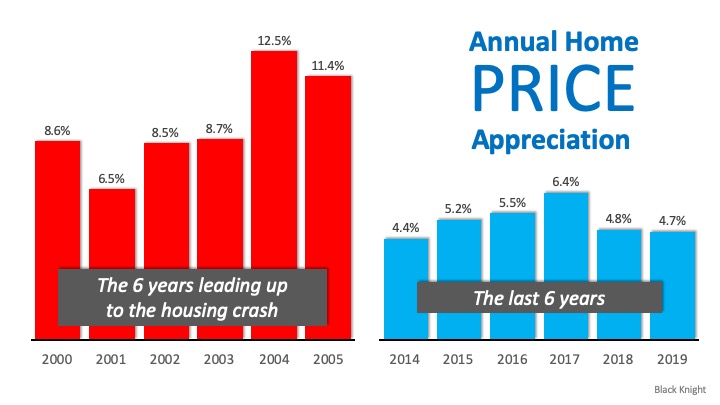 There's a stark difference between these two periods of time. Normal appreciation is 3.6%, so while current appreciation is higher than the historic norm, it's certainly not accelerating beyond control as it did leading up to the housing crash.
Today, the strength of the housing market is actually helping prevent a setback in the overall economy. In a recent post, Odeta Kushi, Deputy Chief Economist for First American explained:
"While the housing crisis is still fresh on the minds of many, and was the catalyst of the Great Recession, the U.S. housing market has weathered all other recessions since 1980. With the exception of the Great Recession, house price appreciation hardly skipped a beat and year-over-year existing-home sales growth barely declined in all the other previous recessions in the last 40 years…In 2020, we argue the housing market is more likely poised to help stave off recession than fall victim to it."
Bottom Line
The year has started off very nicely for the residential housing market. If you're thinking of buying or selling, now may be the time to get together to discuss your options.
Posted on March 5, 2020 at 5:08 pm
Desiree Stanley
|
Category:
Real Estate
|
Tagged

beautifulhome, buying, Gilroy, home, Home Buyers, Home Price, home sales, Home Sellers, homebuyers, homebuying, housin crash, Housing, housing market, Intero, interorealestate, Morgan Hill, morganhillliving, Price Appreciation, Purchasing a home, Real Estate, Santa Clara County, Selling, Silicon Valley