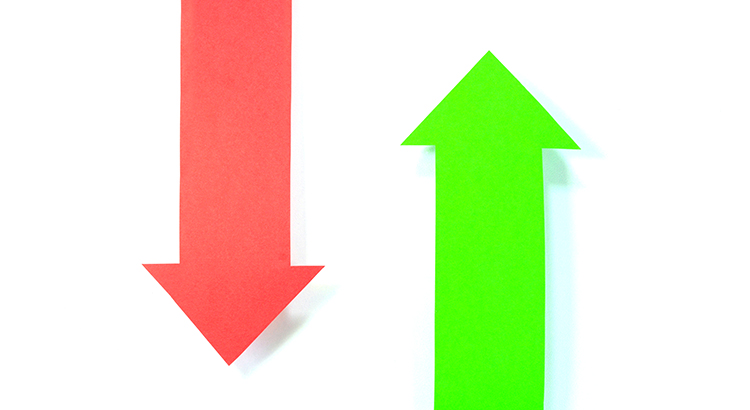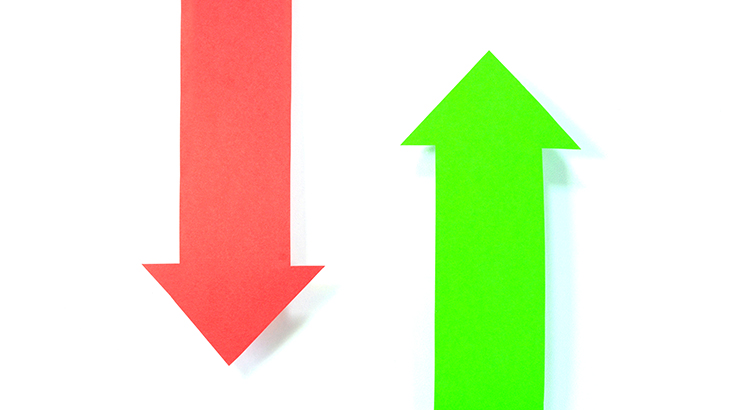 With the housing market staggered to some degree by the health crisis the country is currently facing, some potential purchasers are questioning whether home values will be impacted. The price of any item is determined by supply as well as the market's demand for that item.
Each month the National Association of Realtors (NAR) surveys "over 50,000 real estate practitioners about their expectations for home sales, prices and market conditions" for the REALTORS Confidence Index.
Their latest edition sheds some light on the relationship between seller traffic (supply) and buyer traffic (demand) during this pandemic.
Buyer Demand
The map below was created after asking the question: "How would you rate buyer traffic in your area?"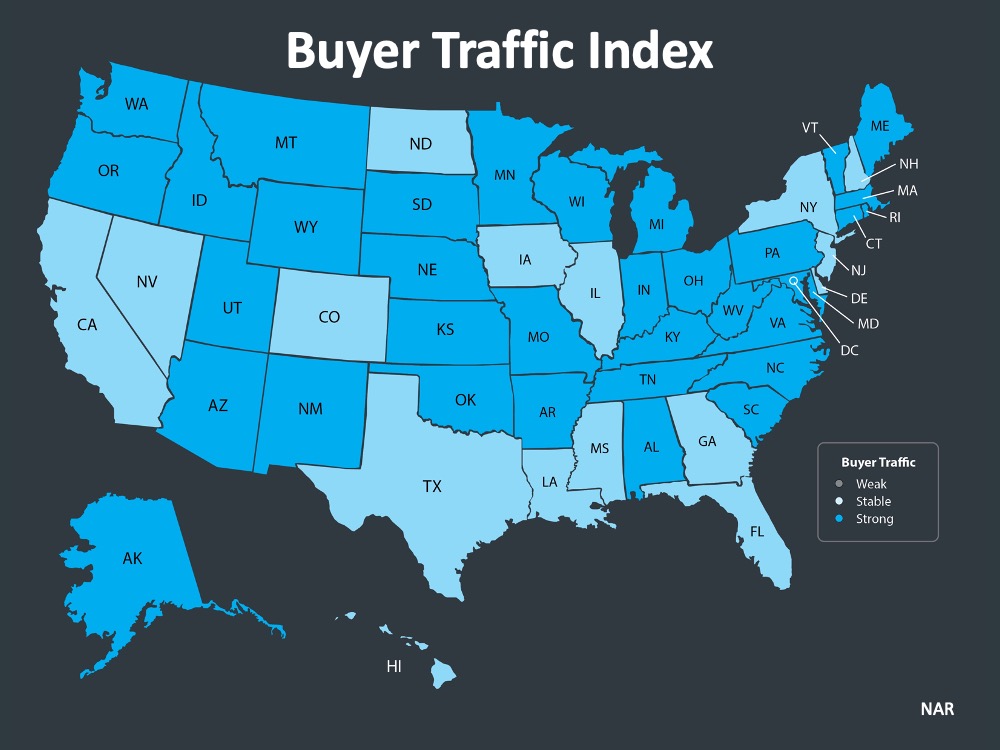 The darker the blue, the stronger the demand for homes is in that area. The survey shows that in 34 of the 50 U.S. states, buyer demand is now 'strong' and 16 of the 50 states have a 'stable' demand.
Seller Supply
The index also asks: "How would you rate seller traffic in your area?"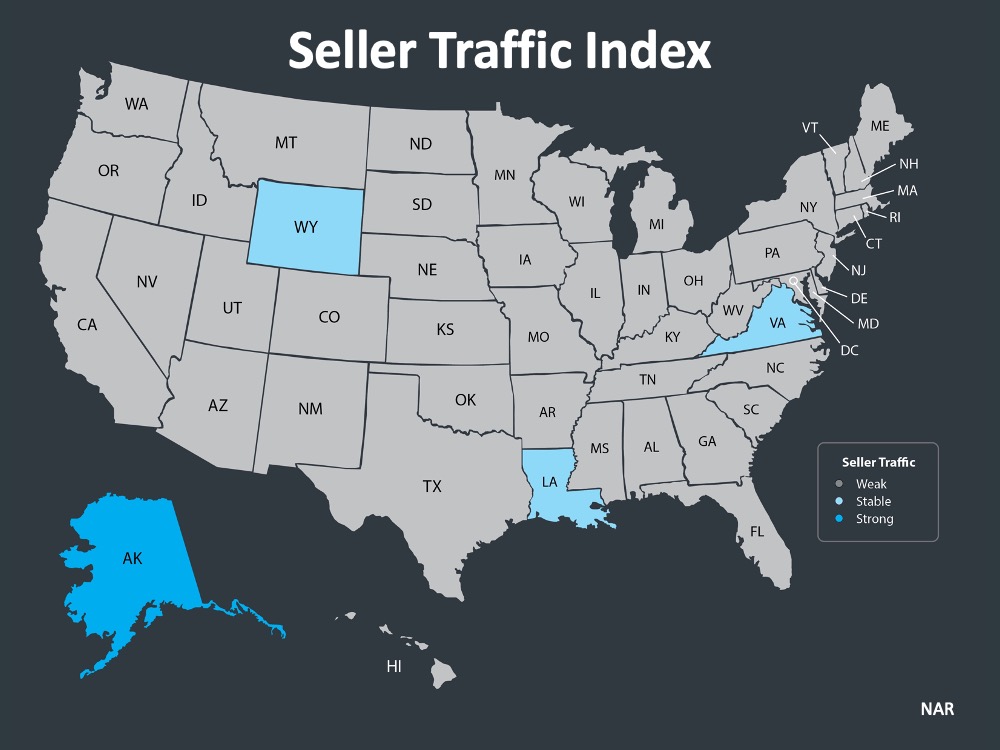 As the map above indicates, 46 states and Washington, D.C. reported 'weak' seller traffic, 3 states reported 'stable' seller traffic, and 1 state reported 'strong' seller traffic. This means there are far fewer homes on the market than what is needed to satisfy the needs of buyers looking for homes right now.
With demand still stronger than supply, home values should not depreciate.
What are the experts saying?
Here are the thoughts of three industry experts on the subject:
"We note that inventory as a percent of households sits at the lowest level ever, something we believe will limit the overall degree of home price pressure through the year."
Mark Fleming, Chief Economist, First American:
"Housing supply remains at historically low levels, so house price growth is likely to slow, but it's not likely to go negative."
"Two forces prevent a collapse in house prices. First, as we indicated in our earlier research report, U.S. housing markets face a large supply deficit. Second, population growth and pent up household formations provide a tailwind to housing demand."
Bottom Line
Looking at these maps and listening to the experts, it seems that prices will remain stable throughout 2020. If you're thinking about listing your home, let's connect to discuss how you can capitalize on the somewhat surprising demand in the market now.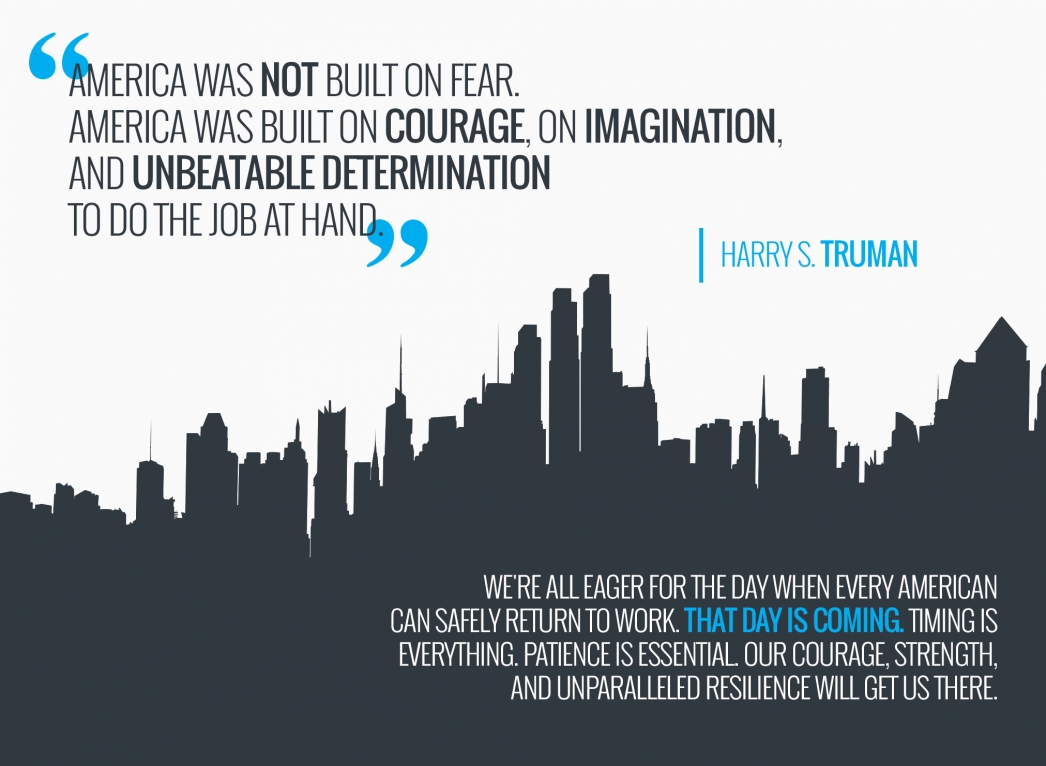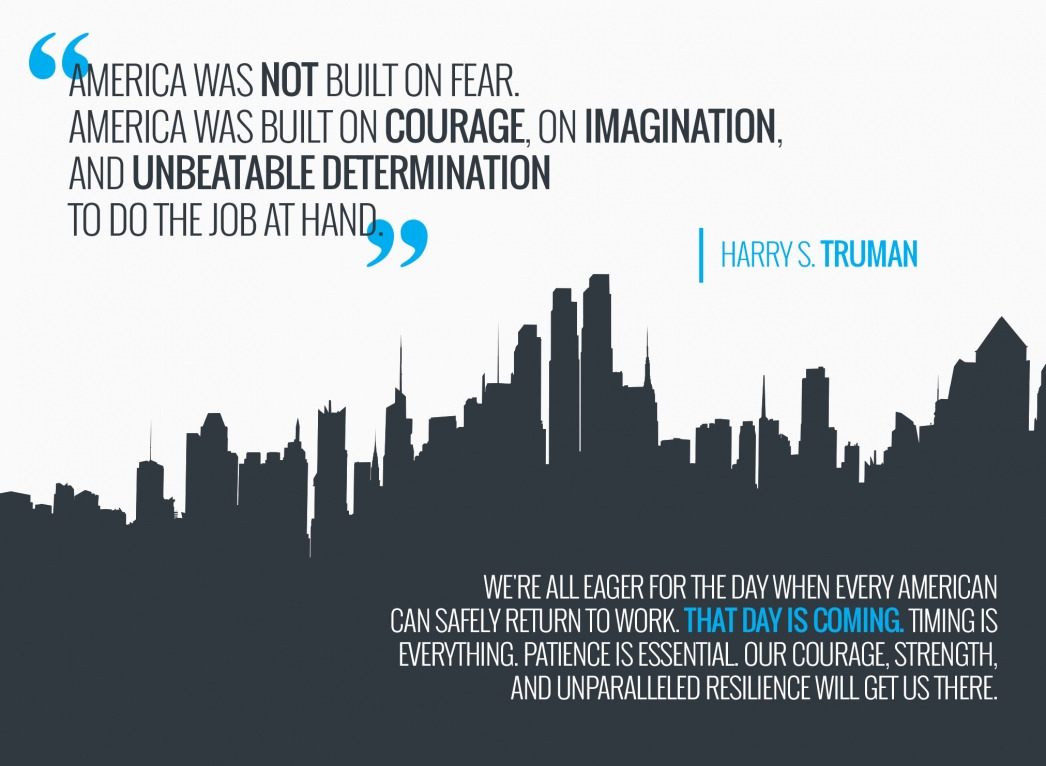 Some Highlights
Taking a moment to reflect upon what we've heard from historical leaders can teach us a lot about getting through the many challenges we face today.
We're all eager for the day when every American can safely return to work. That day is coming. Timing is everything. Patience is essential.
Our courage, strength, and unparalleled resilience will get us there.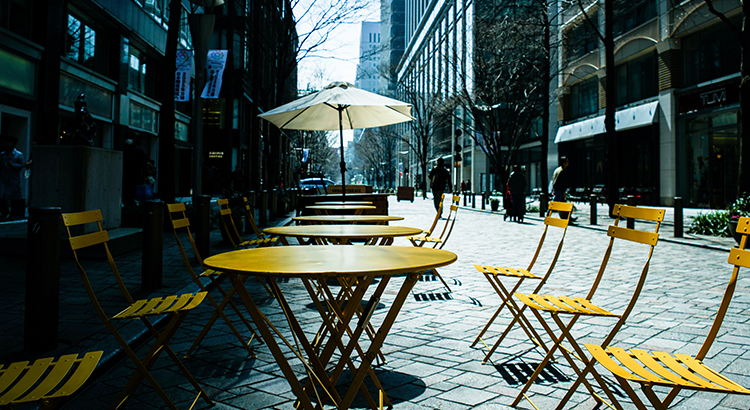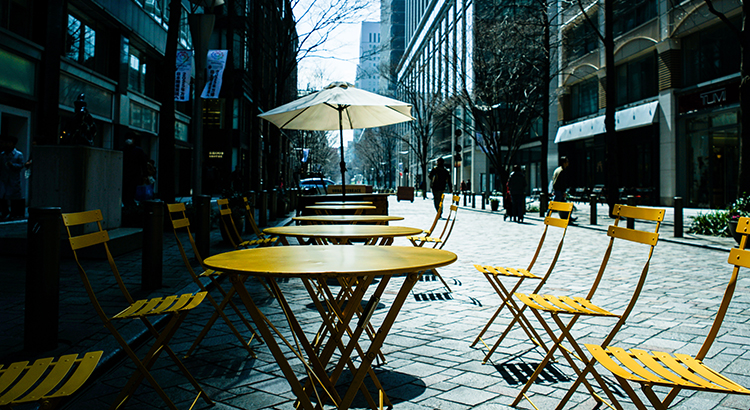 Today, the unemployment rate for April 2020 will be released by the U.S. Bureau of Labor Statistics. It will hit a peak this country has never seen before, with data representing real families and lives affected by this economic slowdown. The numbers will alarm us. There will be headlines and doomsday scenarios in the media. There is hope, though, that as businesses reopen, most people will become employed again soon.
Last month's report indicated we initially lost over 700,000 jobs in this country, and the unemployment rate quickly rose to 4.4%. With the release of the new data, that number will climb even higher. Experts forecast this report will show somewhere between a 15% – 20% national unemployment rate, and some anticipate that number to be even greater (see graph below):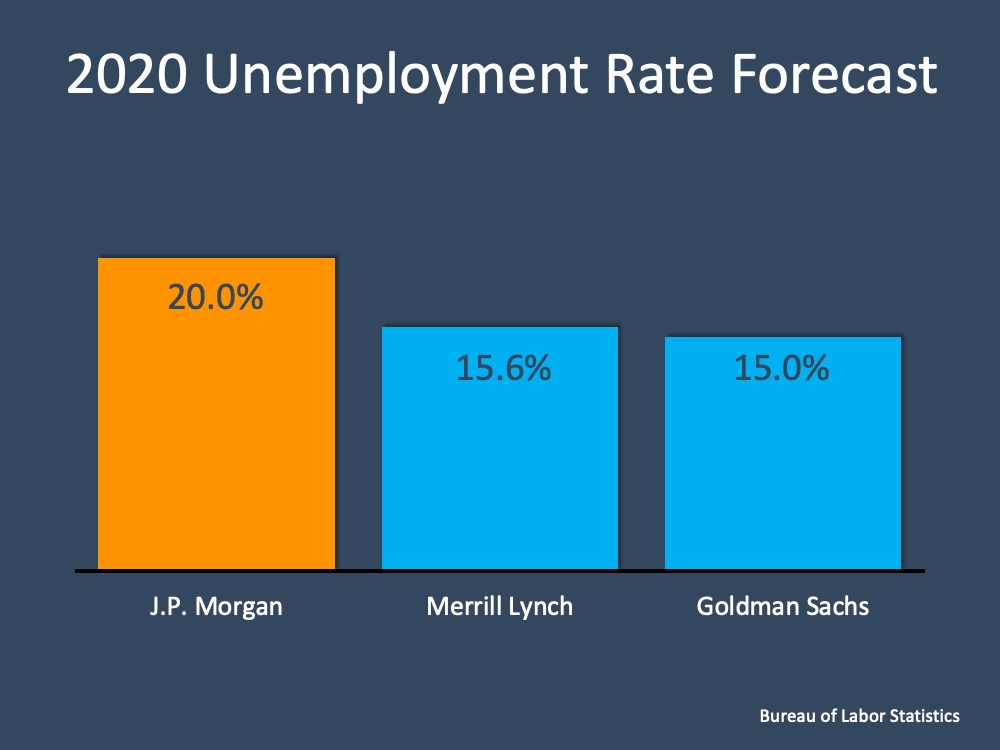 What's happened over the last several weeks? 
Here's a breakdown of this spring's weekly unemployment filings:
The good news shown here indicates the number of additional unemployment claims has decreased week over week since the beginning of April. Carlos Rodriguez, CEO of Automatic Data Processing (ADP) says based on what he's seeing:
"It's possible that companies are already anticipating some kind of normalization, opening in certain states and starting to post jobs." 
He goes on to say that this doesn't mean all companies are hiring, but it could mean they are at the point where they're not cutting jobs anymore. Let's hope this trend continues.
What will the future bring?
Most experts predict that while unemployment is high right now, it won't be that way for long. The length of unemployment during this crisis is projected to be significantly shorter than the duration seen in the Great Recession and the Great Depression.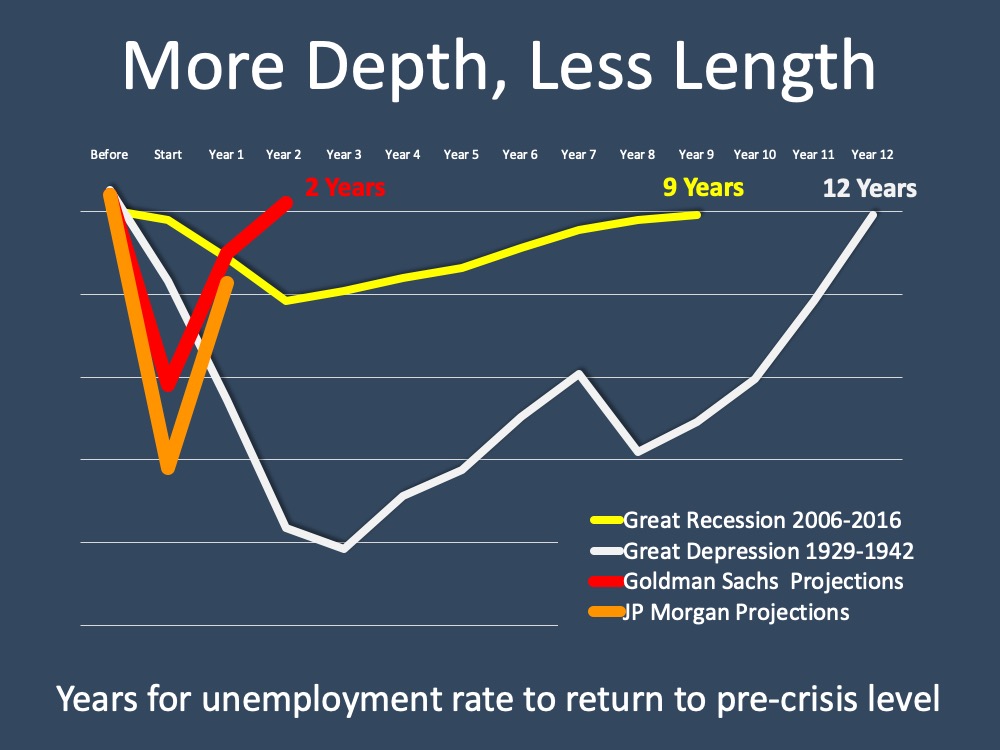 While forecasts may be high, the numbers are trending down and the length of time isn't expected to last forever.
Bottom Line
Don't let the headlines rattle you. There's hope coming as we start to safely reopen businesses throughout the country. Unemployment affects our families, our businesses, and our country. Our job is to rally around those impacted and do our part to support them through this time.