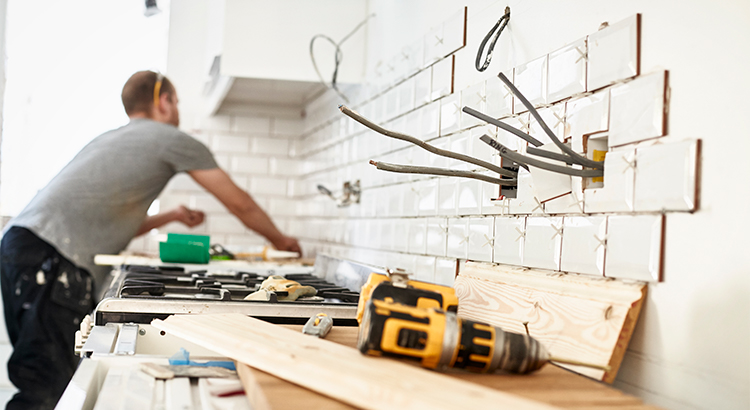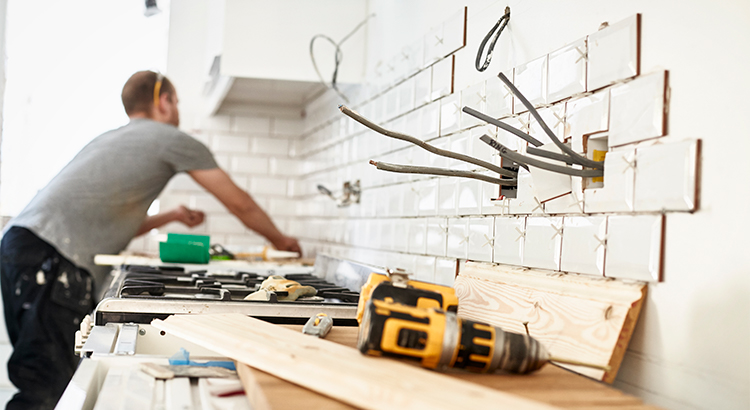 With the fall season upon us, change is in the air. For many families, children are growing up and moving out of the house, maybe leaving for college or taking a jump into the working world. Parents are finding themselves as empty nesters for the first time. The question inevitably arises: is it finally time to downsize?
If you're pondering that thought, you may also be wondering if you should fix-up your house before you sell it, or go straight to the market as-is, allowing a potential buyer to do the updates and remodeling. If you're one of the many homeowners this camp, here are a few tips to help you decide which way to go.
1. Analyze Your Market
A real estate professional can help you to understand your market and the potential level of buyer interest and demand for your home. Are you in a seller's market or a buyer's market? This can change based on the price range of your home, too. A professional can also give you some insight on what you can change or remodel, and how to declutter your house to make it attractive to buyers in your area.
2. Get an Inspector
Right now, the average length of time a family stays in a home is between 9-10 years. That's a little longer than the historical average, so if you've been living in your home for a while, it might be time to make some significant improvements. Think: electrical system, HVAC units, roof, siding, etc. An inspector can give you a better idea of the condition of your home if it is up to current code standards, and recommendations on how to have your house ready before you put it on the market.
3. Decide If You Need to Remodel
You may also be thinking about driving buyer appeal with something like a kitchen or a bathroom remodel. If so, first dig into the market value of your home, and compare it to the actual cost of the remodel. A local real estate professional can help you determine your home's market value, and you'll want to get a few quotes from contractors on the potential to remodel pricing as well. Once you have those two factors narrowed down, you can to decide if a remodel will give you a return on your investment when you sell. Oftentimes, it is actually more advantageous to price your house to sell, list it competitively, and then let the buyer pick the colors they want for their bathroom tiles and the type of countertop they prefer. The 2019 Cost vs. Value Report in Remodeling Magazine compares the average cost for remodeling projects with the value those projects typically retain at resale.
Bottom Line
Nationwide, inventory is low, meaning there is less than the 6-month housing supply needed for a normal market. This drives buyer demand, creating a perfect time to sell. If you're considering selling your house, let's get together to help you confidently determine what will be the best choice for you and your family.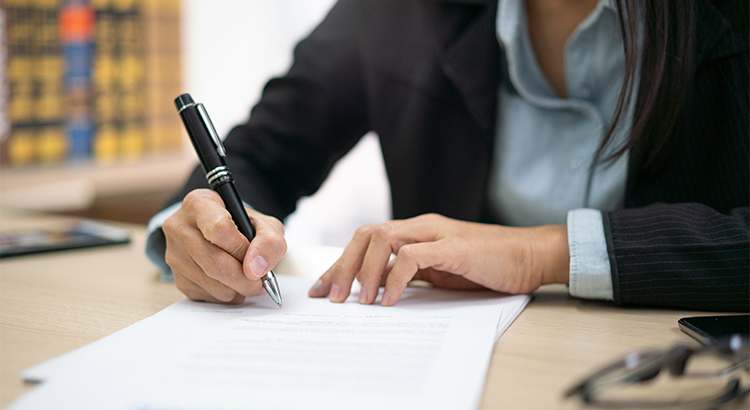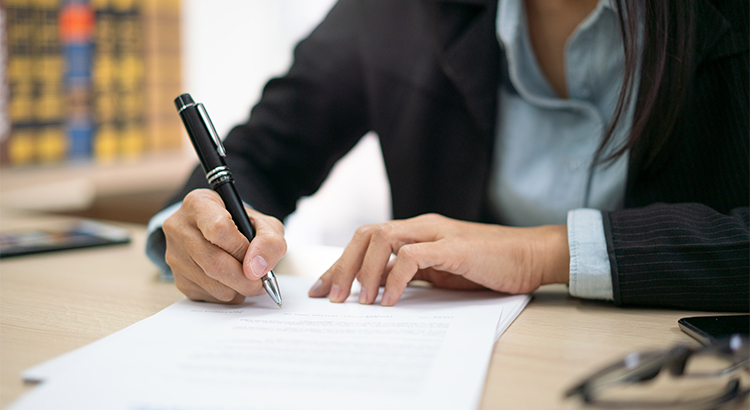 Congratulations! You've found a home to buy and have applied for a mortgage! You're undoubtedly excited about the opportunity to decorate your new home, but before you make any large purchases, move your money around, or make any big-time life changes, consult your loan officer – someone who will be able to tell you how your decisions will impact your home loan.
Below is a list of Things You Shouldn't Do After Applying for a Mortgage. Some may seem obvious, but some may not.
1. Don't Change Jobs or the Way You Are Paid at Your Job. Your loan officer must be able to track the source and amount of your annual income. If possible, you'll want to avoid changing from salary to commission or becoming self-employed during this time as well.
2. Don't Deposit Cash into Your Bank Accounts. Lenders need to source your money, and cash is not really traceable. Before you deposit any amount of cash into your accounts, discuss the proper way to document your transactions with your loan officer.
3. Don't Make Any Large Purchases Like a New Car or Furniture for Your New Home. New debt comes with it, including new monthly obligations. New obligations create new qualifications. People with new debt have a higher debt to income ratios…higher ratios make for riskier loans…and sometimes qualified borrowers no longer qualify.
4. Don't Co-Sign Other Loans for Anyone. When you co-sign, you are obligated. As we mentioned, with that obligation comes higher ratios as well. Even if you swear you will not be the one making the payments, your lender will have to count the payments against you.
5. Don't Change Bank Accounts. Remember, lenders need to source and track assets. That task is significantly easier when there is consistency among your accounts. Before you even transfer any money, talk to your loan officer.
6. Don't Apply for New Credit. It doesn't matter whether it's a new credit card or a new car. When you have your credit report run by organizations in multiple financial channels (mortgage, credit card, auto, etc.), your FICO® score will be affected. Lower credit scores can determine your interest rate and maybe even your eligibility for approval.
7. Don't Close Any Credit Accounts. Many clients erroneously believe that having less available credit makes them less risky and more likely to be approved. Wrong. A major component of your score is your length and depth of credit history (as opposed to just your payment history) and your total usage of credit as a percentage of available credit. Closing accounts has a negative impact on both of those determinants in your score.
Bottom Line
Any blip in income, assets, or credit should be reviewed and executed in a way that ensures your home loan can still be approved. The best advice is to fully disclose and discuss your plans with your loan officer before you do anything financial in nature. They are there to guide you through the process.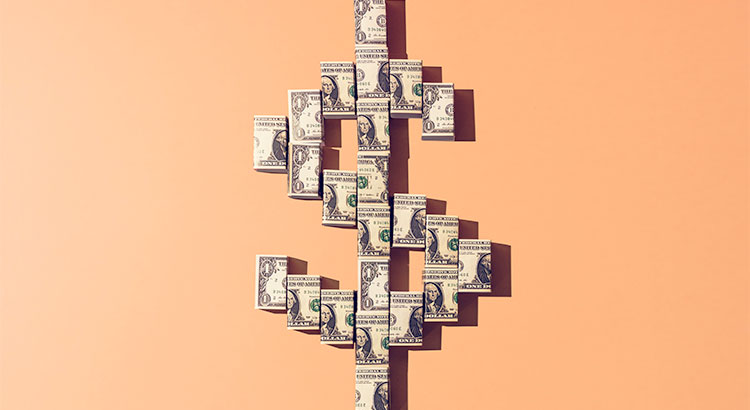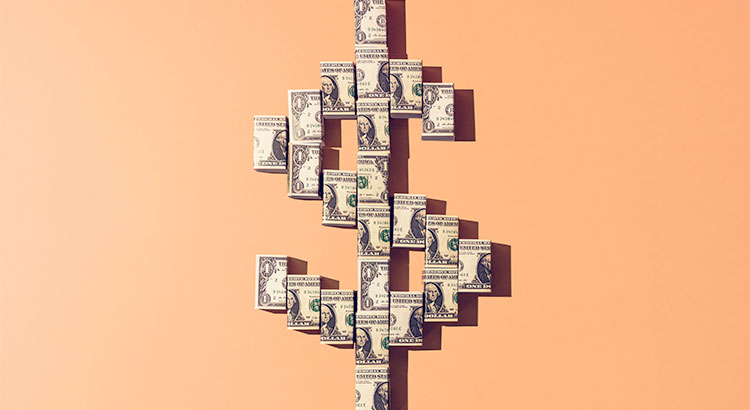 With the current uncertainty about the economy triggered by a potential trade war, some people are waiting to purchase their first home or move-up to their dream house because they think or hope home prices will drop over the next few years. However, the experts disagree with this perspective.
Here is a table showing the predicted levels of appreciation from six major housing sources.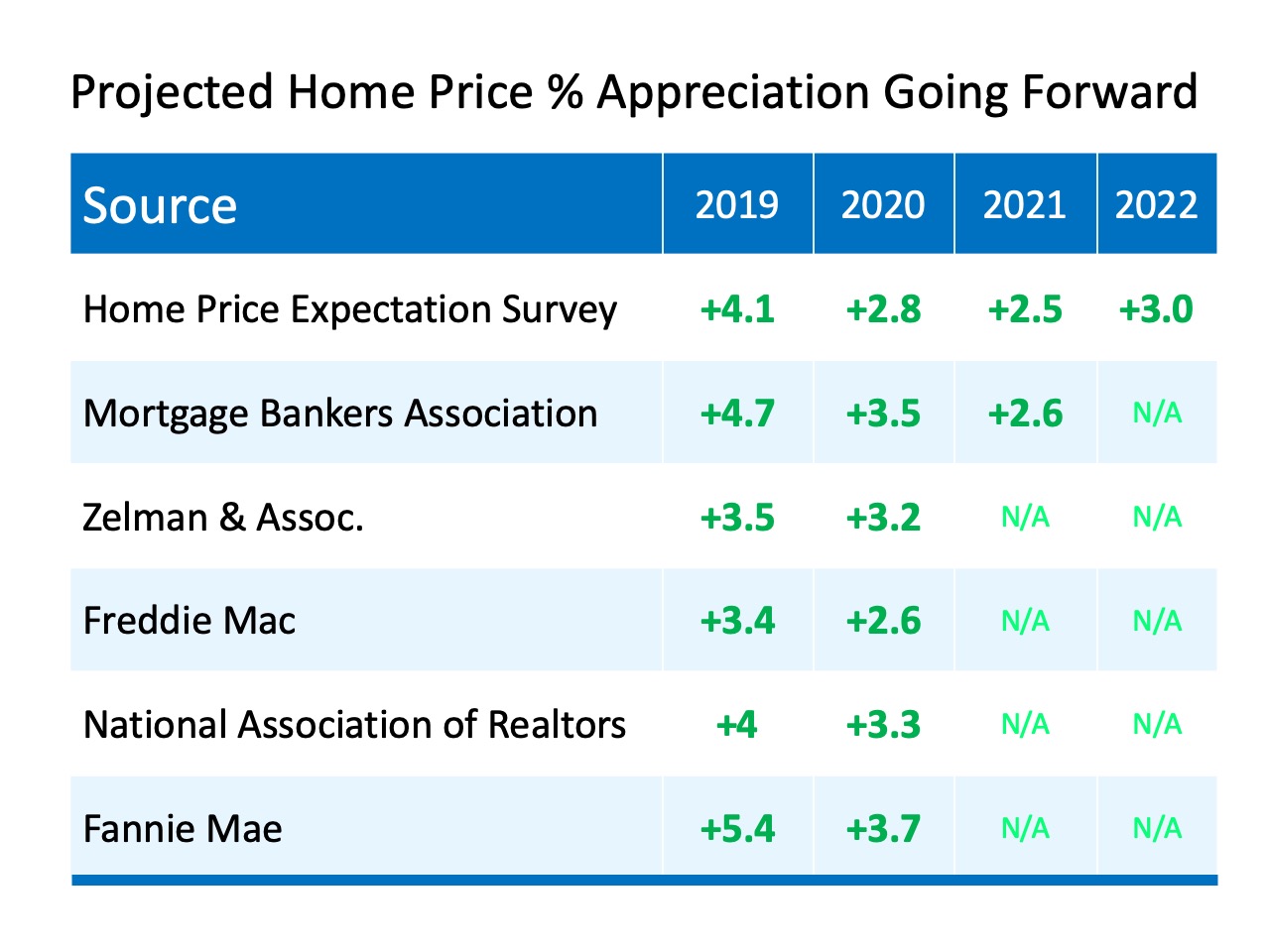 As we can see, every source believes home prices will continue to appreciate (albeit at lower levels than we have seen over the last several years). But, not one source is calling for residential real estate values to depreciate.
Additionally, ARCH Mortgage Insurance Company in their current Housing and Mortgage Market Review revealed their latest ARCH Risk Index, which estimates the probability of home prices being lower in two years. There was not one state that even had a moderate probability of home prices lowering. In fact, 34 of the 50 states had a minimal probability.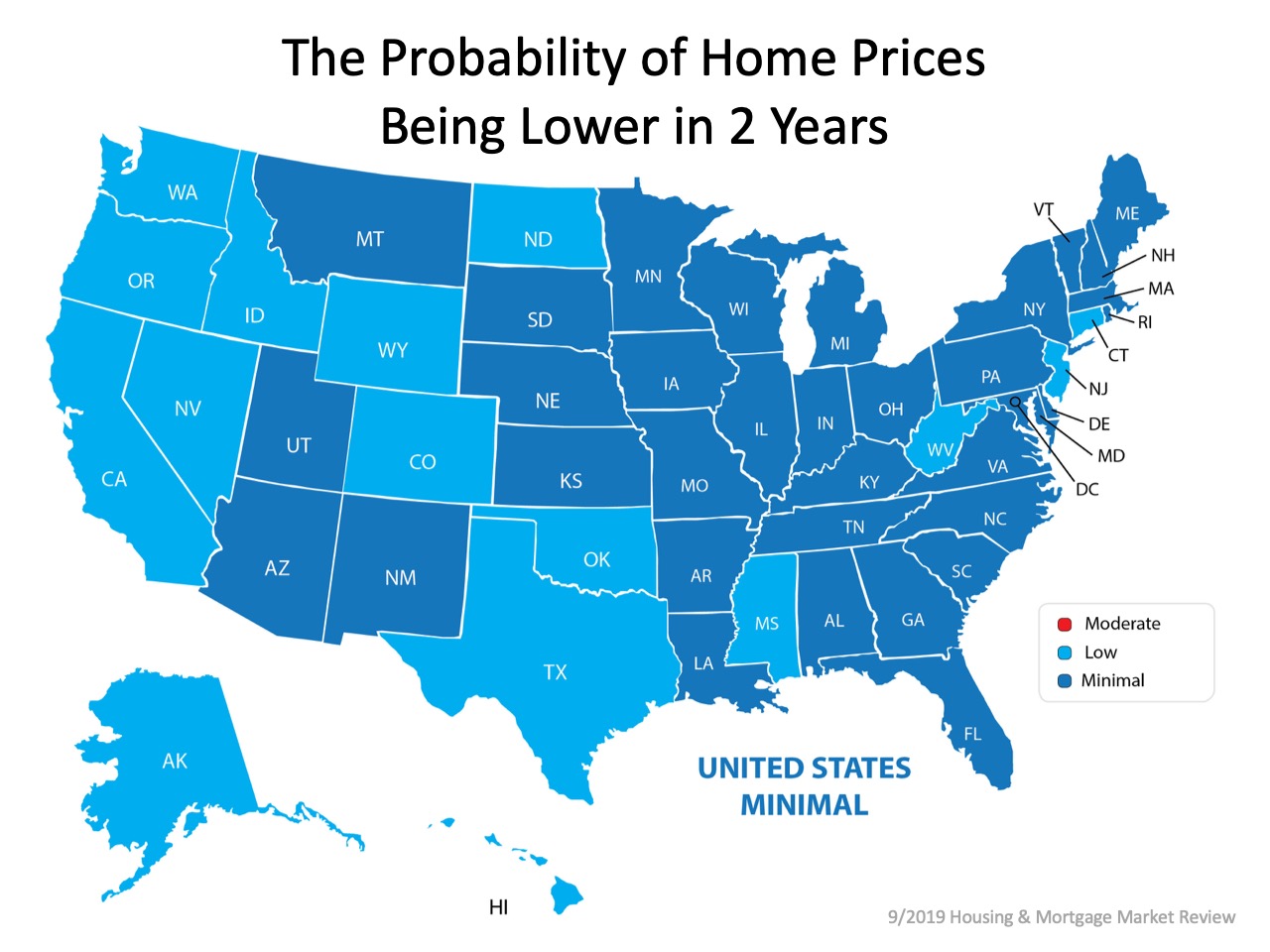 Bottom Line
Those waiting for prices to fall before purchasing a home should realize that the probability of that happening anytime soon is very low. With mortgage rates already at near historic lows, now may be the time to act.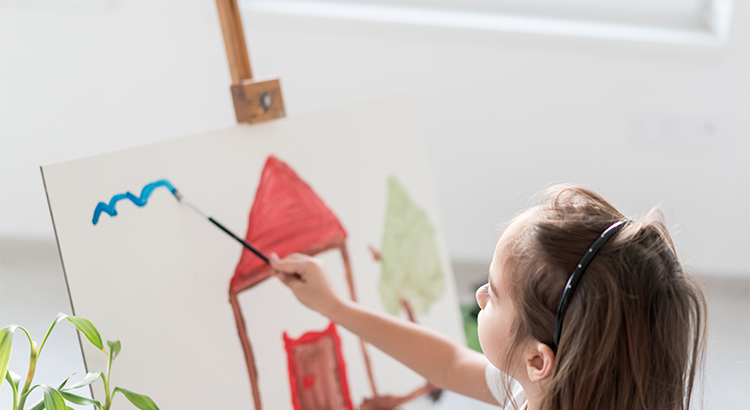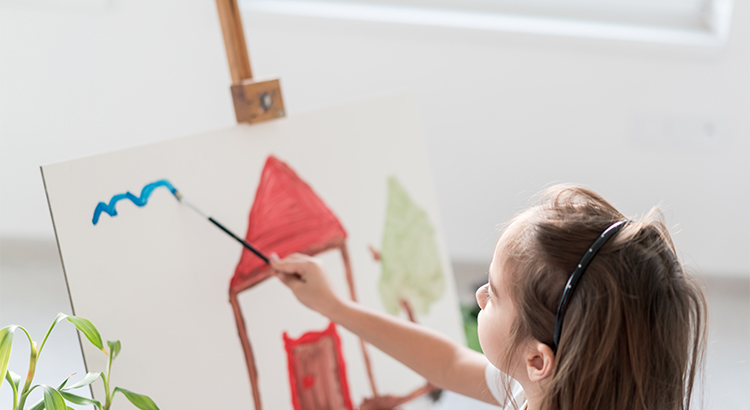 On Labor Day we celebrate the hard work that helps us achieve the American Dream.
Growing up, many of us thought about our future lives with great ambition. We drew pictures of what jobs we wanted to have and where we would live as a representation of secure life for ourselves and our families. Today we celebrate the workers that make this country a place where those dreams can become a reality.
According to Wikipedia,
"Labor Day honors the American labor movement and the contributions that workers have made to the development, growth, endurance, strength, security, prosperity, productivity, laws, sustainability, persistence, structure, and well-being of the country."
The hard work that happens every day across this country allows so many to achieve the American Dream. The 2019 Aspiring Home Buyers Profile by the National Association of Realtors (NAR) says,
"Approximately 75% of non-homeowners believe homeownership is part of their American Dream, while 9 in 10 current homeowners said the same."
Looking at the number of non-owners, you may wonder, 'If they believe in homeownership, why haven't they bought a home yet?'. Well, increasing home prices and low inventory can be part of the reason why some haven't jumped in, but that does not mean there is a lack of interest. The same report shows the increase in the desire to buy in the last year (as shown in the graph below).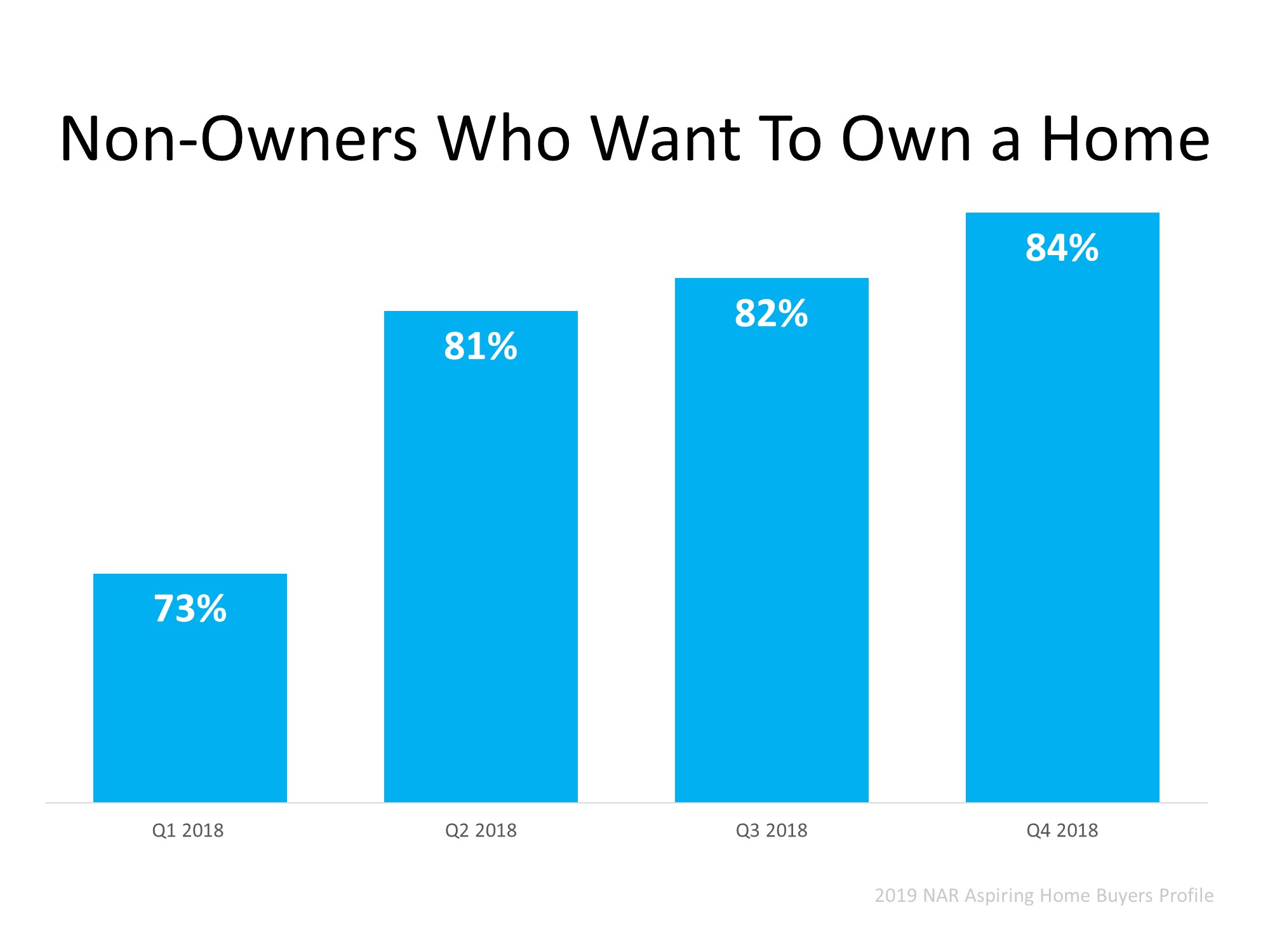 As we can see, there are more and more people each quarter who want to buy a home. The good news is, as more inventory comes to the market, more non-homeowners will be able to fulfill their dreams. Finally, they'll be able to move into that home they drew when they were little kids!
Bottom Line
If you're a homeowner considering selling, this fall might be the right time, as there are buyers in the market ready to buy. Let's get together to determine how you can benefit from the pent-up housing demand.